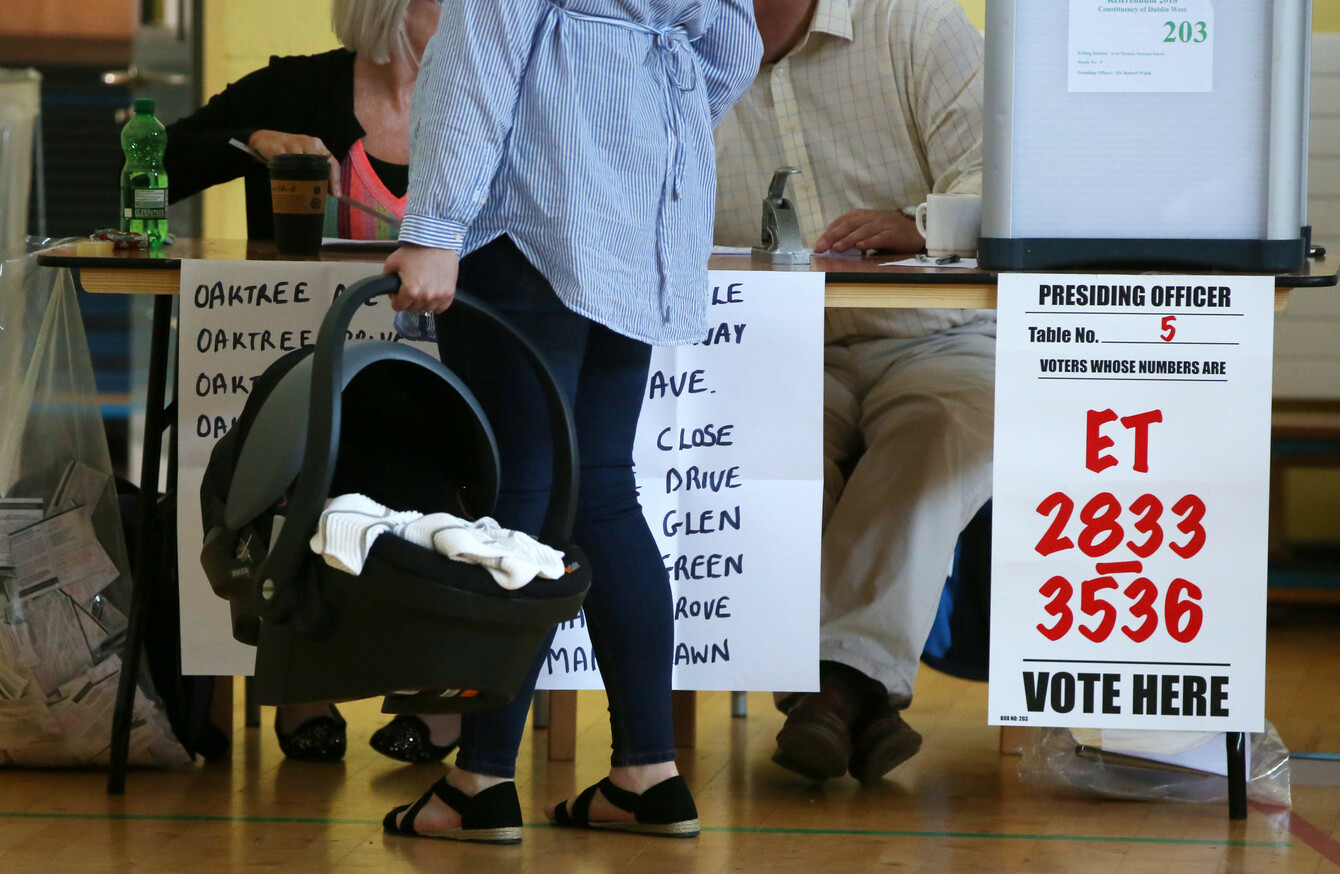 Image: Sam Boal via RollingNews.ie
Image: Sam Boal via RollingNews.ie
ON 28 MARCH the date for the abortion referendum was announced and both sides went into overdrive.
In what has been a divisive campaign fraught with strong words and tension on all sides, we are going to list the quotes which defined the debate.
Under the 8th Amendment, women in crisis pregnancy have been told to take the plane or take the boat. Today we tell them – 'Take our hand'."
Health Minister Simon Harris reacts as early tallies confirm that Ireland will repeal the 8th Amendment.
I'm disappointed and I feel it's a sad day – a devastating day for us. The 8th has done a fantastic job protecting mothers.
Pro-life campaign's Cora Sherlock reacts to the vote.
If there is a No vote on Friday, I think it's only a matter of time before someone haemorrhages or bleeds to death after taking one of these [abortion] pills unregulated.
Taoiseach Leo Varadkar on why he voted Yes.
Source: TheJournal.ie/YouTube
The Eighth Amendment does not mean that Ireland is a country without abortion," he said. "Retaining the Eighth Amendment will not turn Ireland into a country without abortion… Nothing we say or do here could make Ireland a country without abortion.
Micheál Martin addresses the Daíl  and says he will vote to repeal the eighth amendment.
We are being told that this proposal is about the safety and health of women, and yet what is being proposed, in a cavalier fashion, is explicitly unsafe for women.
GP Neil Maguire was one of many medics who spoke out against repealing the amendment.
"Mental health has no evidence base"
Senator Ronan Mullen caused controversy when he criticised poor mental health for being a reason to terminate a pregnancy.
You deserve love and respect regardless of what you've ever done.
A second one from Mullen who said these words in response to testimony by a young woman on why she travelled to England for an abortion.
Minister Harris is deliberately and knowingly misleading the public about the contents of his own bill. He says abortions will not be legal at six months, but it is right there in the bill under head 4. Indeed under head 5, no term limit is imposed for abortion on mental health grounds right up to birth.
Save the 8th communications director John McGuirk debates the intricacies of proposed abortion legislation if 8th is repealed.
It is completely false to say abortion will take place right up until the end of pregnancy. Those babies will be delivered in the mother's interest.
Former master of Holles Street Maternity Hospital Peter Boylan addressed false claims that abortions could take place at any time if the 8th is repealed.
Source: TheJournal.ie/YouTube
9 from Kerry and 130 from Kildare. 21 from Leitrim and 20 from Roscommon. 69 from Wexford.
33 from Cavan and 15 from Monaghan. 99 from Limerick. 53 from Clare. 38 from Westmeath. 63 from Donegal. 113 from Galway. 44 from Kilkenny. 42 from Laois. 83 from Louth and 100 from Meath. 28 from Offaly and 29 from Sligo. 16 from Longford. 56 from Waterford.
Health Minister Simon Harris listens the counties of those women who travelled to Britain for abortions in the last year.
What repeal or replacing the 8th Amendment would actually involve, if voted through, is stripping unborn babies of all meaningful protections which in turn would inevitably lead to countless babies having their lives deliberately ended with the full sanction of the State. That is the simple and stark reality.
Pro-life campaign's Cora Sherlock on what she believes Ireland faces if the 8th is repealed.
Source: The Stand/SoundCloud
You're a bollocks, a fucking bollocks. Fuck off Eamon.
Things got heated between Eamon Dunphy and John Waters during a debate on the 8th. 
Anything else stand out? Let us know in the comments below.