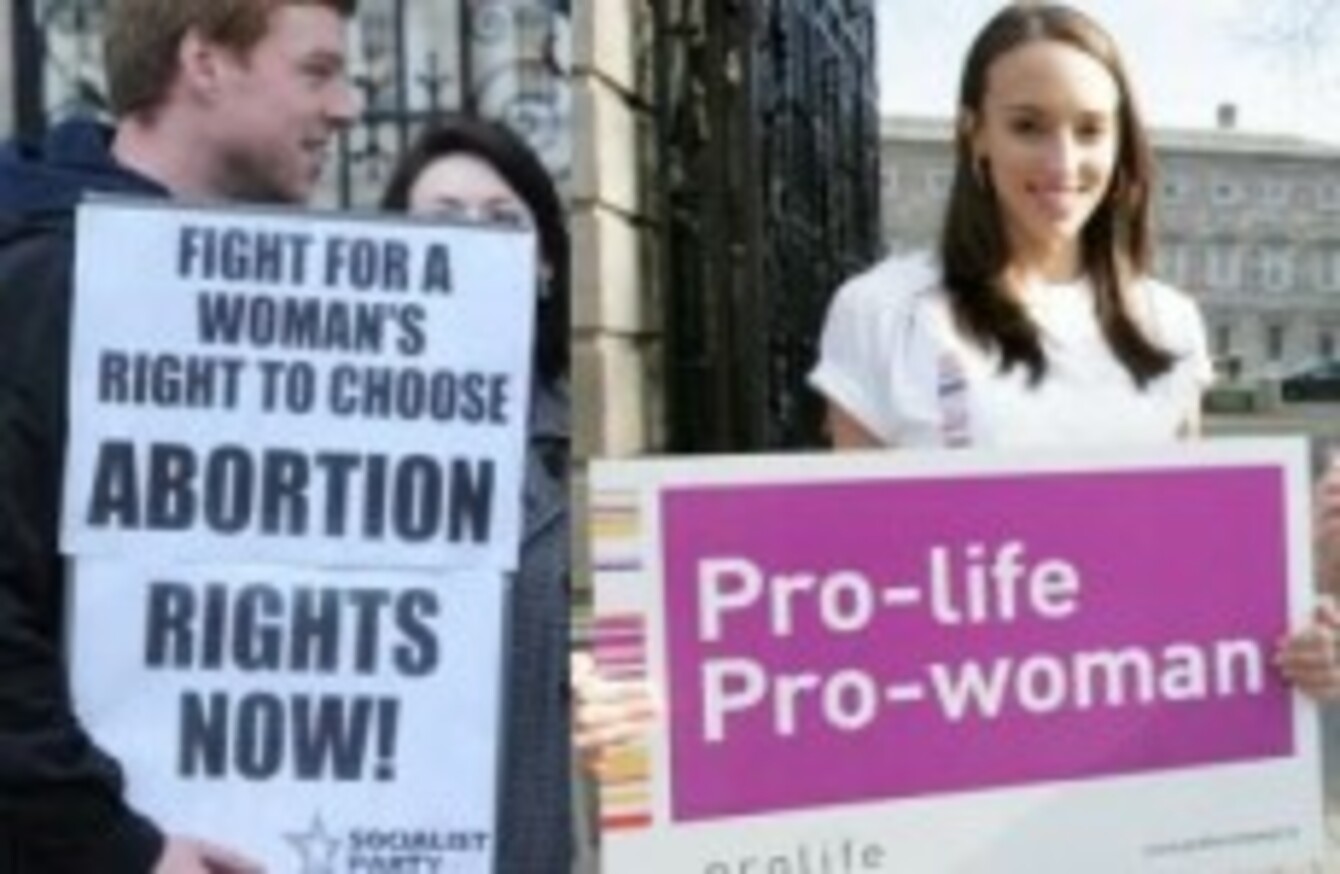 Two separate protests - one pro-choice and another anti-abortion - outside the Dáil this year.
Image: Photocall Ireland (File)
Two separate protests - one pro-choice and another anti-abortion - outside the Dáil this year.
Image: Photocall Ireland (File)
JUNIOR FINANCE MINISTER Brian Hayes has said there should be a free vote on any legislation for the X Case as the issue of abortion looks to set to dominate political discussion this week.
Speaking to RTÉ's The Week in Politics last night Hayes said that it had been his view as far back as when he was in opposition that there should be a free vote and that TDs should not be subject to the party whip given there was "a variety of views across all political parties".
He told the programme: "I said this when I was in opposition and it is still my view. I've always believed that we've made dreadful mistakes on this issue by making it into some kind of party political issue."
His comments came ahead of the publication of the expert group on abortion's much-anticipated report this week after it is discussed at Cabinet on Tuesday.
TDs will also debate United Left Alliance TD Clare Daly's reintroduced Private Members' Bill which would legislate for the X Case, the bill was defeated by the government earlier this year in anticipation of it introducing its own measures.
Various media organisations have reported on the expert group's report in the last few days with indications that the report calls for primary legislation instead of guidelines or regulations to deal with the X Case.
The Supreme Court X Case provided for abortion for women when their lives are in danger, including from the risk of suicide.
In 2010, European Court of Human Rights said there is a gap in the theory and practical implementation of the right to a lawful abortionbecause of the lack of corresponding legislation.
Sinn Féin's Gerry Adams said that the government needed to explain why the report was not made available to members of the Oireachtas before it was leaked to the media and said there needed to be a timetable for legislation.
"The Government needs to set out a timetable for progressing long overdue legislation on this issue through the Houses of the Oireachtas," he said in a statement last night.
#Open journalism No news is bad news Support The Journal

Your contributions will help us continue to deliver the stories that are important to you

Support us now
Sinn Féin earlier said the leaking of the report was "disgraceful".
Fianna Fáil leader Micheál Martin said that the report had been "leaked all over the place" saying it was "very poor form" on RTÉ's Morning Ireland.
When asked about the leaking of the report to RTÉ's Prime Time last week, the Department of Health did not directly respond to a query about the report's leaking.
It said in a statement: "The Minister for Health still intends to bring the Report to Government on Tuesday, 27th November seeking Cabinet approval for its publication."