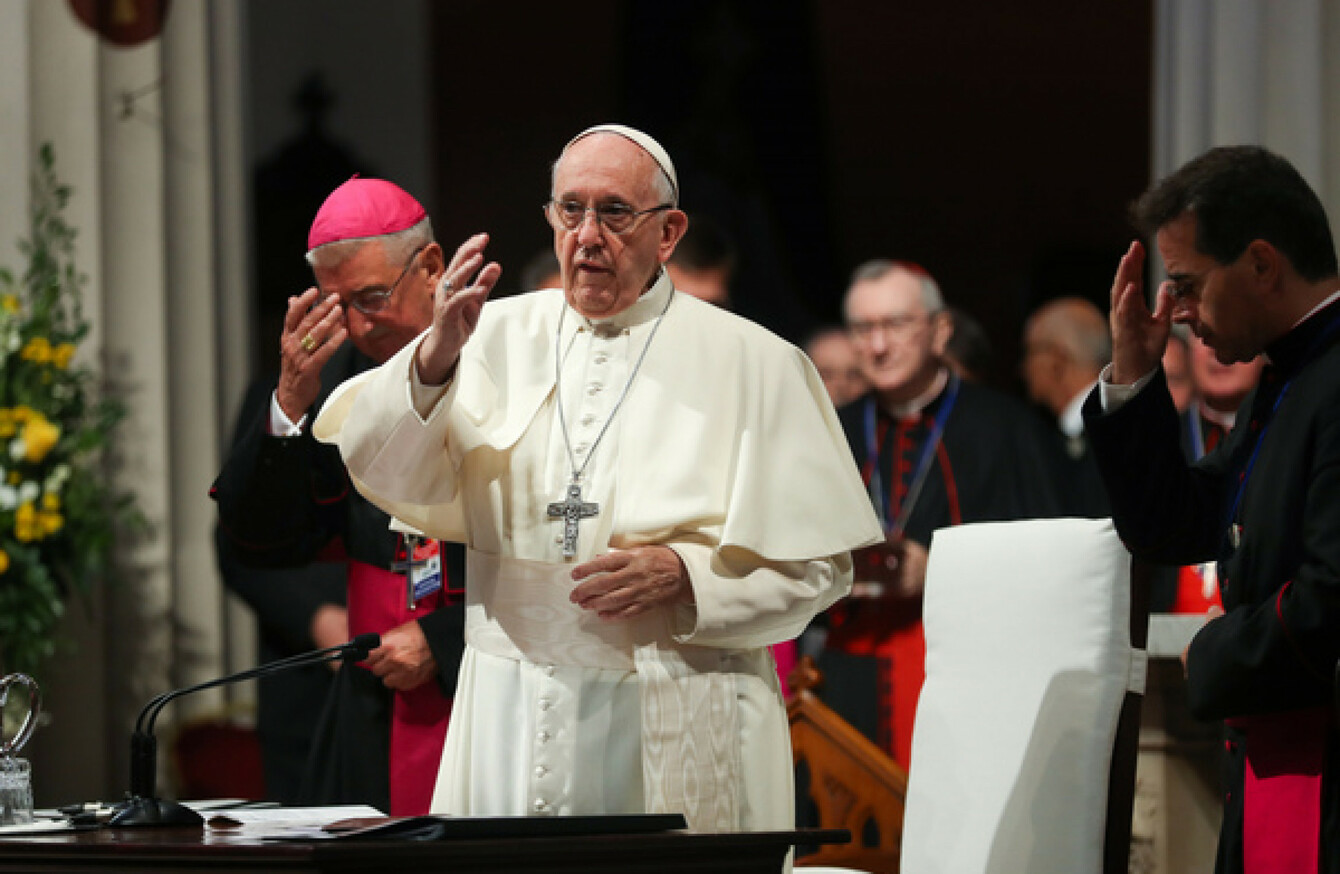 Pope Francis at the Pro Cathedral
Image: MAXWELLS DUBLIN
Pope Francis at the Pro Cathedral
Image: MAXWELLS DUBLIN
DARREN MCGAVIN, A survivor of abuse at the hands of former priest Tony Walsh, has called for greater accountability within the Catholic Church – and said he was not seeking apologies from Pope Francis.
McGavin told a 'Separate Church and State' meeting at Dublin's Gresham Hotel last night that he had hoped to meet with the pope during his visit "because I represent nine lads in Ballyfermot that died from suicide at the hands of Fr Tony Walsh".
As a child, McGavin was abused by Walsh in Ballyfermot. He said the priest used to take him out of class at least two or three times a week "to be barbarically sodomised, abused and raped".
In 2010 Walsh was sentenced to 16 years in prison.
The Dublin man called for senior Church figures who did not report abusers to be held to account.
His comments echo those of leading campaigner Marie Collins, who told an audience at the Catholic Church's World Meeting of Families earlier this week that robust structures need to be put in place to hold Church leaders who protect predators to account.
"Every child in the world should be safeguarded equally," Collins said at the RDS, questioning why the US was the only country in which the Church had incorporated mandatory reporting into Canon Law.
That example should be followed in every country, Collins said.
Under Irish law, mandated persons like teachers and members of the clergy have a legal responsibility to report suspected abuse of children.
Speaking earlier this week, Taoiseach Leo Varadkar also said he agreed that the Church should introduce mandatory reporting for clerical sex abuse.
Yesterday evening's meeting was organised by People Before Profit, and was also addressed by journalist Vincent Browne.
Browne also spoke in favour of further separating Church and State, and spoke at length about the recent report on clerical abuse in Pennsylvania.
The two-year investigation by a grand jury into all but two Pennsylvania dioceses turned up dozens of witnesses and half a million pages of church records containing "credible allegations against over three hundred predator priests".
Pennsylvania's Attorney General said that as direct consequence of the systematic cover-up by senior church officials almost every instance of child sexual they found was too old to be prosecuted.
"I do not understand how we can so easily welcome the head of this criminal conspiracy," Browne said of the pope's visit.
The left-wing political party organised the event to highlight the presence of the Catholic Church today in Irish schools, hospitals and other institutions.
Yesterday, Pope Francis met with for an hour and a half with eight survivors of clerical, religious and institutional abuse.
In a statement, Paul Redmond of the Coalition of Mother And Baby Home Survivors said the pope had condemned corruption and cover up within the church as "caca".
A large crowd is expected to attend Stand for Truth, a demonstration in solidarity with Church abuse survivors, which is due to take place at 3pm in Dublin city centre today to coincide with the Phoenix Park Mass.
Speaking at the event last night, People Before Profit TD Bríd Smith urged people to attend the demonstration at the Garden of Remembrance.