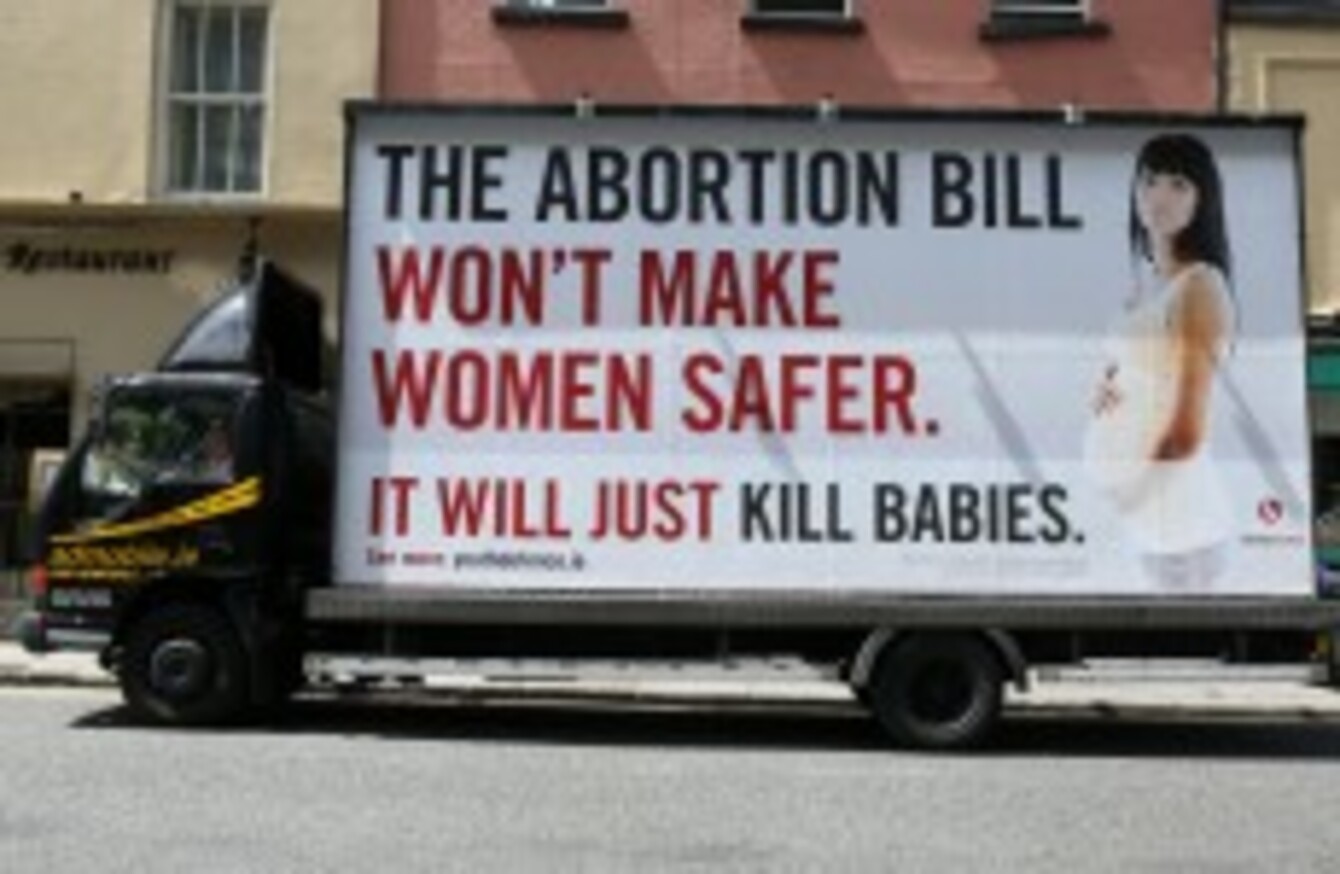 The pro-life campaign billboard, seen here outside the Dáil on June 20
Image: Sam Boal/Photocall Ireland
The pro-life campaign billboard, seen here outside the Dáil on June 20
Image: Sam Boal/Photocall Ireland
AN ADVERTISING COMPANY has discontinued their contract with Youth Defence after an anti-abortion billboard was seen parked opposite the Dublin Rape Crisis centre.
AdMobile, a Dublin-based mobile advertising company, had been contracted by Youth Defence to carry the pro-life campaign billboard on a route around town. However, the truck was seen parked opposite the Leeson Street offices of the Dublin Rape Crisis Centre, sparking outrage online.
The company now says that they have taken the decision not to carry advertising for Youth Defence any longer.
"We have taken the decision, at a cost to ourselves, to discontinue our relationship with the client," said a company spokesperson.
"We're a business like any other and have to pay bills, but judging by the sentiment to this incident, we've taken this decision at a loss to ourselves."
The spokesperson went on to say that any company that advertises on one of the company's billboards did not represent the company's views, but added that today's incident was a "genuine and innocent error".
"Leeson Street would have been on a route that was set out by the company and the client.
The driver has to take a picture of his truck on the route to prove to the client that the ad was carried out. He was taking that picture today and genuinely did not know what office was opposite him.
"It was an unfortunate incident and we apologise if anyone took offence, particularly because it is such an emotive issue, but it was a genuine, innocent error."
Youth Defence, meanwhile, said that they had not instructed the driver to park on Leeson Street.
"Youth Defence did not instruct the mobile ad to park anywhere on Leeson Street or on any other street for that matter," said Clare Molloy who added that the furore was a "horrible and exploitative effort by abortion campaigners to use rape victims to attack the pro-life message".
- Additional reporting by Ellen Coyne