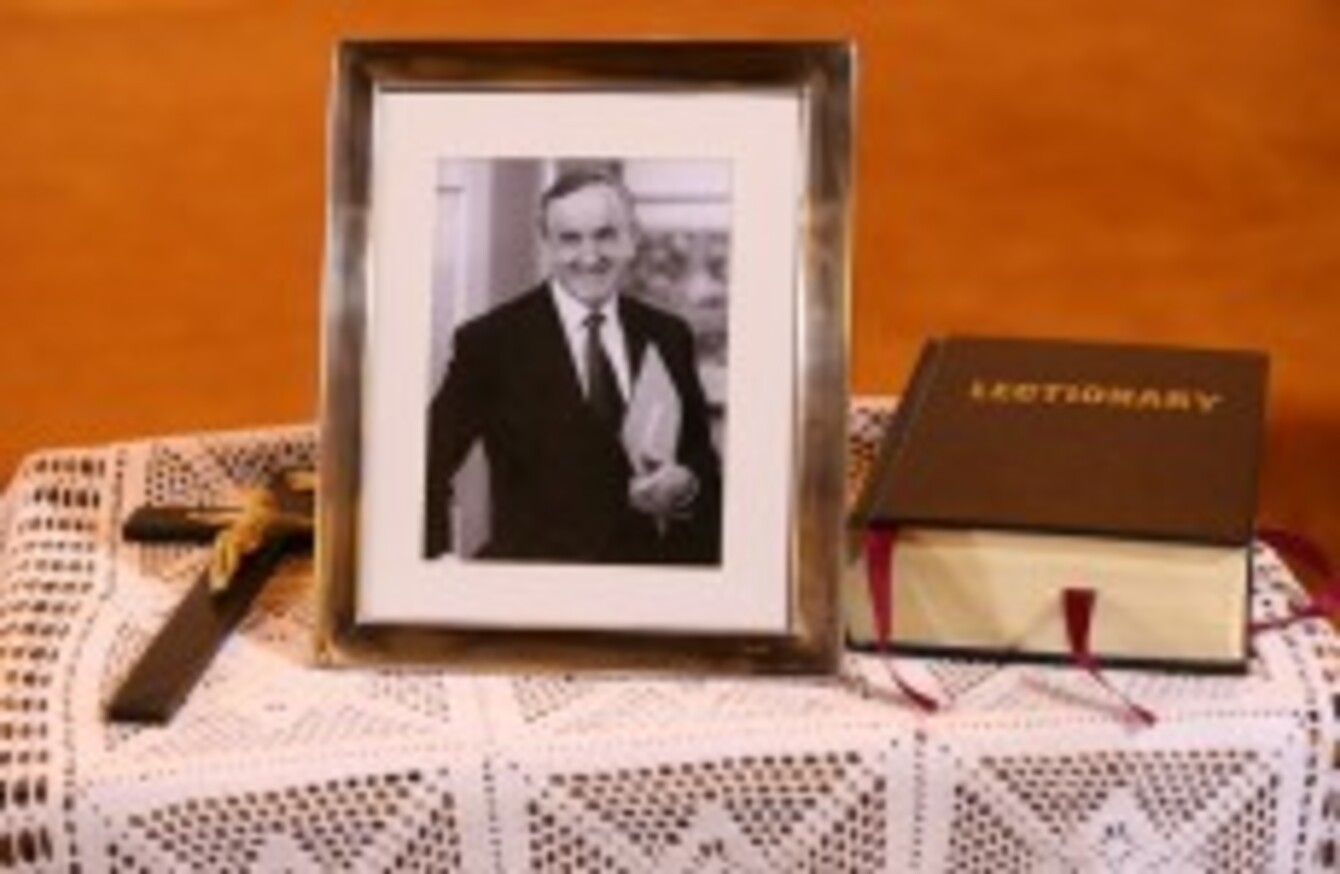 Image: PA Wire/Press Association Images
Image: PA Wire/Press Association Images
IT WAS A little after 11.30am and just moments after former British prime minister John Major had walked down the centre aisle of the Church of Sacred Heart Gerry Adams appeared at the back.
What brought the Sinn Féin president and the former Tory leader – with so many historic differences between them – together at this small church in south Dublin?
It was Albert Reynolds, a man who was taoiseach for a little over a thousand days, but whose legacy will last well beyond his lifetime.
The strange thing about the Adams/Major moment on this rainy day in Donnybrook was that it wasn't even that significant.
Nor was the sight of Major sat in front of Martin McGuinness, formerly of the IRA and now the North's deputy first minister, during the funeral mass.
Later in the course of events, the pair shook hands as the congregation made the sign of peace with each other. Many things have happened in the last two decades which have led to moments like these being so common they are no longer extraordinary.
That is thanks in no small part to the man mourners gathered to remember today, Albert Reynolds – the risk-taker and the peacemaker.
Obituaries and tributes last week focussed on Reynolds the statesman. Today was as much about remembering Reynolds the man, or 'Poppy' as his family affectionately referred to him, as the politician.
Father Brian D'Arcy, who had known Reynolds for decades, led the congregation in what he was keen to stress was a celebration of the late taoiseach's life. "It would be lovely if you could make yourselves at home, enjoy yourselves, and relax," he said at the outset.
A series of mementoes from Reynolds's life were brought to the altar by his grandchildren.
Everything from a book of tickets for a ballroom – "not necessarily of romance" cautioned D'Arcy to laughter – to Reynolds's own copy of the Downing Street Declaration. The gifts were indicative of the no frills man who did extraordinary things in his life.
His main achievement was peace in the North after decades of bloodshed. He helped secure an IRA ceasefire where those before him had failed. Perhaps they feared the consequences of what Reynolds was ultimately prepared to do, or as D'Arcy noted: "Nothing worth having is reached from an island of safety."
"Albert never once regretted risking everything he had for peace," said D'Arcy who recalled how on his first day as taoiseach Reynolds told him: "Brian, before I leave this office, I'll have peace in the North."
His family touched on the difficulties that their father's battle with Alzheimer's had caused in recent years. "In reality, because of the cruelness of his illness, he left us years earlier," noted his son Philip in a heart-rending eulogy.
Reynolds had, in recent years, lost the ability to recall names and even to communicate.
One could not but be touched by the story shared by his daughter Cathy, who recalled how when she checked on her parents one evening recently she saw Albert and his wife sat hand-in-hand at the side of their bed, reciting the Hail Mary.
Red Hurley sang at various points throughout the service including the hymn 'Be Not Afraid' – apt for a man who never feared taking a risk or making a mistake.
As if to underline this mantra in Reynolds's life, another daughter Andrea recalled how she once went to see her parents after failing an accountancy exam. She feared the worst but her father told her never to fear failure, and that she would learn more from the experience of failing than if she had passed with flying colours.
In his touching and emotional eulogy, Philip Reynolds revealed how at 1.30am on Thursday morning, just hours before he passed, his father was in touch with his grandchildren on FaceTime as they waited at JFK Airport in New York "because he knew he wouldn't be here to greet them when they landed".
"The end was not that one would have expected of a man who brought two governments to the brink," Reynolds's son said prompting laughter from the congregation. 
He noted a "some quare and peculiar trait" of the Irish where nice things are said about a person in death when it seems so hard to say them when they are alive.
His father was not without his flaws but had always stressed learning one new thing a day, his son said, and to learn from your mistakes.
"To know Dad was to understand him – a simple, innately good, and brilliant man," he added, later touching on "a deep-rooted goodness to make things better, to see people smile and to enjoy life".
Philip Reynolds also touched on the often "scoffed at" Reynolds philosophy of keeping ideas and policies to a single page. He insisted this said more about us than his father who used to say "if it's worth recalling, it's worth remembering".
One single page would not do justice to Albert Reynolds's achievements, but they are worth recalling, and remembering. As is he.