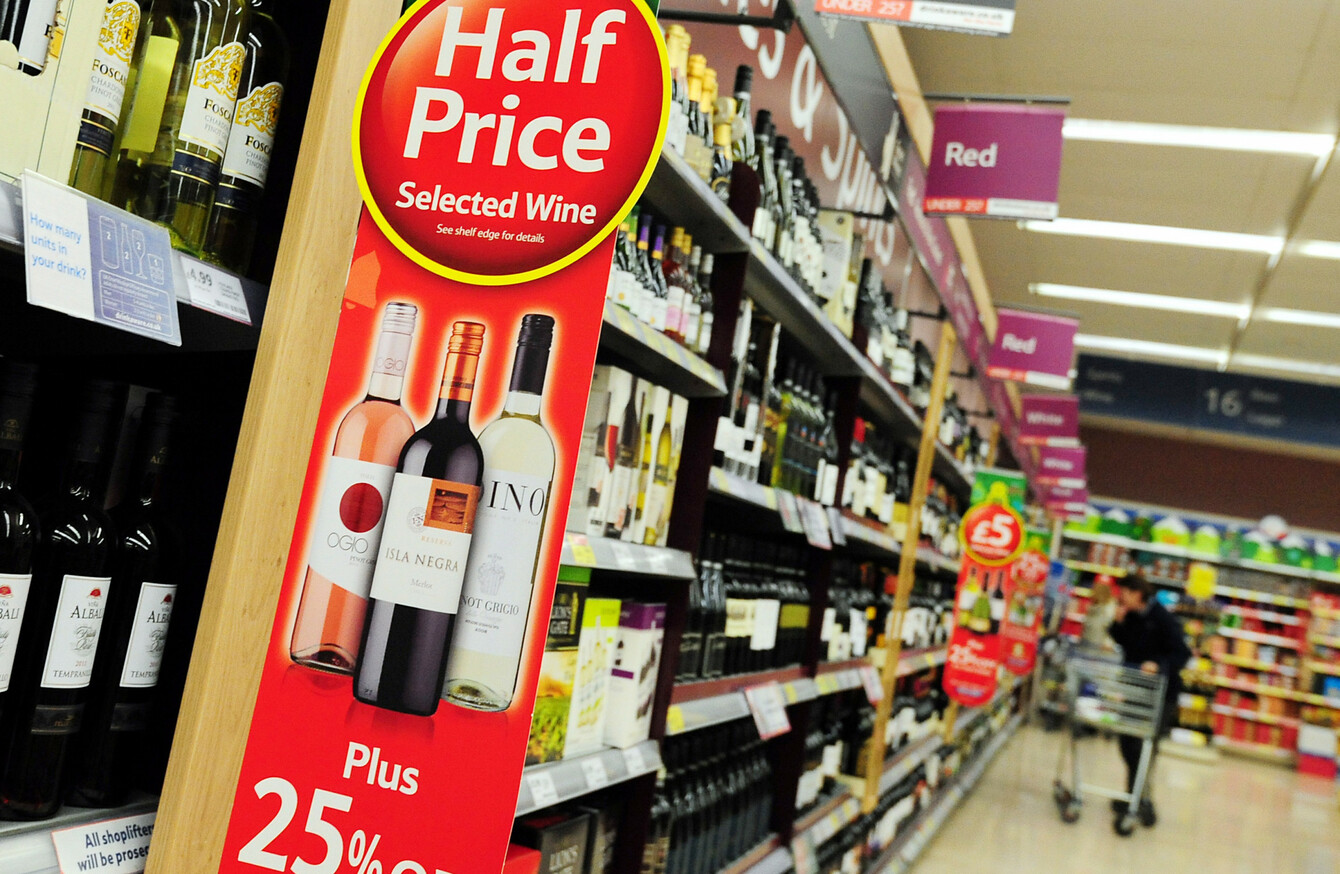 Image: Rui Vieira
Image: Rui Vieira
IT'S CRUNCH TIME for the controversial Public Health Alcohol Bill which is back on the agenda this week, after a long hiatus.
Trouble has been brewing in Leinster House ever since the government announced it is prioritising the legislation.
The Bill, which is being strongly backed by Taoiseach Leo Varadkar and Health Minister Simon Harris, seeks to restrict the sale and advertising of alcohol across the country. Former junior health minister Marcella Corcoran Kennedy has been championing the Bill since 2015.
However, it hit a stumbling block back then when members of the Independent Alliance, and even TDs and senators within the Fine Gael party, voiced their opposition.
But it's not just politicians: lobbyists are lining up to block the proposed new laws.
While those in the drinks industry obviously take issue with advertising restrictions that they believe will impact their business, the aspect that many politicians have a problem with is the separating of alcohol from other products in small shops.
TDs and senators, particularly from rural areas, argued the cost of what has become known as the 'booze curtain' rule would cause huge financial damage to small corner shops.
This was one of the main reasons Fine Gael senators blocked the bill from passing last October and earlier this year.
The political opposition prevented the bill from progressing and caused significant problems for the former Taoiseach Enda Kenny. From today though, Harris and Varadkar are pushing ahead with the bill and are not taking kindly to those in the party they feel are speaking out of turn on the issue.
However, Harris has introduced an amendment to the Bill to appease rural TDs fighting for the smaller shops which will allow them to display alcohol products – but they must be contained in two, side-by-side storage units.
Other larger retailers must segregate alcohol in a separate area of the store, keep it in a closed storage unit which is not visible to members of the public when closed.
Corcoran Kennedy told TheJournal.ie that, in relation to the opposition, she couldn't understand what "all the fuss is about".
The resistance that emerged last year in the Seanad was "a bit unexpected, but not surprising", she said.
Effective lobbying by the drinks industry and supermarket chains in the intervening year was obvious at that point. Later, the Standards in Public Office reports prove that sustained and intensive lobbying took place to stop the progress of this legislation.
Many of those who argued in favour of the Bill were drowned out by the Bill's opponents who successfully reduced the debate to simplistic ridicule of the low-cost suggestions that retailers could use to screen off alcohol from children in their stores. Recovering alcoholics, not often mentioned in the debate, will also benefit. The thrust of the measure is to reinforce the fact that alcohol is not an ordinary grocery item.
There are a number of other areas the proposed legislation addresses.
One of the measures is the restriction of alcohol advertising on public transport. It will effectively ban advertising on trains, buses, bus and train stations and parks – and will mean there can be no advertising within 200 metres of a school or early-years centre.
The bill will also tackle drinks promotions and set minimum pricing – beneath which alcohol cannot be sold. Varadkar said that minimum unit pricing will effectively ban low-cost sales of alcoholic products.
The introduction of labelling on alcohol products is also included, which will result in clear warnings about the danger alcohol poses to our health. Labels on alcohol products will contain health warnings and advice, details of the amount of pure alcohol each beverage contains, and a calorie count.
The bill will also make it illegal to market or advertise alcohol in a manner that is appealing to children or that makes it look glamourous.
This will include restrictions on broadcast marketing and advertising, cinema advertising, outdoor advertising, print media and the regulation of sponsorship by alcohol companies.
This obviously is of concern to those in the industry, with the Alcohol Beverage Federation of Ireland (ABFI) (which represents alcoholic drinks manufacturers and suppliers in Ireland) stating that the new rules will have "far-reaching negative consequences for alcohol advertising".
The group previously used the famous Guinness Christmas advert to illustrate its point.
Speaking in the Dáil recently about lobbying efforts of the industry, Gerry Adams said he has been advised that at least 10 former designated public officials including two former Fine Gael senators and four special advisers to ministers in the previous government have been lobbying against the Bill.
Adams said:
The Bill is hugely important for the health of our society. Some 500 people die each year from alcohol-related cancers, there are three deaths every day due to alcohol and approximately 1,500 hospital beds are occupied as a result of alcohol-related illnesses.
Professor Frank Murray recently warned of the enormous lobbying against the Public Health (Alcohol) Bill 2015 by the alcohol industry. The alcohol industry should have no role in formulating national alcohol policy.
In his reply, the Taoiseach said:
"I assure the Deputy of my absolute commitment to this legislation, which I published as Minister for Health. This is a free country and people are free to lobby their local Teachtaí Dála and Ministers as they wish but I absolutely guarantee the Deputy that no one has changed my mind on this. The legislation will be reintroduced to the Seanad on 8 November."
When it comes down to it, Corcoran Kennedy said the following facts cannot not be ignored:
"Alcohol is a factor in half of all suicides and in one in three self-harm cases; the rate of alcohol related liver disease trebled between 1995 and 2013; one in ten breast cancer cases are caused by alcohol, 167,170 people suffered an alcohol related assault, and alcohol is a factor in one in four deaths of young men.
"It causes twice as many deaths than all other drugs combined, it's a factor in one third of all drownings, one in four people attending A&E have alcohol related injuries half of which are people under 30, one in four traumatic brain injuries are alcohol related and two fifths of all deaths on our roads are caused by drink driving.
"Public health legislation is the responsibility of all public representatives. We must enact the Public Health Alcohol Bill 2015 without delay," she concluded.