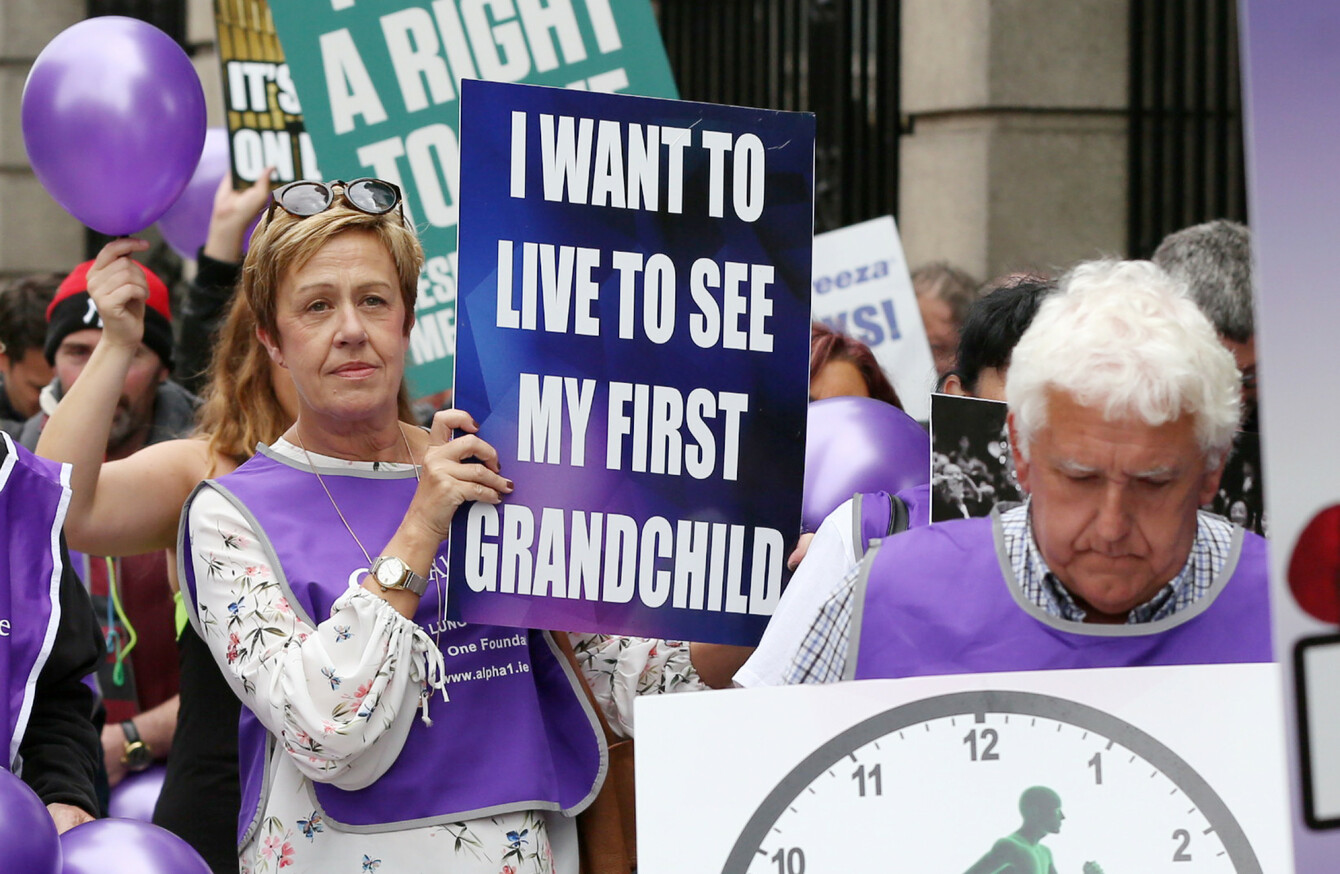 Alpha-1 Patient Action Group vigil
Image: Sam Boal via Rolling News
Alpha-1 Patient Action Group vigil
Image: Sam Boal via Rolling News
PATIENTS WITH A chronic lung condition have called on the HSE and the Department of Health to take action as the supply of their medication is due to be cut off within weeks.
21 Alpha-1 patients in Ireland have been receiving the Respreeza drug up until now through a compassionate use programme.
However, the HSE has failed to reach a price agreement with its manufacturer, CSL Behring, and the company will stop providing the free treatment at the end of this month.
Patients with the condition, also known as genetic emphysema, have a deficiency of the Alpha-1 antitrypsin protein, which can lead to severe lung, liver and skin problems. Most people with the condition develop emphysema or chronic obstructive pulmonary disease (COPD) at some stage in their lives.
In a statement today, the HSE said that it did not find the clinical benefit of Respreeza to be "sufficiently strong in the context of the proposed cost and budget impact".
Professor Michael Barry, Head of the National Centre for Pharmacoeconomics said:
"We know this is a difficult time for patients who have been affected by this decision. However, the cost effectiveness of this drug has not been demonstrated following submissions from the manufacturer.
"The HSE has to consider the wider population and needs to manage the full range of health services to all of the other patient groups within the finite resources at its disposal."
[image alt="alpha 1" src="http://cdn.thejournal.ie/media/2017/08/alpha-1-2-266x400.jpg" width="266" height="400" credit-source="Sam%20Boal" credit-via="Rolling%20News" caption="Patient%20Josephine%20Mc%20Guirk%20with%20the%20Alpha-1%20Patient%20Action%20Group%20" class="alignnone" /end]
In June 2016, the HSE asked the National Centre for Pharmacoeconomics (NCPE) to carry out a health technology assessment on the cost effectiveness of Respreeza, which costs over €100,000 per patient per year and is delivered by a weekly injection.
On 9 December 2016, the NCPE did not recommend the drug for reimbursement as it determined the manufacturer failed to demonstrate its cost-effectiveness.
A spokesperson for the Department of Health told TheJournal.ie that the issue is a matter for the HSE and declined to comment.
Calls for action
The Alpha One Foundation said the drug "slows the progression of lung disease associated with Alpha-1″ and can lead to "fewer chest infections and less time spent in hospital".
The efficacy of Alpha-1 has been recognised by the European Medicines Agency and it has already been approved in 12 European countries. It's estimated that the drug could benefit up to 60 patients in Ireland.
[image alt="alpha 1 134_90513597" src="http://cdn.thejournal.ie/media/2017/08/alpha-1-134_90513597-296x217.jpg" width="296" height="217" credit-source="Sam%20Boal" credit-via="Rolling%20News" caption="Patient%20Josephine%20Mc%20Guirk%20with%20the%20Alpha-1%20Patient%20Action%20Group%20" class="alignnone" /end]
The Alpha-1 Action Group and the Alpha One Foundation took part in two hour-long vigils yesterday – the first at the head office of the HSE, and the second at the Department of Health's Hawkin's Health offices.
They called on the HSE and Minister for Health Simon Harris to "put patients first and to hammer out a deal with the pharmaceutical company on making Respreeza available in Ireland".
"Alpha-1 patients are becoming increasingly concerned and upset as they await a positive decision," Geraldine Kelly, CEO of the Alpha One Foundation said.
Fianna Fáil spokesperson on health, Bill Kelleher has said today that the decision to refuse funding for the drug is disappointing and will leave those currently on the drug in limbo.
"There is a deep anxiety, worry and indeed fear among these patients and their families about their futures if access to Respreeza is ended," Kelleher said.
"How can the HSE allow a situation whereby this drug will be taken away from them knowing that their health will undoubtedly deteriorate?"
Kelleher said that while the cost of paying for the medication is substantial, the "effect on the quality of life of people will Alpha-1 is equally profound".
'We wouldn't be here without it'
Johnny Hannan (67), from Mallow in Cork, is one of the patients who took part in the clinical trial.
"Respreeza has been clearly deemed to be of benefit for patients, so while policy-makers here might query its effectiveness, you have to wonder if they just think that we patients are not worth the investment," Hannan said.
"For those of us lucky enough to have had access, we know we wouldn't still be here without it. Respreeza has the potential to add years back on to people's lives. For us, it really is a lifeline."
Speaking on C103′s Cork Today Show, Hannan said that the past year has been agony.
"While my health has been well and good, I have aged 10 years. It's been 16 months of constant emailing, texting, meeting politicians.
I never thought at 67 years of age I'd be on my knees begging for life at this stage and that is literally what we are doing.
About 350 people in Ireland have been diagnosed with the most severe form of Alpha-1. It's thought about 3,000 people have this form of the condition but are yet to be diagnosed, while thousands more have a moderate deficiency.