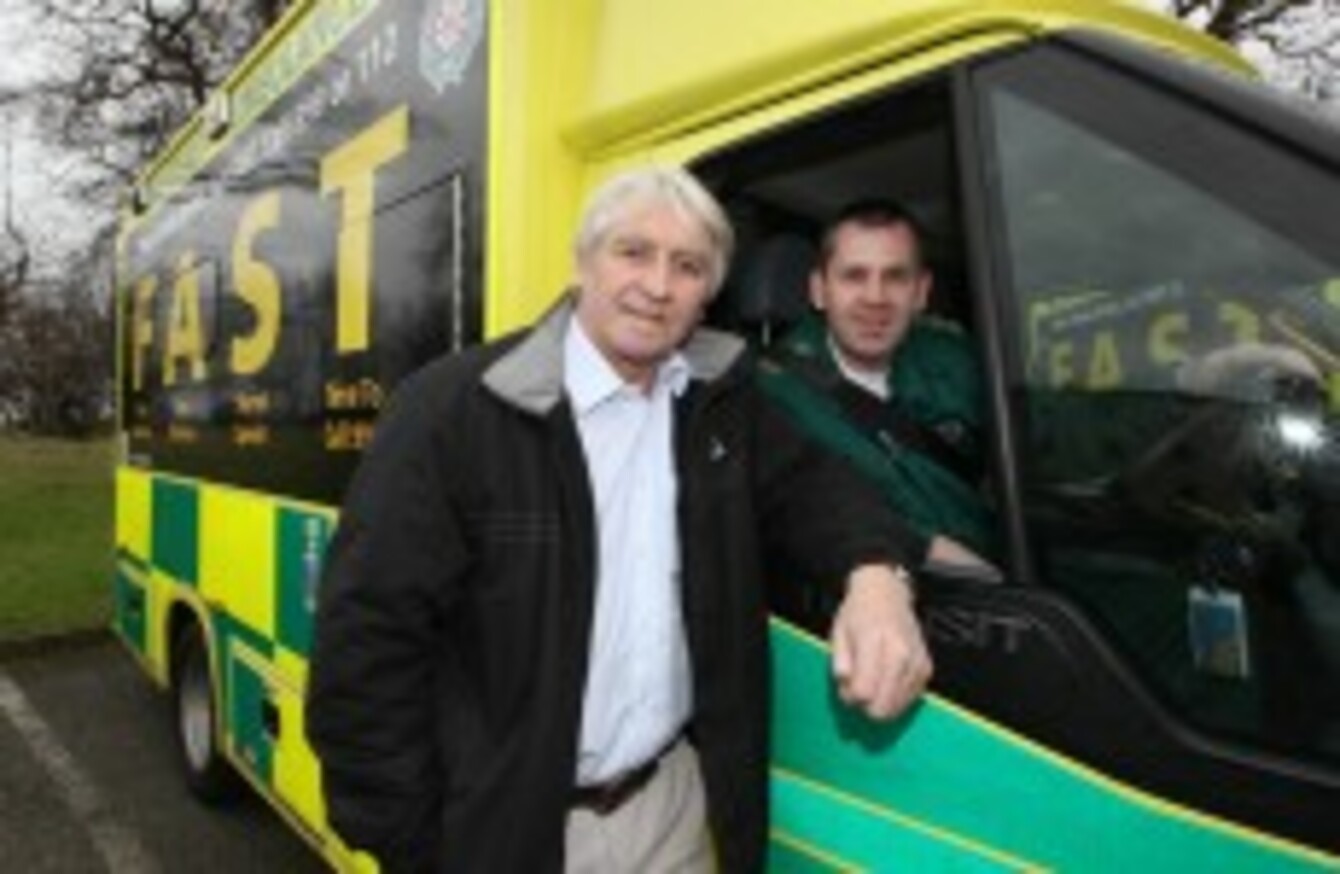 Fair City star Jim Bartley with Paramedic Supervisor James Goldrick.
Fair City star Jim Bartley with Paramedic Supervisor James Goldrick.
EMERGENCY AMBULANCES IN four counties are doubling up as a mobile billboards in an effort to increase public awareness of the Act FAST campaign on stroke warning signs.
This is the first time emergency vehicles have been used in a campaign like this and the move is aimed at helping to reduce the number of stroke deaths with one ambulance in each of the four counties – Galway, Donegal, Roscommon and Limerick – carrying the billboard.
The campaign is funded by the Irish Heart Foundation and the charity said it has contributed to an increase of over 400 per cent in the numbers of stroke patients receiving potentially life-saving clot-busting treatment known as thrombolysis since its launch just over two years ago.
The FAST signs are:
Face – has the face fallen on one side? Can they smile?
Arms – Can they raise both arms and keep them there?
Speech – is their speech slurred?
Time – time to call 999/112 if you see any of these signs.
Head of Advocacy at the Irish Heart Foundation, Chris Macey, said that delays in recognising symptoms ultimately delays a patient's access to vital treatment.
"In recent months, stroke physicians have been telling us of a significant decline in the numbers getting to hospital in time to be saved," he said. "Thanks to the National Ambulance Service, we now have an innovative means to put across the FAST message which we hope will capture the public imagination all over again."
The HSE National Stroke Programme estimates that the improved thrombolysis rate in Ireland is resulting in significantly improved outcomes for around 200 patients a year and has reduced the numbers requiring institutional care by 140 per annum.
Speaking at the launch of the billboard campaign, Jim Bartley, Fair City star and stroke survivor, said "it can happen to anyone at any time".
"I had my stroke while reading scripts," he said. "I started to get a strange feeling and my right arm started to go numb and when I tried to read the letters kept jumping on the page. I was lucky to get to hospital on time but everyone, no matter what age, needs to know the FAST signs of strike because it could save your life or the life of someone you know."