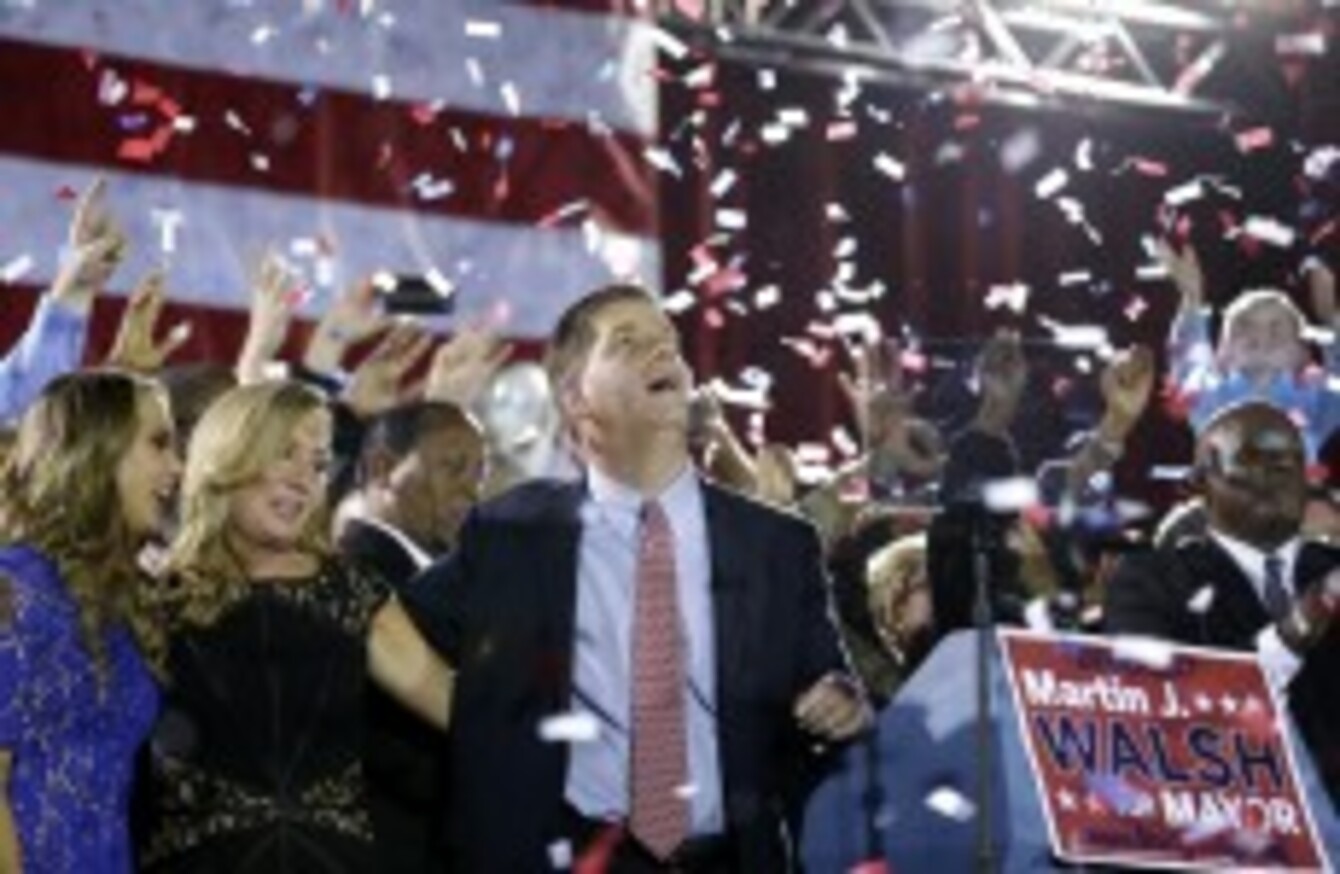 Martin Walsh (r) with his girlfriend Lorrie Higgins (centre) and Higgins' daughter Lauren (l) celebrating last night.
Image: AP Photo/Steven Senne
Martin Walsh (r) with his girlfriend Lorrie Higgins (centre) and Higgins' daughter Lauren (l) celebrating last night.
Image: AP Photo/Steven Senne
MARTIN WALSH, THE son of Irish emigrants who left Connemara in the 1950s, has been elected mayor of Boston.
Walsh beat off competition from John Connolly – also an Irish American – to succeed the long-time mayor Thomas Menino.
"Let me tell you, my parents had big dreams for their kids, but I'm not sure they were this big," Walsh told supporters last night after he was officially deemed elected.
Walsh, a recovering alcoholic who has fought cancer, was seen as the more down-to-earth candidate compared with Connolly, who is a city councillor and the son of the former Massachusetts Secretary of State and was initially seen as more likely to win.
Martin Walsh (AP Photo/Steven Senne)
In elections held across the US yesterday, Democrats  retook Republican strongholds in New York and the Virginia governor's mansion, while a Republican with potential presidential hopes won reelection easily in New Jersey.
Tuesday's vote was the first major round of balloting in the United States since President Barack Obama won a second term in the White House last year. Some races were seen as litmus tests for future national voting.
New York City
In the nation's largest city New York, old-style progressive Bill de Blasio became its first Democratic mayor in a generation –  since 1989 –  even though New York is overall largely Democrat.
Bill de Blasio (left) with his family on stage in Brooklyn last night after he won the NYC mayoral election (AP Photo/Kathy Willens)
Another key race, for the governorship of the southern state of Virginia, turned out to be a nail-biter, but in the end Democrat Terry McAuliffe won in the otherwise strongly Republican state bordering the nation's capital.
In other states, lesser issues like marijuana were on the ballot.
Portland in the state of Maine on the east coast legalised it for people over 21, joining other cities which have done so.
And in Colorado, where the herb was recently legalised, voters agreed to tax sales of it.
Chris Christie
New Jersey's Republican Governor Chris Christie handily defeated his Democrat challenger, earning a second four-year term in a race some pundits said would serve as a platform for a future presidential bid.
Chris Christie (AP Photo/Mel Evans)
Christie is a straight-talking moderate Republican who won much praise for his handling of the devastation wrought on his state last year by Superstorm Sandy.
He cruised to a landslide win even though he is at odds with many in his party at the national level.
He is increasingly seen as a contender for the Republican nomination for the White House in 2016 given his pragmatism, charisma and ability to command cross-party support.
Obama called De Blasio, McCauliffe and Boston mayor-elect Martin Walsh to congratulate them.
Meanwhile, the race in the Big Apple — in which de Blasio long had been tipped as the heavy favorite to replace billionaire Michael Bloomberg — was one of several seen as a barometer of public opinion ahead of congressional elections in 2014.
Bill de Blasio (AP Photo/Kathy Willens)
De Blasio, 52, promises a new style in a city transformed by 12 years of tough love under Bloomberg, a Republican-turned-independent who is stepping down after a record three terms.
"Our work is really just beginning," De Blasio told supporters at his Brooklyn campaign headquarters in his victory speech.
One of his key focuses is to narrow the gap between rich and poor in the nation's financial hub.
He left Republican rival Joe Lhota trailing in the dust in the biggest city in the United States by tapping into the worries of the economically vulnerable middle class. He promises to raise taxes to fund universal pre-playschool education and after-school programs, and build 200,000 affordable housing units.
Bloomberg's legacy
The incoming de Blasio administration is likely to usher in a dramatic change in the mayor's office led by Bloomberg, a transformative figure, but who leaves behind an electorate divided over his legacy.
There has been a continued reduction in violent crime and his aggressive public health policies, such as banning smoking in bars and restaurants, have been copied in many cities.
Meanwhile, Virginia's changing demographics — with a rural-suburban split and significant military and government employee populations — make it a litmus test for the political mood ahead of the next presidential vote in 2016.
Christie's win, paired with Cuccinelli's loss, is likely to solidify thinking that Republicans would be better served with ditching deeply ideological candidates.
Mayoral elections were also held Tuesday in the rustbelt city of Detroit, which recently declared bankruptcy. Democrat Mike Duggan won, though his job holds little power as the city is now run by a state-appointed emergency administrator.
Additional reporting by Christine Bohan