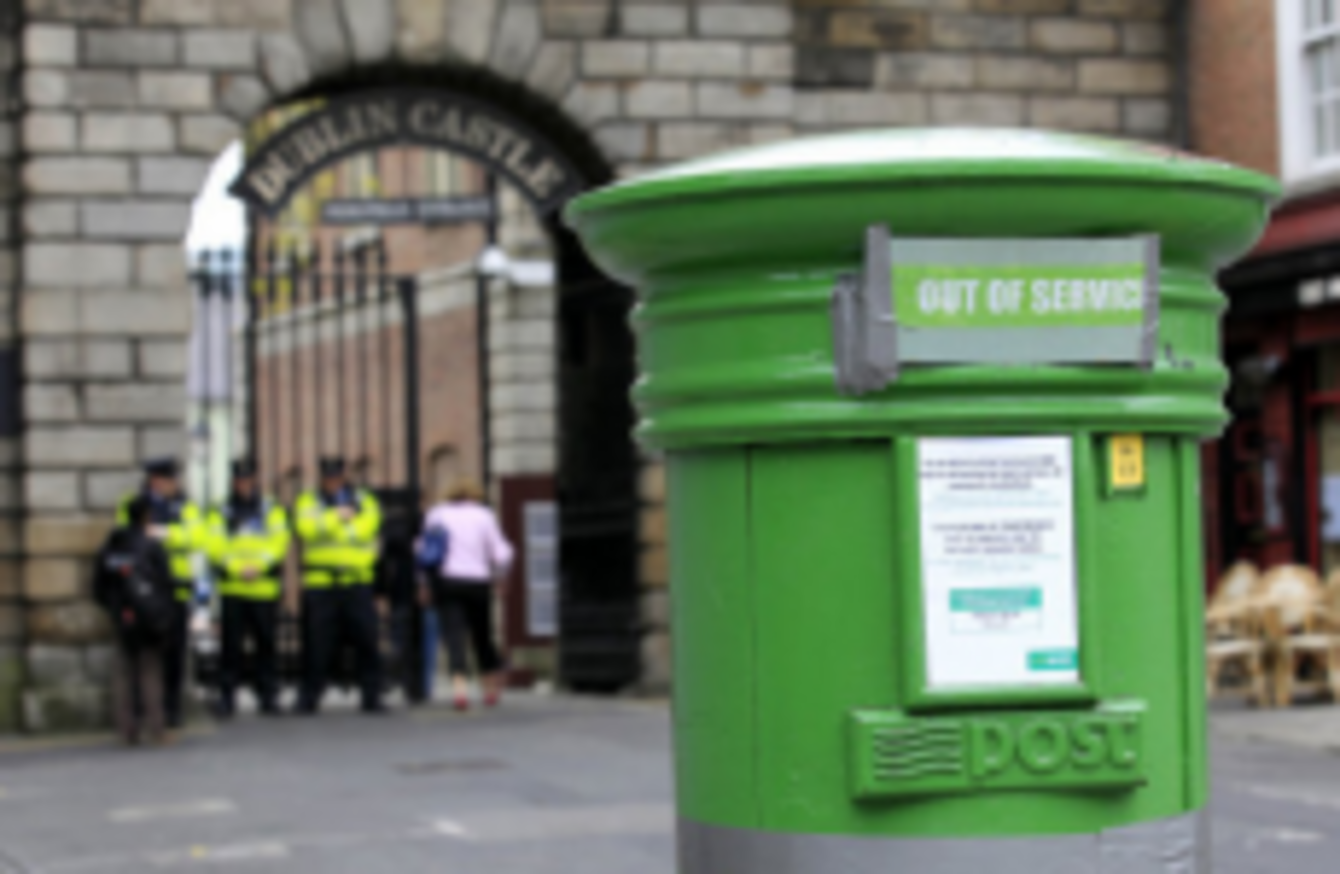 Image: PA Wire/Peter Morrison
Image: PA Wire/Peter Morrison
Updated at 11pm
AN POST CUSTOMERS have been told not to post any letters or parcels until further notice.
This follows industrial action by staff of supplier company IO Systems who are members of the Communications Workers' Union (CWU).
These workers are responsible for maintaining mail sorting equipment that is located at An Post's mail sorting centres.
These are located in Dublin, Cork, Portlaoise and Athlone.
This notice comes into immediate effect today and no post will be collected from businesses.
Why is strike action being taken? 
The reason the workers are going on strike is because of a new rostering arrangement that is opposed by IO Systems workers who are members of the CWU.
The CWU says that the new arrangement will impose a pay cut of as much as 22% on IO Systems workers.
This follows issues with reductions to basic pay and shift premiums and workers being places on non-rotating night shifts.
Speaking about the action, CWU general secretary Steve Fitzpatrick called the approach of IO Systems "reckless and arrogant" and that there was support for the striking workers from across the union.
Fitzpatrick added that the company should be investigated.
"We have had our suspicions up to now and these have been confirmed by the irrational action of the Company to escalate this dispute threatening a €850 million business to save €100,000 in wages to less than 30 workers at IO Systems.
We are calling today for the appointment of a Special Investigator from the C&AG's office to examine the background and process for the awarding of the IO Systems contract by An Post.
"We are appalled that well paid An Post executives are supporting IO Systems management in seeking to cut wages and consign IO Systems workers to permanent night work without proper recognition in their pay and conditions."
How long will this go on for?
An Post has said that customers should not post anything until further notice.
The industrial action is set to last for two weeks.
Normal post office retail services will continue as normal.
An Post has said that it apologises to its customers for the inconvenience and hopes that the parties involved will be able to resolve the dispute through the normal industrial relations processes.
What does it mean for customers?
The Department of Social Protection has said contingency arrangements will be put in place to provide for the delivery of payment cheques to its customers, should the dispute extend into next week.
The Department of Foreign Affairs and Trade also announced temporary Passport Express services earlier today.
It advises anyone travelling within 10 working days or less to book appointments on its online system for the Dublin and Cork passport offices via the www.dfa.ie website.
Passports will then be available for collection through the passport offices in Dublin and Cork.
Those travelling in more than 10 working days have been advised to use application drop-off boxes at the same officers, as well as the Irish Aid office in Limerick, from Monday morning onwards.
The Department said it does not expect the disruption of postal services to impact on application turnaround times.
First published at 11:30am. Additional reporting by Catherine Healy.