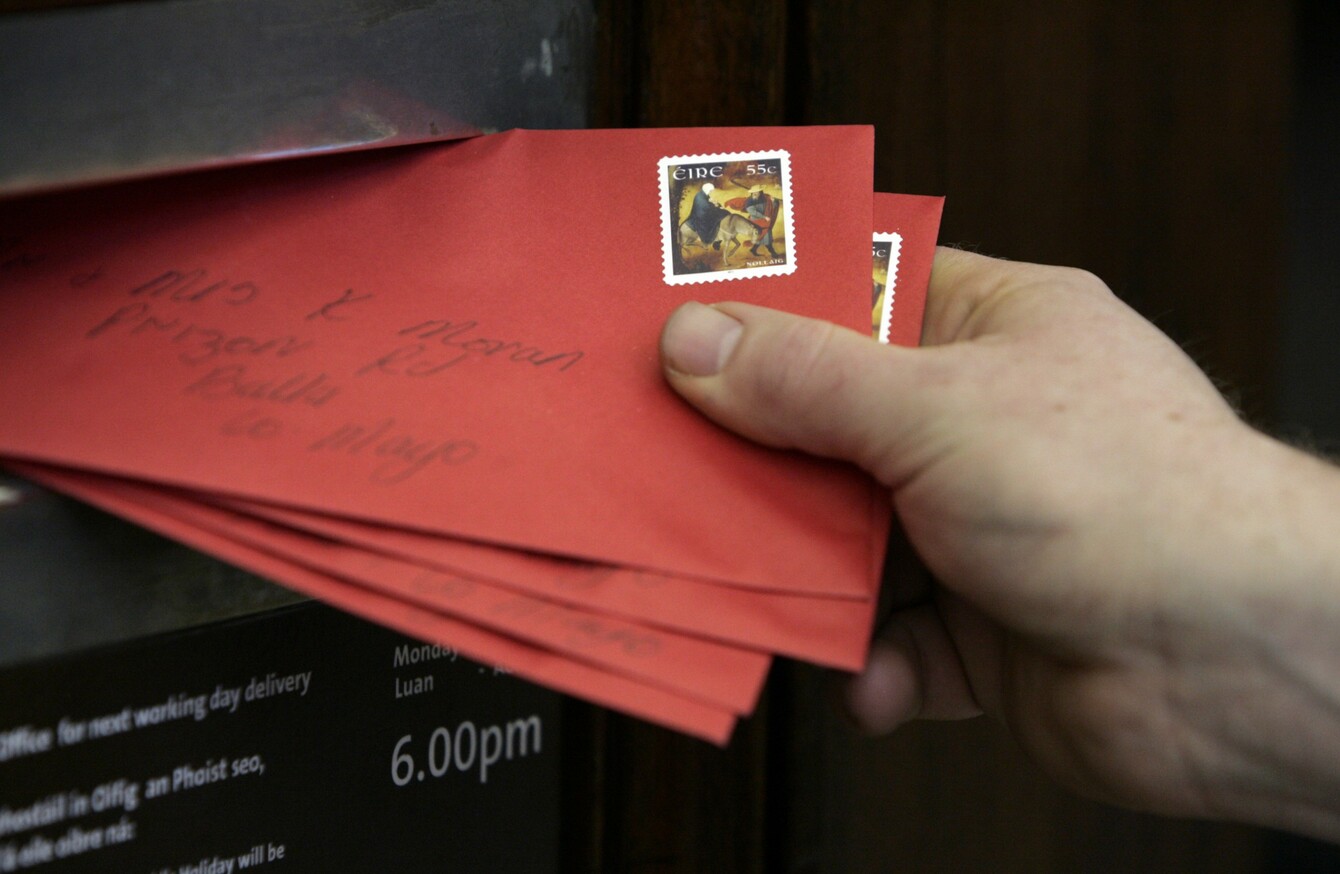 Image: Mark Stedman/Photocall Ireland
Image: Mark Stedman/Photocall Ireland
THE PRICE OF a postage stamp is set to rise after the Minister for Communications, Climate Action and Environment, Denis Naughten brought a memo to government today.
Naughten said he sought permission from Cabinet to draft a piece of legislation that would remove the price cap of an An Post postage stamp.
Such a move is necessary to protect the five-day postal service in operation nationwide, the minister claimed.
"Last month it was brought to my attention by An Post that it is in a very difficult financial situation," he said.
Losses in An Post
In a statement, An Post said it is making a loss of €12 to 15 million in 2016 and a much greater loss is envisaged for 2017.
Naughten said he acted "immediately upon receiving that information" and sought an independent report in relation to the impact of increasing the price of a stamp on the amount of income it would generate for the organisation.
Increasing the price of a stamp will impact on the volume of sales, he added, stating that An Post will also have to consider the impact a price hike will have on small businesses.
The general secretary of the Irish Postmasters' Union warned that increasing the price of stamps will reduce the volume of business and threaten the postal service.
However, An Post welcomed the minister's intervention today, stating that their losses are "not sustainable".
European prices
The company welcomed that it will not have the freedom required to bring its postal pricing in line with European peers by repealing the price cap mechanism.
This will bring them more in line with prices in Europe, it stated.
To balance the loss of volume, letter prices in Europe increased by 36% from 2007-15 – with further increases of up to 10% in 2016 – while in Ireland prices have increased by only 16% in the same period. An Post's quality of service is now benchmarked as one of the best in Europe but continued service provision is dependent on correct pricing.
An Post said a price increase in line with its peers will allow it to continue to meet its obligations and deliver mail to every house in the State every weekday for a uniform price.
Naughten said An Post has now sought an independent firm of experts, who have reviewed other postal services in other jurisdictions, to carry out a root-and-branch review of the service.
A report is to be delivered in the first four months of 2017.