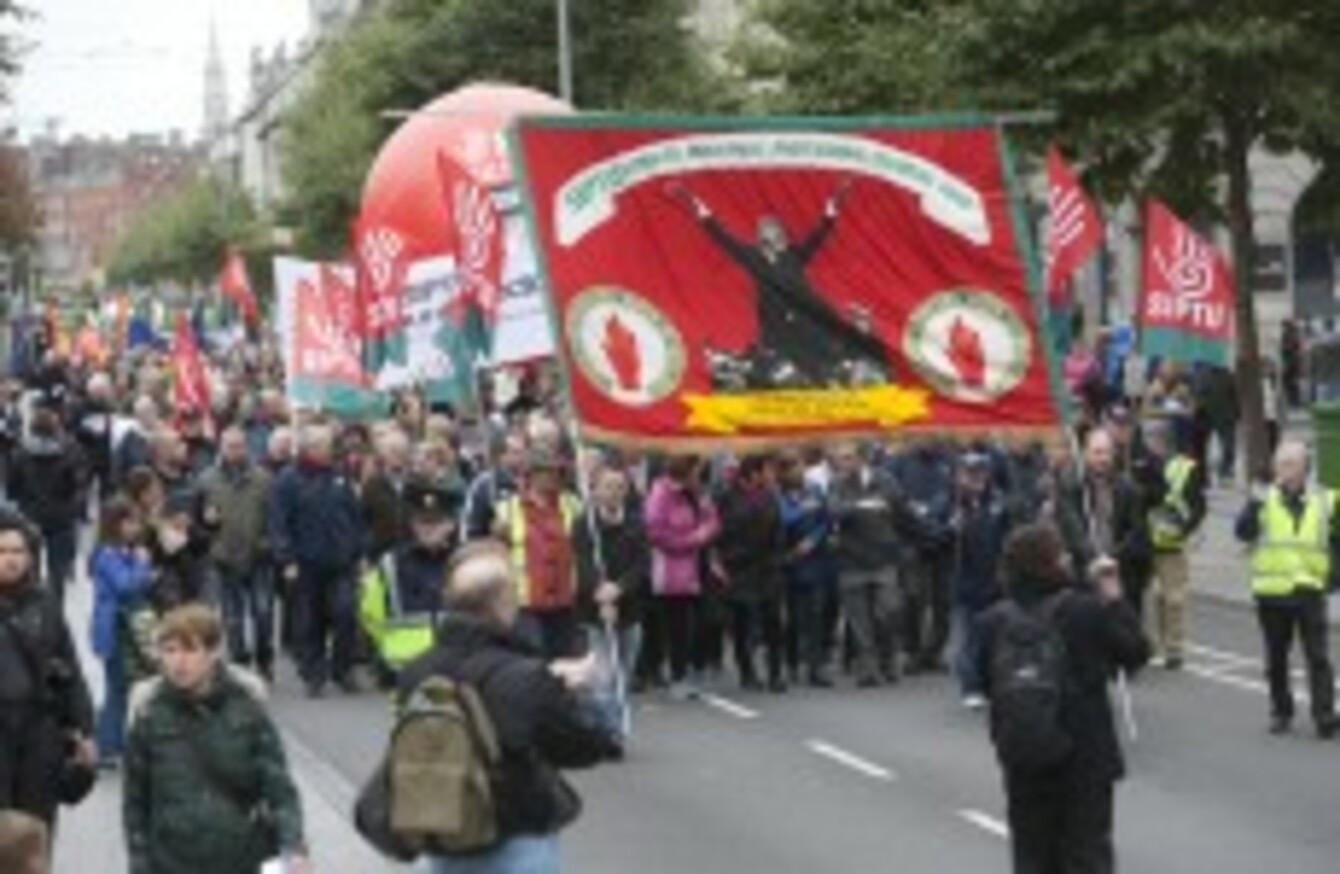 Trade union and community groups protest march
Image: Eamon Farrell
Trade union and community groups protest march
Image: Eamon Farrell
THE DUBLIN COUNCIL Of Trade Unions has called on all trade unions to support the ASTI in their rejection of the Haddington Road Agreement.
Speaking at an anti-austerity march in Dublin today, DCTU President Mick O'Reilly said that the ASTI is being threatened by the Government as a result of their rejection of the Haddington Road Agreement and he told the crowd to "send a loud message of solidarity" to both them and the Government.
ASTI members are entitled to the support of all trade unionists. Here, today, let us send a loud message of solidarity that will be heard not only by teachers but by those in Government Buildings who believe that workers' rights are an optional extra
He described the ASTI as being "first victims of some of the most draconian anti-union legislation enacted in Europe during the past 50 years".
The pre-Budget demonstration in Dublin city centre today began at the Garden of Remembrance, before proceeding down to the GPO on O'Connell street.
(Rita Fagan of the Spectacle of Defiance Community Organisition. Pic: Eamonn Farrell/Photocall Ireland)
O'Reilly said that the crowd must make it clear to the Government that "even one more cut will be one cut too many."
"The politics of austerity amount to a war against working people, and our best defence in that war is unflinching solidarity," he said.
Todays action was supported by leaders from a number of unions including SIPTU, Unite and the CPSU with O'Reilly concluding that the Government isns't achieving anything:
Regardless of the final 'adjustment' announced on Tuesday, we know that more self-defeating cuts will be imposed despite all the evidence showing that cuts do not equal savings.