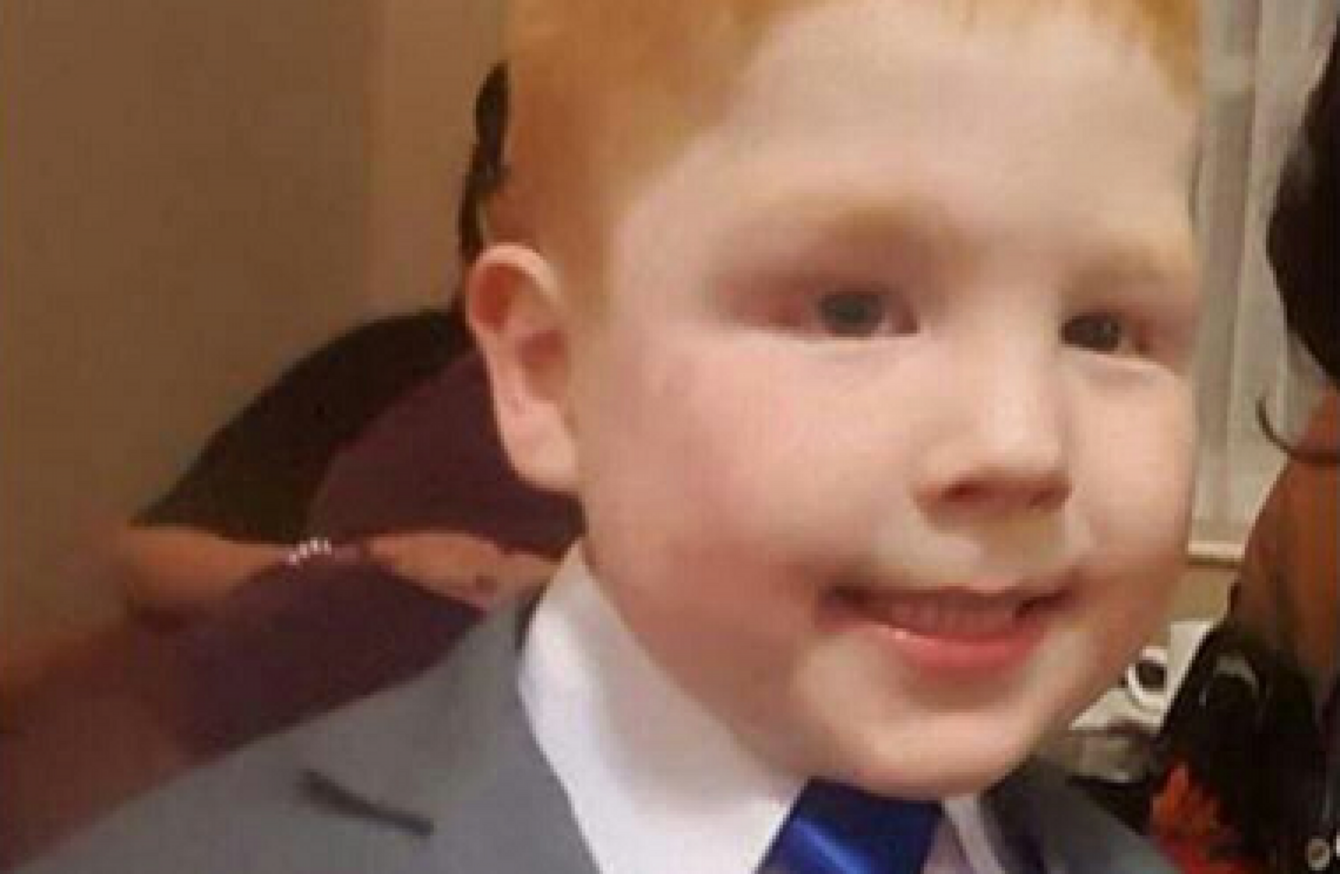 The family of Kayden Fleck have described him as a boy "who just melted your heart".
Image: PSNI
The family of Kayden Fleck have described him as a boy "who just melted your heart".
Image: PSNI
Updated at 4.20pm
A FIVE-YEAR-OLD BOY who died after being swept away by a river in Antrim yesterday has been named as Kayden Fleck.
A rescue operation was launched after Kayden entered the River Braid near Ballymena. The alarm was raised just after 1pm yesterday afternoon.
PSNI officers managed to take the child from the river around six kilometres downstream, and he was immediately airlifted to hospital.
Kayden's parents, Darrel and Leanne Fleck have described their "happy-go-lucky" son as "your average wee boy" who "just melted your heart".
Darrel and Leanne described Kayden and his twin brother, Jayden, as the "two musketeers".
The local Harryville Primary School said on Facebook: "Please remember the McGowan family in your thoughts and prayers at this very sad time as they mourn the loss of wee Kayden.
The whole school community is remembering you at this sad time.
Teams from the Community Rescue Service and the Northern Ireland Fire and Rescue services assisted in trying to locate and rescue the boy from the fast-flowing river.
The Community Rescue Service said: "It is with great sadness that we learned that despite the best efforts of everyone involved the youngster lost his fight for life.
The management and volunteers of the Community Rescue Service extend their deepest sympathy, thoughts and prayers to the family of the young boy at this tragic time.
PSNI Inspector Shaf Ali said: "I would like to take everyone involved in the search effort and extend my sincerest condolences to the family at this time."
In a statement released today, Kayden's family thanked the agencies who were involved in the search and rescue operation, and said they were grateful for the community for the support they have been afforded.
- with reporting from Gráinne Ní Aodha