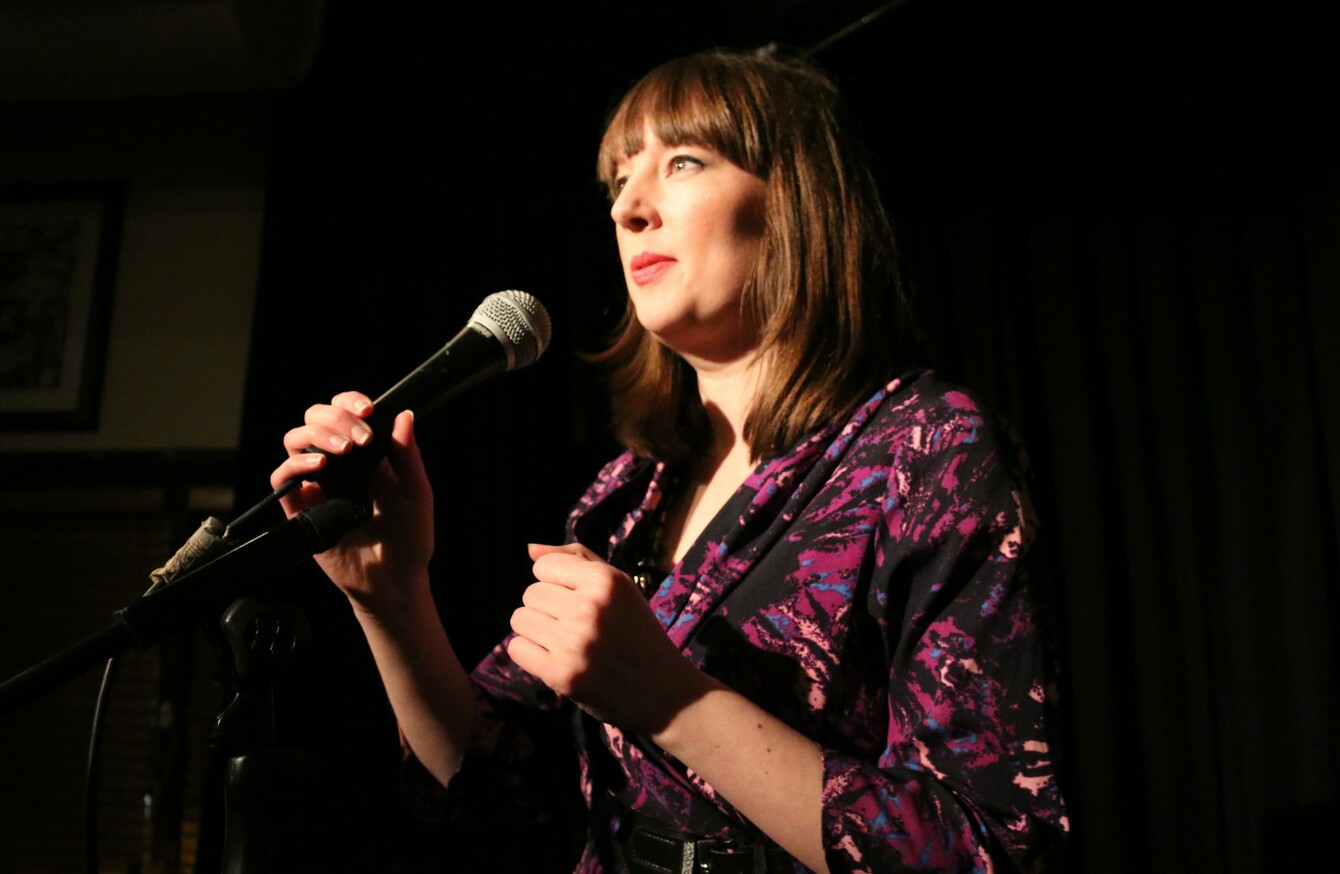 Image: Tom Maher/Gaiety School of Acting
Image: Tom Maher/Gaiety School of Acting
TEN WEEKS AGO, the thought of standing on stage and doing a comedy routine in front of strangers (and, perhaps more terrifyingly, in front of friends) seemed like a very distant dream (nightmare?).
Sure, I'd signed up to do over two months of stand-up comedy classes with the Gaiety School of Acting, in the safe hands of actor and comedian Sharon Mannion, but the realisation that I would have to do an actual routine myself hadn't quite set in.
Fast-forward to last week, when things got very real indeed. It was the first of our two comedy showcase nights, when the initial gang of budding comics in the course would take to the stage.
The following Thursday, the rest of the gang – including me – would get our go. Every joke we'd tried, ever game of 'zip, zap, zop' we'd played, every hour of class we'd put in over the nine weeks – all of it had led up to this point.
Our task was pretty simple: concoct five minutes of stand-up material, and take to the stage with it. Sharon told us that, with the natural pauses (for laughs, we hoped), the sets would lengthen to about seven or so minutes in the end.
Once we'd whittled down our sets, getting to that sweet spot of five to six minutes wasn't that difficult – but would it be hard once we were on stage?
Don't make me laugh
On the Monday night, I got to be a cheerleader rather than a participant, which was a bit of a relief. I was so proud as each one of my seven classmates took to the stage, with their varying sets, their confidence, and their dedicated fanbase of friends and family in tow.
That night's venue was the Workman's Club, but Thursday's gig was at the Woolshed, a sports bar that I don't frequent much because I'm, well, not really into sports.
When Thursday finally arrived, I progressively got more and more and more nervous as the day went on. By the time I got home from work, the nerves were really kicking in. I spent part of the evening emitting groans every few minutes when the realisation would hit me that I had no way of getting out of the gig.
When I got to the venue, the groaning had turned to memory loss. I couldn't remember most of my set, and I'd forgotten my notebook with all my notes in it.
I pictured myself getting on stage and going completely blank. At one stage, I was even having trouble remembering my first line – 'Hi, I'm Aoife and I'm from Cork' – which is just my name and place of birth.
But I kept getting positive texts and messages from friends and family, and I remembered the words of my two best friends, who urged me to just do it – one of them, a musician, impressed on me that I just had to tell myself there was no backing out now. It worked.
It's natural to wonder if the quality of stand-up at a course showcase would be bad, and afterwards my friends confided they were pretty sure it would be a night of forced but intermittent laughs. Thankfully, the night was a success, with all my fellow comics going down a storm.
I was fifth up, and as soon as Sharon called my name I had to just summon all my energy and go for it. Looking at the video now, I don't appear to be as nervous as I felt. Part of my job is to go on live radio and TV, so I probably have stockpiled a few skills in being able to 'switch on' when it's required of me.
Getting on stage
The set itself was a bit of a blur, but a really wonderful one. With the stage light right in my eyes, I couldn't see everyone, so it helped me feel I was in a bit of a cocoon. But I could feel the positive vibes, and most importantly, hear the laughs and whoops of the crowd. It was pretty magical.
I loved doing the set, and I loved that the reaction was so good. Everyone's been asking me 'will you do it again?', and at first, I'd be a bit embarrassed to say yes. But all of us in the course do want to try some open mics, and see how our material will work in the real world. It might bomb, but at least we'll have tried.
I was on a bit of a high the next day, and I still get a jolt of excitement when I think about the gig. I'm a fairly confident and outgoing person, but I'm also a born worrier and very familiar with that old friend anxiety. And those two things can often make us doubt our abilities, or make us not give things a try in case we fail. I know I'm particularly prone to the latter way of thinking.
I'm proud that, with a bit of a nudge, I did this, and instead of having 'do a stand-up set' on a never-to-be-completed bucket list, I've actually gone and done it.
Plus, I've made a heap of new friends in the process. There's a bond between us all that's being fostered by a Whatsapp group and the talk of future gigs.
Here's the set – there's some cursing in it, so be warned. The comments section is below. You know what to do.
Source: Video TheJournal.ie/YouTube
Thanks to The Gaiety School of Acting for enabling me to take part in their course. They will be running a stand-up course in the new year – details can be found here.