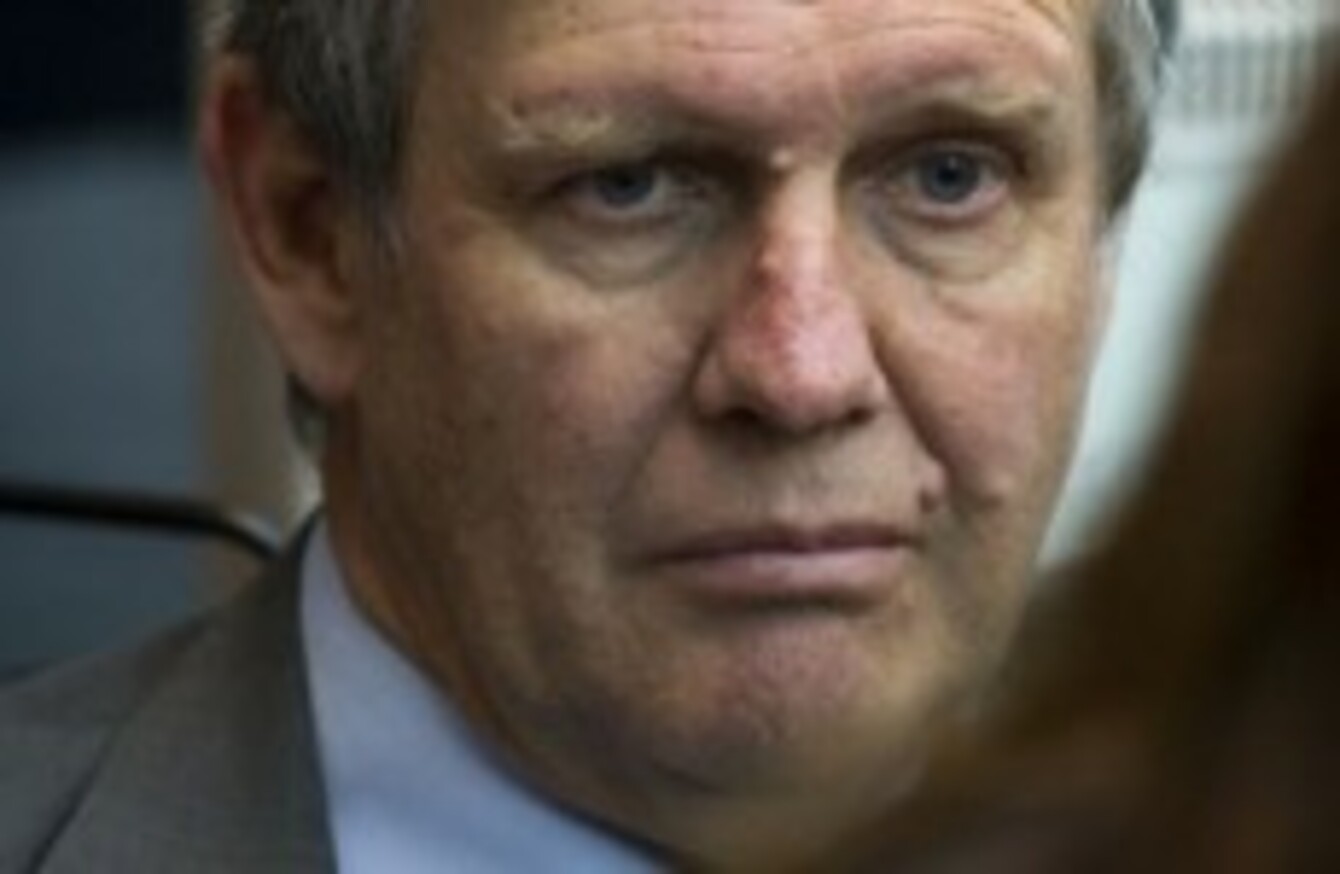 Alfredo Astiz, 59, aka 'the Angel of Death'
Image: AP Photo/Victor R. Caivano/PA Wire
Alfredo Astiz, 59, aka 'the Angel of Death'
Image: AP Photo/Victor R. Caivano/PA Wire
A COURT SENTENCED a former navy spy known as "the Angel of Death" and 11 other former Argentine military and police officers to life in prison yesterday for crimes against humanity committed during the 1976-83 military dictatorship.
Alfredo Astiz, a 59-year-old ex-navy captain, became notorious for his infiltration and betrayal of activists and was viewed by many Argentines as the symbol of the junta's crimes. He was accused of participating in the kidnapping, torture and murder of two French nuns, a journalist and three founders of a human rights group.
The crimes alleged against all the defendants included 86 cases of kidnapping, torture and murder of leftist dissidents committed at the Navy Mechanics School, one of the military junta's principal torture centers used to crush the threat of armed revolution. About 5,000 detainees passed through the school. Fewer than half survived.
Crimes against humanity
Closing out a trial that began in December 2009, four other defendants were sentenced to between 18 and 25 years in prison, while two others were absolved. Former Adm. Emilio Masserta, who commanded the torture center, was not included among the defendants because of poor health and died last November.
The verdicts were applauded by human rights activists and families of the victims who watched the verdict on a big screen television.
"Ole, ole, they will meet the fate of the Nazis. Wherever they go, we will find them," family members chanted.
The Navy Mechanics School, a leafy former military campus, is now home to a museum dedicated to preserving evidence of crimes against humanity.
The grounds also used to house a maternity ward where pregnant detainees were held until they gave birth and then were made to "disappear." A separate trial alleging that systematic baby thefts were part of the junta's anti-subversion strategy is under way in another courtroom.
Survivors and relatives of victims from the nation's "dirty war" against leftist guerrillas and political opponents called it a "historic day."
Astiz was charged in the disappearances of French nuns Alice Domon and Leonie Duquet as well Azucena Villaflor, a founder of the Mothers of Plaza de Mayo, a group that campaigned to find people "disappeared" by the junta. The three were among detainees who were tortured at the mechanics school and then thrown into the sea from navy aircraft.
The former spy also was convicted in the kidnapping and disappearing of writer Rodolfo Walsh, who along with Colombian author Gabriel Garcia Maquez founded the Prensa Latina news agency after the Cuban revolution. Walsh also created the Clandestine News Agency during Argentina's dictatorship to get around official censors.
Astiz has accused President Cristina Fernandez of promoting unjust and illegitimate prosecutions for her own political gain. Her late husband and predecessor as president, Nestor Kirchner, encouraged the trials after Argentina's Congress and Supreme Court removed amnesties that had protected junta veterans.
"This government doesn't hesitate in its revenge against we people who combated terrorism," Astiz said. "It seeks revenge through martyrdom and death in prison."