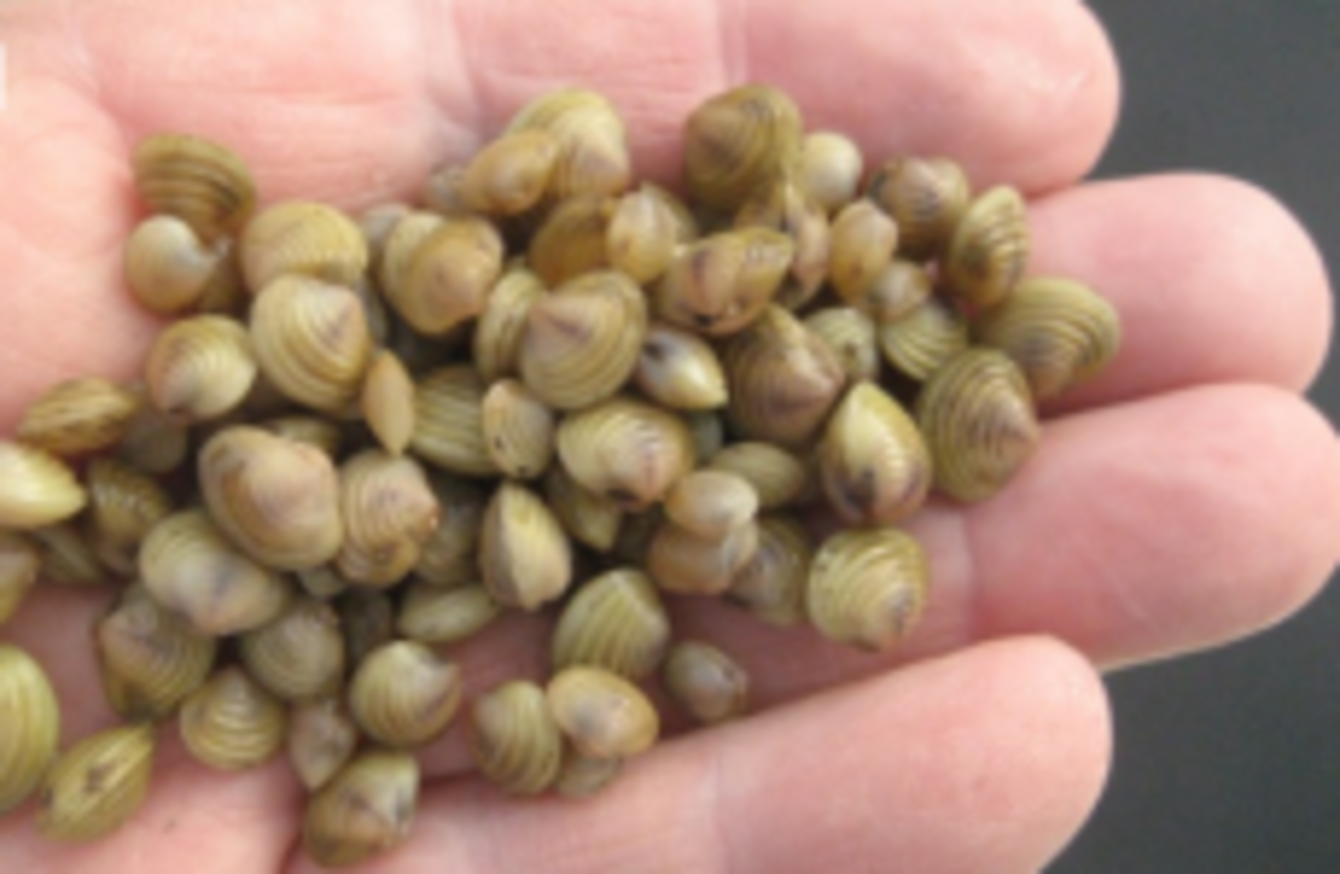 The Asian Clam
Image: Invasive Species Ireland
The Asian Clam
Image: Invasive Species Ireland
A MULTITUDE OF state agencies have been meeting over the last few months to decide what to do about an Asian Clam infestation in what's known as the 'hot water' stretch of the River Shannon at Lanesborough in Longford.
The stretch was closed to anglers earlier this year as the presence of the tiny species was investigated.
It re-opened once again on 6 November under strict new biosecurity conditions: any anglers fishing in the area are being told to disinfect their equipment and waders when leaving the area.
Listed in the 'Most Unwanted' section of a list compiled by Invasive Species Ireland, the high-density Asian Clam (Corbicula Fluminea) competes fiercely with other species in the environment for food and space. It also poses a danger to water-based industries like hydro-electic power stations.
The species was first detected in Ireland in 2010 in the River Barrow…
Source: IrishAnglingUpdate/YouTube
Inland Fisheries Ireland, the National Parks and Wildlife Service, the Office of Public Works, Roscommon County Council, Longford County Council, Bord na Mona, the ESB and Waterways Ireland are carrying out a multi-agency response to the infestation, Minister of State Joe McHugh said last week in an answer to a parliamentary question.
"A detailed scientific assessment of the nature and extent of the infestation has been completed and based on this assessment the Agency Group agreed a dredging operation of the "hot water" stretch," McHugh said.
A trial dredging operation is due to take place on the river, before any larger-scale process takes place. There are, however, a few speed-bumps to be smoothed before the operation goes ahead — like deciding how to dispose of the dredged material.
"Waterways Ireland has indicated its preparedness to carry out the trial dredge operation with the support of the Agency Group once the disposal requirements are determined by EPA," the Minister said, adding… 
"The possible onset of deteriorating weather and water conditions is a concern for all agencies but they are confident that the trial dredge will proceed shortly."
Source: IrishAnglingUpdate/YouTube
Given the invasive nature of the Asian Clam, however, "once in a water body it is likely that operations will be focused on managing the infestation rather than eradication".
According to Invasive Species Ireland — an all-island organisation that comes under the remit of the National Parks and Wildlife Service south of the border — Asian Clams "could have been introduced to Ireland in boat bilge water, as live bait or as a result of escapes from the aquarium trade".