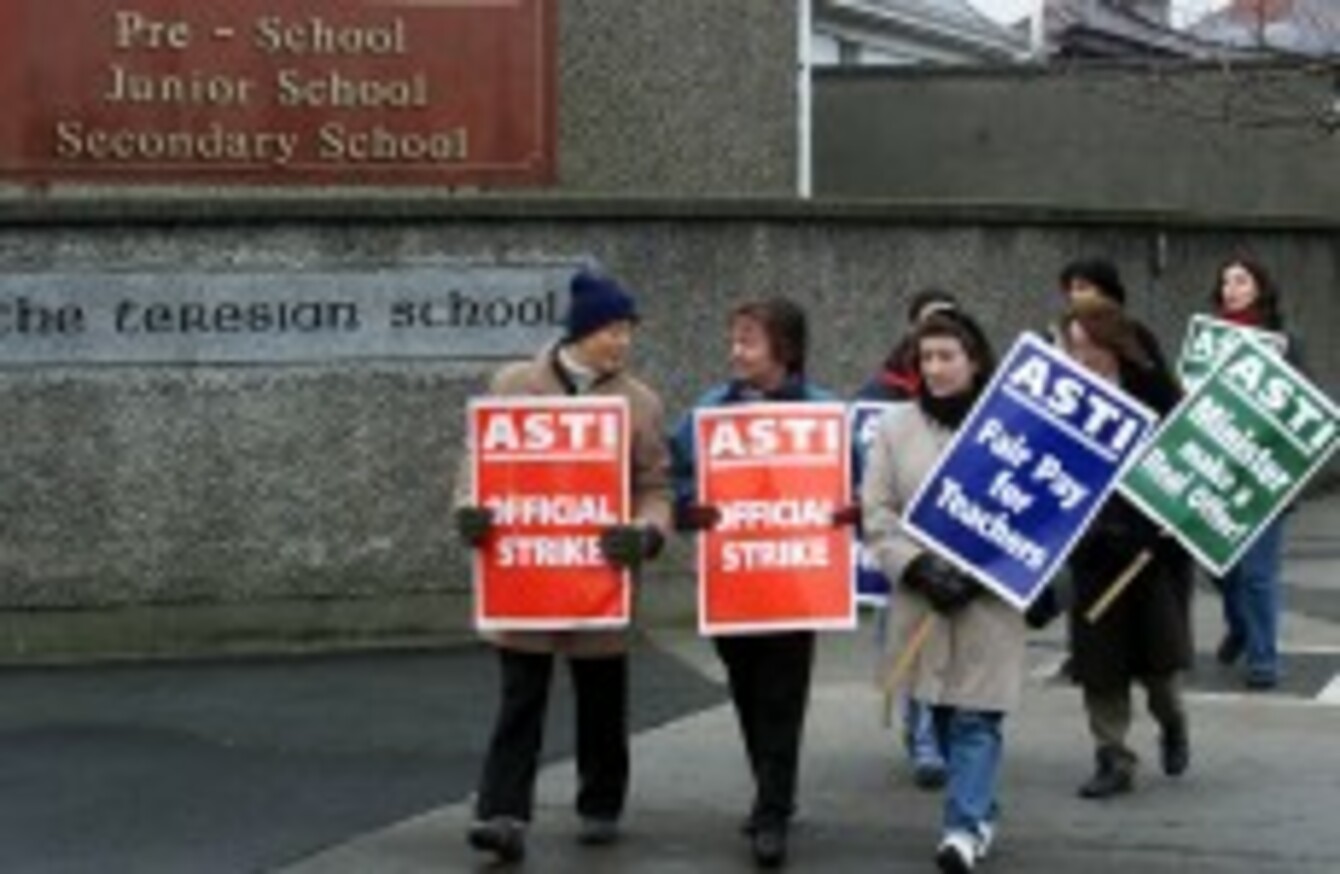 Members of the ASTI in a 2001 strike.
Image: Chris Bacon/PA Archive
Members of the ASTI in a 2001 strike.
Image: Chris Bacon/PA Archive
TEACHERS' UNION THE ASTI has hit back at an association that represents principals after it suggested industrial action taken by teachers could have a damaging impact on students.
In a letter to ASTI President Sally Maguire, posted on its website, NAPD President Kay O'Brien said that the current proposals, which would limit participation of teachers in areas like supervision, "present an appalling vista" for principals and deputy principals.
"The impact of such directives will be divisive, destructive of collegiality and diminish the capacity of schools to meet the needs of students," she wrote.
'Principals did not cause the crisis'
It is understood that there is a concern among principals in dual union schools that there could be disputes among teachers when the Haddington Road Agreement is implemented and some are getting paid for certain duties, while others are not because their union signed up to it.
The ASTI decided after a ballot that its members would withdraw duties outside of normal school hours, starting from Wednesday of next week.
O'Brien also said it was important to remember that principals and deputy princials "did not cause the current economic crisis and do not have it in their power to resolve it".
In a statement today, the ASTI President said her union also represented prinicipals who participated in ballots that rejected the Haddington Road Agreement and supported industrial action.
Last year the Director of the NAPD called for pay cuts for teachers and principals. The NAPD also welcomed – uncritically – the introduction of the Minister for Education and Skills' Framework for Junior Cycle despite the fact that almost half of all principals say that their schools have little or no capacity to implement this new Junior Cycle programme. These statements make clear the difference between the role of teacher unions in representing principals and deputy principals and the role of the NAPD.
Headaches
While Maguire said the union accepted that industrial action would "involve administrative headaches for principals, deputy principals and all teachers", she said this would have little impact compared to that of the government's education cuts.
Speaking to TheJournal.ie, Director of the NAPD Clive Byrne said the intention of the letter was "to ask teachers to recognise the the particular responsibilities of principals and deputy principals".
"Principals want to make sure there isn't division among staff and they're trying to maintain a positive climate and manage what is a difficult situation," he added.