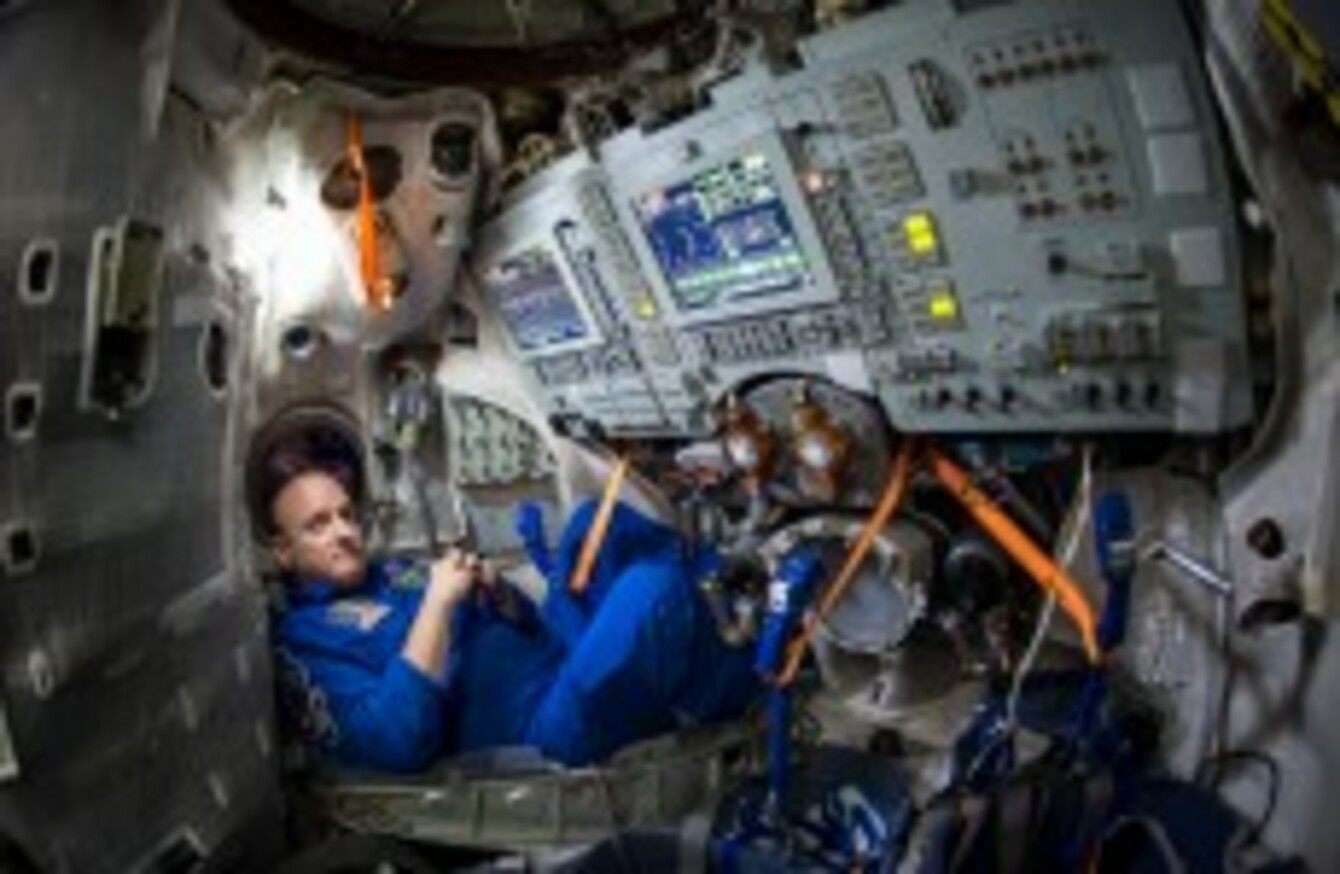 Astronaut Scott Kelly sits inside a Soyuz simulator at the Gagarin Cosmonaut Training Center
Image: AP
Astronaut Scott Kelly sits inside a Soyuz simulator at the Gagarin Cosmonaut Training Center
Image: AP
A PIECE OF space junk forced the three space station astronauts to seek emergency shelter today.
For nearly an hour, the American and two Russians hunkered down in their Soyuz capsule, which is docked to the International Space Station, in case they had to make a quick getaway.
The fragment from an old Russian weather satellite ended up passing harmlessly, about 1½ miles away.
It's only the fourth time in the 16-year history of the space station that a crew has had to rush into a Russian Soyuz for protection from potentially dangerous debris.
The exact size of the object was unknown, according to a NASA spokesman.
Normally, NASA learns about incoming junk sooner, and the space station moves out of the way. But there wasn't time for that today; the crew was notified just 1½ hours in advance.
All-clear
The three men were already up and working when Mission Control ordered them into the Soyuz on Thursday morning. They did not need to put on their Soyuz flight suits, and there was no rush, said NASA spokesman Dan Huot.
The all-clear came 1½ hours after the initial alert, around 8 am EDT. It took the astronauts more than an hour to get their 250-mile-high home back to normal operation, following the "shelter in place," as NASA calls it.
Research work that was interrupted will be rescheduled, according to Mission Control.
Space junk
Kelly and his Russian roommates, Mikhail Kornienko and Gennady Padalka, are getting used to junk in their neighborhood.
Twice since the trio arrived in March, the space station has had to dodge pieces of orbiting debris, in April and June. Three more men are due to arrive next week.
The last time a station crew had to jump into their Soyuz for protection was in 2012.
The US Defense Department is currently tracking about 22,000 dead satellites, spent rocket bodies and all other forms of orbital debris.