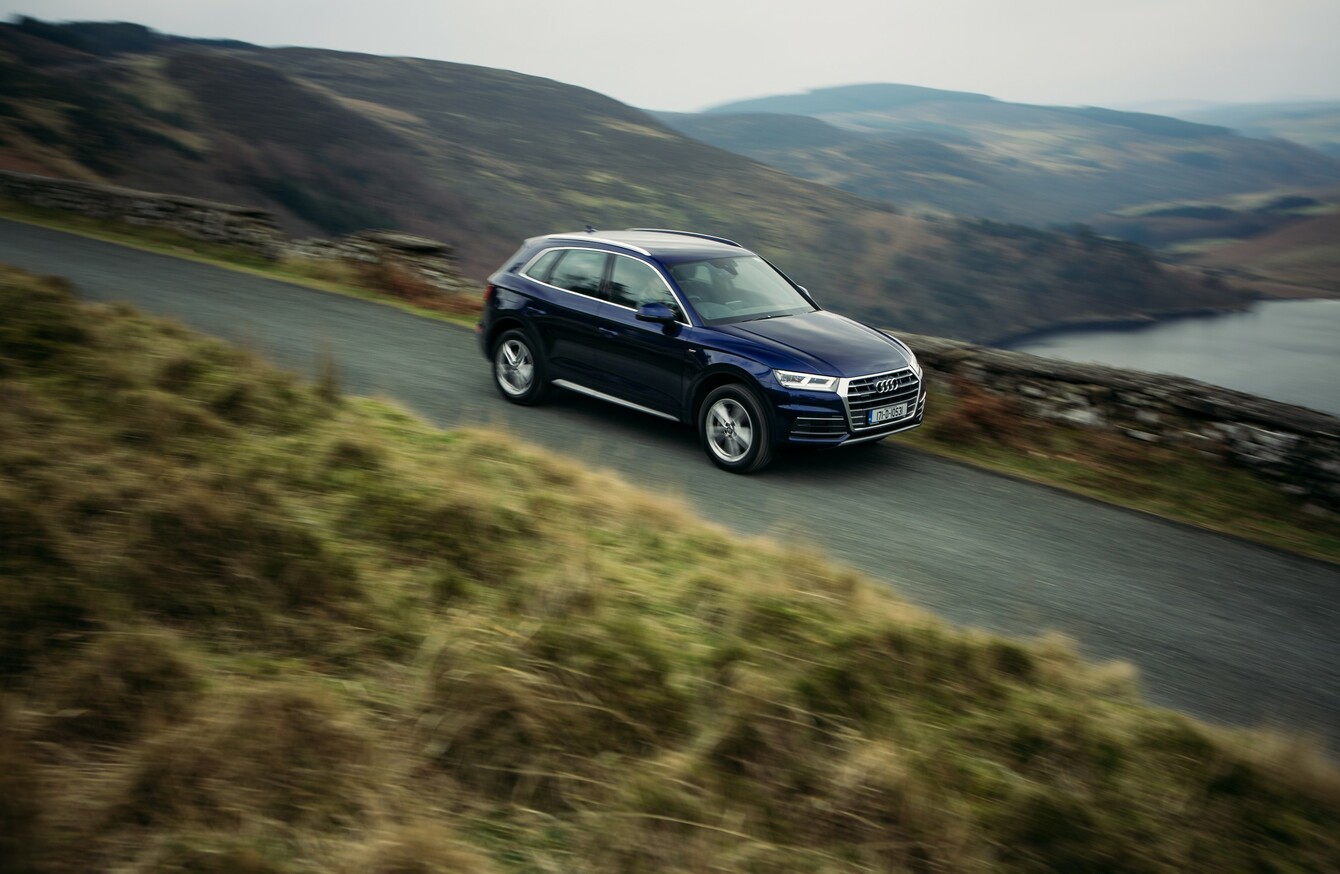 Image: Paddy McGrath
Image: Paddy McGrath
THIS IS THE second-generation of Audi's medium-sized Q5 SUV. It costs from €47,500, although the test car in the photos is the S-line model with all the option boxes ticked and has a price tag of €67,022.
To get the general details out of the way: It is a very handsome machine with a wonderful interior made from high-grade materials and impeccable fit and finish.
It also impresses out on the road. It is one of the most refined cars out there, with almost no wind or engine noise penetrating the cabin. It is very comfortable too and makes light work of long motorway journeys. In short, it is a great car.
But, what about if you want to get off the tarmac? OK, we know that the most off-roading many Q5 owners do is mounting the grassy kerb outside the school gates, but what if you get lost on the way to brunch and end up on a gravel track? Will you be able to get off it, safely and confidently?
Well, yes, actually, you will. There are rivals with better off-road abilities, like the Land Rover Discovery Sport, but the Q5 can cope with most situations that you'd encounter in Ireland.
First off, if you do plan on using the Q5 off-road it's worth opting for the air suspension (€2,836.45 extra). With air suspension the car rises up to maximise its ride height over rocks and mud. Set the Drive Select to lift/off-road mode the body rises 45mm (1.8in) higher than the normal level.
The vehicle's approach angle is a respectable 25 degrees and its departure angle is 27 degrees, while its ramp angle measures 17 degrees.
Also helping you get off the tarmac is an Electronic Stabilisation Control (ESC) system which allows more slip during braking and acceleration to improve traction.
Another useful function is hill descent control, and a tilt angle indicator is installed when either adaptive air suspension or damper control is specified. The indicator shows the car's pitch and roll angles on the screen.
There are plenty of other toys onboard to help you get off (and back on) the road. But there are a few things that true off-road lovers need to consider.
The handbrake is electric, not manual. Quattro all-wheel drive is only available with the seven-speed S tronic gearbox – if you want a manual Q5 it comes as front-wheel drive only. In order to have lift/offroad and allroad drive modes, you need to have adaptive air suspension on your Q5 so you can't get the S line model.
Therefore, if you do want a Q5 with a bit more off-road capabilities your best bet is the 2.0-litre TDI with S tronic, quattro all-wheel drive, 18-inch wheels and the adaptive air suspension (you also have to have the €262.13 collapsable spare wheel with this). There is no extra cost for black or white paint – is there any point in spending €1,294.33 on metallic paint if you are going into the wild? The cost for this model is €57,098.58 excluding delivery charges. Tax is €280 a year.
So there you have it. The Q5 is a very accomplished on-road SUV but if you do venture off-tarmac it has all the features and support systems needed to help you do it safely and confidently.
But why anyone would want to take a gorgeous premium €60k SUV like the Q5 off-road is beyond me. I wouldn't even let muddy shoes into my Q5.