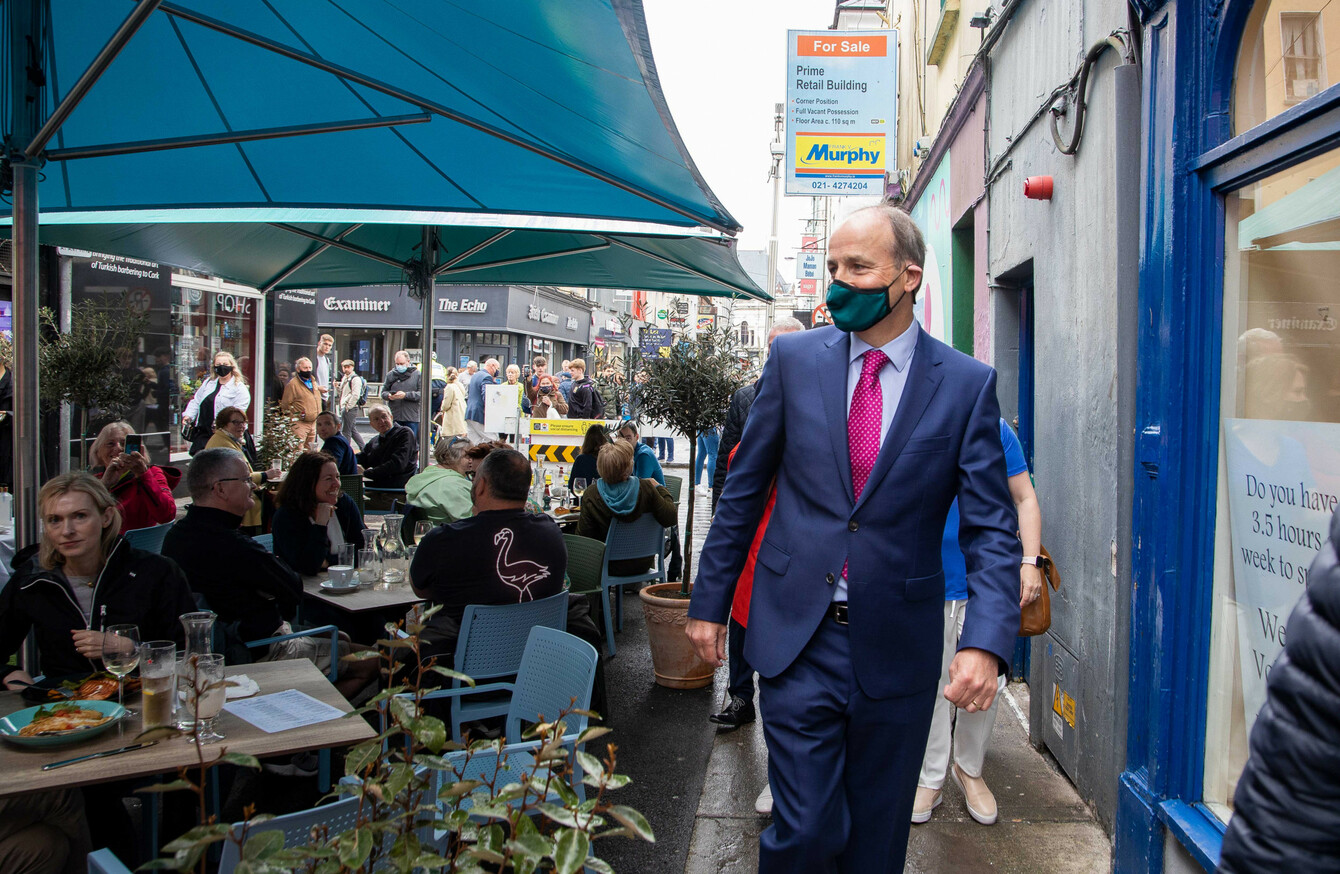 Speaking to reporters in Cork this afternoon, the Taoiseach said the vaccine programme is progressing, with hospitalisation numbers "well down and going down".
Image: OSM Photography
Speaking to reporters in Cork this afternoon, the Taoiseach said the vaccine programme is progressing, with hospitalisation numbers "well down and going down".
Image: OSM Photography
Updated Jun 8th 2021, 6:53 PM
TAOISEACH MICHEÁL MARTIN has indicated the government might be in a position to ease more restrictions in August than previously expected, including getting some workers back into offices.
Tánaiste Leo Varadkar is understood to have asked the National Public Health Emergency Team (NPHET) to consider a phased return to offices in August, rather than September, the Irish Independent reported today.
In April, he said it would be unlikely that workers would return to offices until September, however last month, Varadkar said he expected a staggered return to workplaces from August.
Speaking to reporters in Cork this afternoon, the Taoiseach said the vaccine programme is progressing, with hospitalisation numbers "well down and going down". 
Towards the end of the month the government should be able to make a call on what further relaxations might be permissible, he said.
"As you've seen all along the way we were able to do things in June that we didn't signal we would do a month earlier. We were able to do more than we signalled and likewise I think by the end of this month we might be able to do more than we signalled for August," said the Taoiseach. 
"And that does mean the return of some workers to the office by the end of August," he added.
While he said the message is that summer will be outdoors, there is a need to "gear up for the autumn". 
Plans to reopen colleges are underway, but Martin said he is also conscious that there are younger workers who have not met work colleagues for over a year in some cases.
The Taoiseach said the government would "take it step by step".
He welcomed the guidance issued today on some trialled sporting events, stating this is "about seeing what is possible and hopefully expanding and opening up spectators at sports for July, if trial events go well, we can look forward to accelerating spectators at various games". 
On a separate matter, Martin paid tribute to the businesses in Cork, as well as the council for operating outdoor dining and opening up spaces for the public.
When asked about the controversy over incidents in the South William Street, Saint Stephen's Green Park and Temple Bar Square areas of Dublin this weekend, where a large number of gardaí were on duty, with some using batons on members of the public, the Taoiseach said he was "very concerned" about the events that took place.
However, he said the vast majority of people in Dublin over the weekend were there to enjoy themselves, safely. It was only a "very very small minority" who were engaged in anti-social behaviour, he added.
The Taoiseach paid tribute to gardaí, stating that they are being "asked to do things that they wouldn't normally be asked to do" in terms of policing the emergency Covid-19 restrictions and regulations.
Outdoor dining
"It hasn't been easy for the gardaí either," said Martin. With outdoor dining opening this week, the Taoiseach said he believed "it will settle down now".
This belief was echoed by business group DublinTown, with CEO Richard Guiney saying that yesterday's reopening of outdoor dining led to an atmosphere that was "a lot better" in the capital. 
"There was a good atmosphere in the city yesterday, it was really what we wanted to see. People out enjoying themselves, it's what we want for the whole of the summer being honest," Guiney told The Journal. 
We've always kind of felt that when hospitality reopened it's important to allocate space to businesses, and they are then responsible for that space as they would be for their premises inside. They're responsible for cleaning, maintaining and the behaviour of their patrons.
He added that the extra refuse and toilet facilities that were provided by Dublin City Council did improve problems with litter that had been visible in previous weeks. 
We have been busy putting in build-outs & extra space for #OutdoorDining across the city & it was great to finally see them in use yesterday. Congrats to all the businesses that reopened! Why not drop by, give your support, & enjoy our new pedestrian spaces. #CityRecovery #Dublin pic.twitter.com/tbDj1Erznw

— Dublin City Council (@DubCityCouncil) June 8, 2021
"There was less rubbish on the streets definitely, that was a good start. And in terms of the odours that would have been there the the week before, there were certainly less odious odours," he said. 
Our view has been, no more than the DublinBikes when people were worried that they'd all end up in the Liffey but they didn't, is that when you provide facilities for people they use them. 
"We can't be dissuaded from doing the right thing because some people may misbehave." 
There had been calls last week to allow to pubs and restaurants to reopen before the bank holiday weekend in an attempt to push people towards controlled environments.
However, with the vast majority of people enjoying the bank holiday weekend safely across the country, Alan Cheevers, Fianna Fáil Councillor for Galway City East told Newstalk today the introduction of designated public drinking areas would help regain control of outdoor socialising.
#Open journalism No news is bad news Support The Journal

Your contributions will help us continue to deliver the stories that are important to you

Support us now
"There will always be a minority of people who will cause anti-social behaviour, but the majority of young people will be responsible to a certain extent. If you look at getting a particular area where they can have a drink in a controlled environment it's something we need to look at," he said. 
Asked about this suggestion, Guiney said he believes yesterday's reopening of outdoor dining "got the balance right". 
"There was space outside, it was managed obviously by the businesses and I think that changed the atmosphere of the city," he said. 
- With reporting by Rónán Duffy