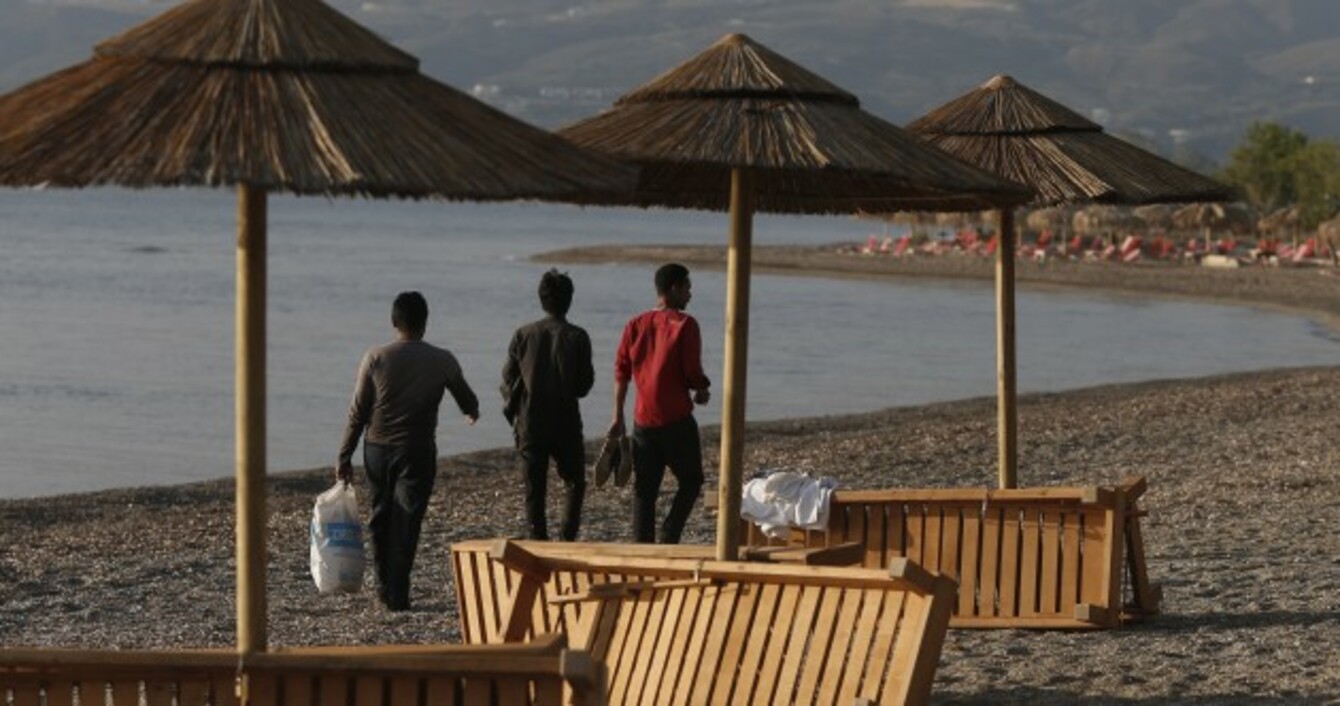 File photo: Three Pakistani Migrants walk on the beach of the island of Kos
Image: Associated Press
File photo: Three Pakistani Migrants walk on the beach of the island of Kos
Image: Associated Press
THE BADLY DECOMPOSED body of a baby has been found on the shore of Kos island, on the frontline of the migrant influx coming from Turkey.
The body of the baby boy, estimated to be 6-12 months old, was found dressed in green trousers and white t-shirt on the beach of a hotel.
According to Greek media reports, authorities believe the child belonged was a member part of a migrant family that tried to reach Kos in a dinghy.
The island of Kos was where the body of three-year-old Syrian boy Aylan Kurdi was flown for an autopsy last month.
Pictures of the lifeless body of the Syrian toddler face down on a Turkish beach shocked the world and helped spur European nations to seek an effective response to the growing migrant crisis.
The Greek Coast Guard continues the grim job of recovering bodies from the sea and the shores of its islands, fearing that things will only get worse as winter approaches and the weather deteriorates.
In September, at least 15 babies and children drowned when their overcrowded boat capsized in high winds off the Aegean island of Farmakonisi.
Around 630,000 people have entered the European Union illegally so far this year, the head of the bloc's border agency said in an interview with French media due to appear Monday.
Over 310,000 of the migrants have landed in Greece, according to UN refugee agency figures.
Nearly 3,000 others have died or disappeared during the crossing.
According to a Frankfurter Allgemeine Sonntagszeitung report on Sunday, the European Union and Turkey have agreed in principle to a plan of action to help ease the flow of migrants into the bloc
Under the plan, Turkey would agree to stepped-up efforts to secure its frontier with the EU by taking part in joint patrols with the Greek coastguard in the eastern Aegean coordinated by EU border protection agency Frontex.