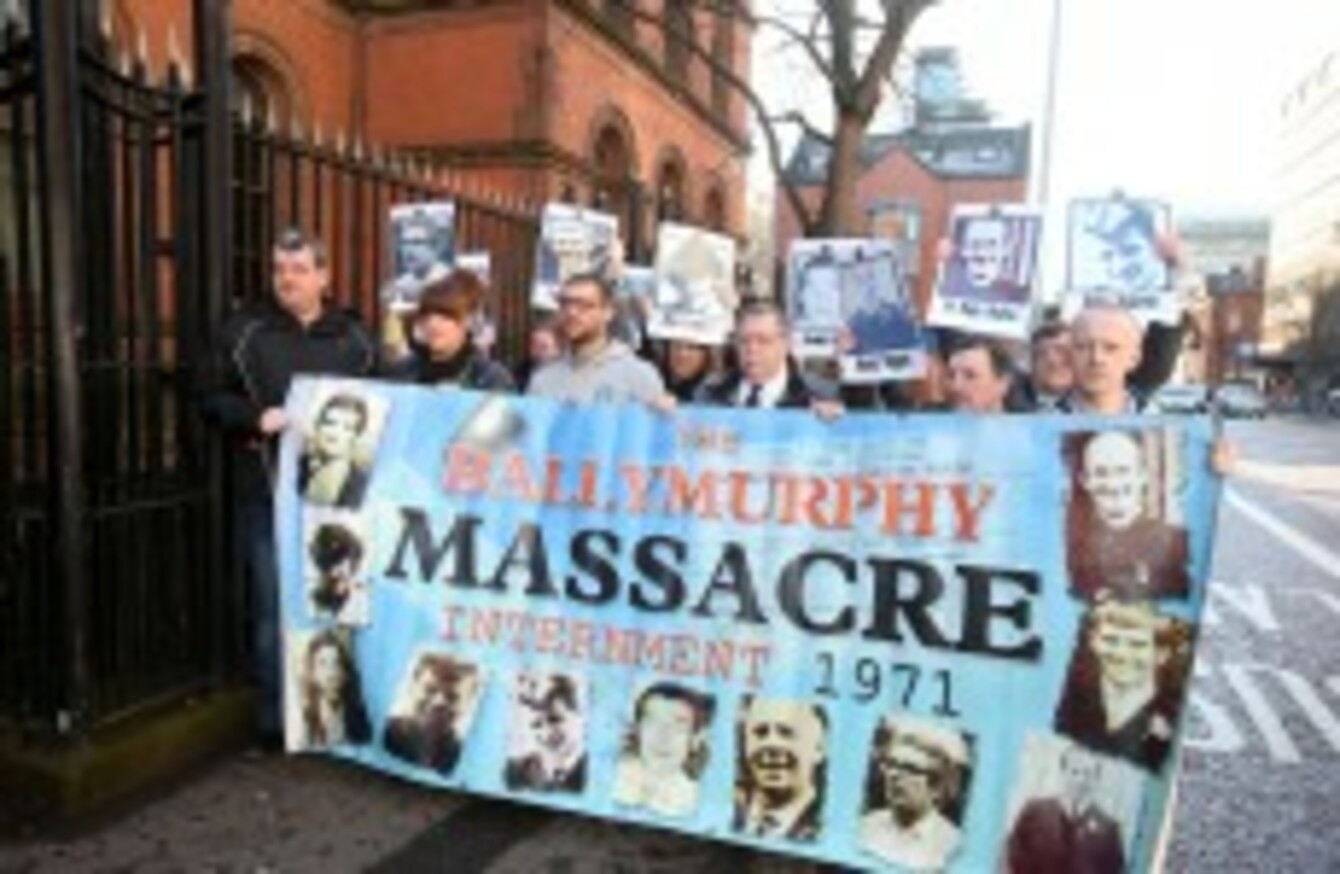 Image: PA Wire/Press Association Images
Image: PA Wire/Press Association Images
THE TAOISEACH HAS said he's "disappointed" at the UK Government's decision not to establish an independent panel to review the deaths of 11 people killed by the British Army in west Belfast over 40 years ago.
Ten people were shot dead by the parachute regiment in August of 1971. An 11th person died from a heart attack, allegedly after confronting soldiers.
The families had been campaigning for an independent investigation, similar to the one set up for Hillsborough.
"In my view, the balance of public interest does not favour establishing an independent review," Northern Ireland Secretary Theresa Villiers said.
"I do not believe that such a review would provide answers which are not already in the public domain or covered by existing legal processes.
"In reaching this decision, I have sought to balance the strong and clear views of the families with the need to ensure that existing legal mechanisms can continue to carry out their functions without being impeded by an additional process. That includes the ongoing Coroner's inquests.
Villiers reiterated her "deepest sympathy and condolences for the families who were bereaved in August 1971″ and said she was aware it was not the outcome they were hoping for. She said she was willing to meet them again, if they wished.
The Attorney General for Northern Ireland opened fresh inquests into 10 deaths that occurred in Ballymurphy in November of 2011. Villiers maintains an additional review would cut across that process.
Disappointed
Reacting to the news, Enda Kenny said in a statement he was "disappointed to learn of this decision".
"I met with the Ballymurphy families in Dublin in January as part of my series of meetings with victims and relatives affected by the Northern Ireland troubles.
"The families explained their proposals for an independent panel review of the events that took place in Belfast in August 1971 when 11 people were killed.
"I told the families that the Government supported their case, and that I intend to visit Ballymurphy and meet with the families there during a future visit to Belfast.
"Following our meeting in January, I wrote to Prime Minister Cameron asking that the families request for a limited review be granted. I also raised the matter with him at our meeting in London on 11 March.
"Consequently, I am disappointed with today's news, which I know will come as a blow to the families.
"Notwithstanding this setback, I hope that it will still be possible to find a way for the families to get the truth and to vindicate fully the good names of their loved ones.
Villiers' statement said the families had been informed of her decision prior to today's announcement.
The Ballymurphy massacre came as the British government implemented their internment policy, with the same regiment who would later be responsible the Bloody Sunday massacre claiming that they had been fired on as they entered the area. A 38-year-old priest was one of those shot.