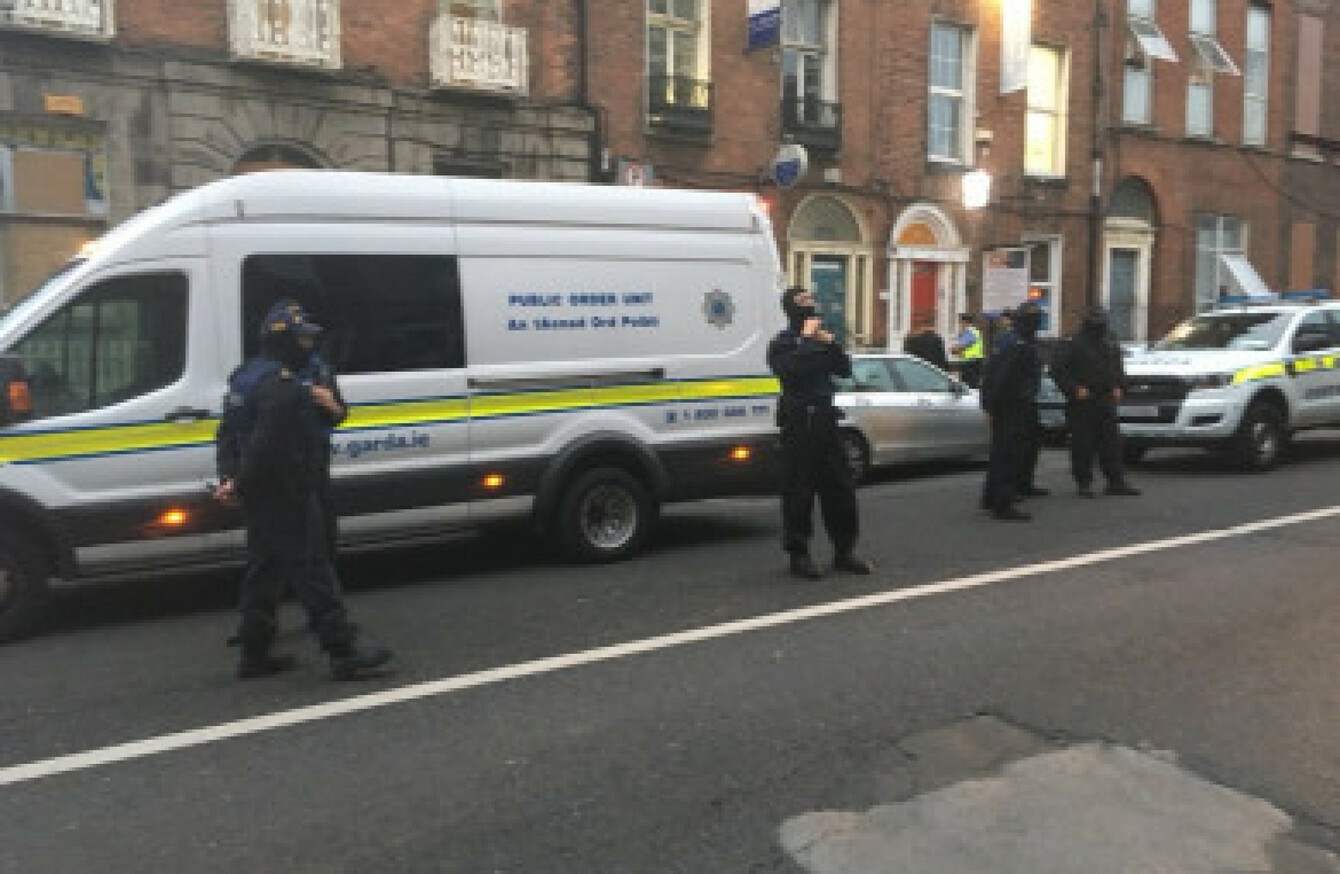 Gardaí at the scene of Frederick Street last week.
Image: Sean Murray/TheJournal.ie
Gardaí at the scene of Frederick Street last week.
Image: Sean Murray/TheJournal.ie
TAOISEACH LEO VARADKAR said he is not in favour of banning people from taking photos of gardaí while they are on duty.
Minister for Justice Charlie Flanagan said over the weekend that he would be in favour of legislation that would ban photographing of gardaí in the course of their duties.
However, in the first Leaders' Questions of this Dáil term, the Taoiseach dismissed the suggestion, stating:
"There are no government proposals to restrict people from taking photographs or making videos. That would be a restriction on free speech and not something I would support."
The comments come after events last week, where activists from the Take Back the City group were evicted from the building they had been occupying on North Frederick Street in Dublin.
A number of gardaí were photographed by both activists and journalists – including by this publication – with their faces covered at the scene.
In the subsequent days there was criticism of the decision by the gardaí involved to wear fire-retardant balaclavas during the operation.
One Facebook page on Friday claimed to have used facial recognition software to identify one of the gardaí involved. In the comments under the post supposedly identifying him, several people used threatening and abusive language.
Proposed ban on photos
On Sunday, gardaí said that supports had been put in place to protect the welfare of a Dublin garda following "online threats". 
The Garda Representative Association (GRA) has proposed legislation that would make it an offence to photograph a garda while they are carrying out their duties.
When asked whether he was favourably disposed towards this proposal, Minister Flanagan said: "I am".
"I acknowledge the fact that gardaí need to show identification and this is an issue that arose last week and I too was somewhat concerned at images of balaclavas on the streets of Dublin.
"It was disturbing. In fact the resonance of that particular clothing goes right back to a dark period in our history. I didn't like to see it. However I understand there are circumstances in which the gardaí for their own protection need to have fire-retardant masks as part of their uniform."
When asked whether this proposal about a ban on photographing gardaí was something he was prepared to bring to government, he replied: "Yes, I think it's something that can be favourably looked at."
In subsequent tweets, however, Minister Flanagan attempted to clarify his remarks. He said that he believed "transparency is vitally important" and that he supported the use of body cameras for gardaí.
He did add, however, that the "uploading of images of Gardaí undertaking their duties on social media and consequent threats and intimidation is totally unacceptable", and that's why he's concerned. 
People Before Profit's Richard Boyd Barrett called on the Taosieach today to repudiate the "unbelievable suggestion" by the justice minister that the police should no longer be recorded in the conduct of their duties.
He stated that it "amounts to censorship of the press and the public in terms of their right to oversight of the sort of heavy-handed policing tactics we saw on North Frederick Street?"
Varadkar said protests should be peaceful, there should be no violence and they should take place in accordance with the law.
"I want to reassure people – press photographers, individual citizens and protestors … there are no government proposals whatsoever to do that," he added.