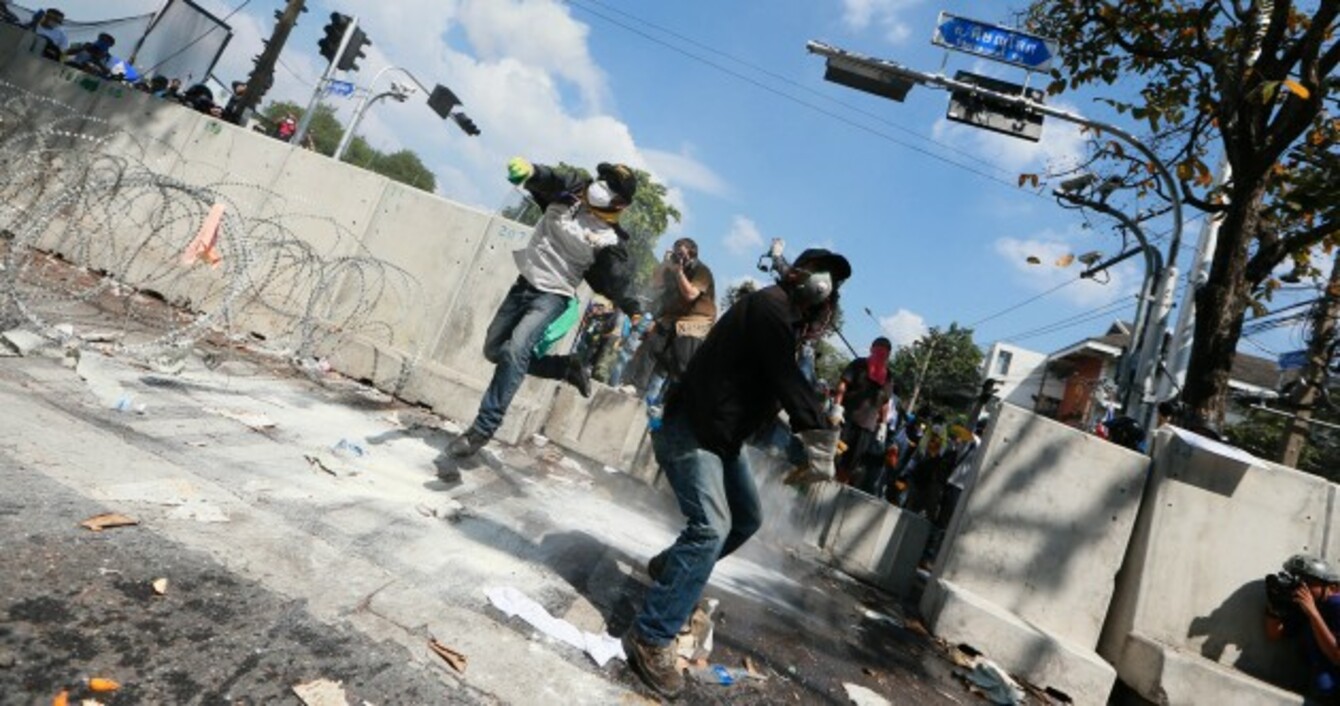 An anti-government protester throws back a tear gas canister fired by riot police in Bangkok
Image: Wason Wanichakorn/AP/Press Association Images
An anti-government protester throws back a tear gas canister fired by riot police in Bangkok
Image: Wason Wanichakorn/AP/Press Association Images
THAI POLICE HAVE fired tear gas and water cannon at protesters trying to storm the government headquarters to overthrow Prime Minister Yingluck Shinawatra, after violence in the capital left four dead and dozens wounded.
The bloodshed is the latest in a series of outbreaks of civil strife in the kingdom since royalist generals ousted billionaire tycoon-turned-premier Thaksin Shinawatra, Yingluck's brother, seven years ago.
The street rallies, aimed at replacing Yingluck's government with an unelected "people's council", are the biggest since mass pro-Thaksin protests in Bangkok three years ago left dozens dead in a military crackdown.
Police repeatedly fired tear gas and water cannon as protesters tried for hours to breach barricades and cut barbed wire protecting Government House, which was heavily guarded by security forces including unarmed soldiers.
Yingluck was not present at the time. The government denied rumours that she had fled the country but her whereabouts were unknown. Tear gas was also fired at protesters near the metropolitan police headquarters several kilometres away.
Demonstrators marched on major television stations while several large shopping malls, including one that was set ablaze during political unrest in 2010, were closed as a precaution.
Violence broke out late yesterday in the area around a suburban stadium where tens of thousands of pro-government "Red Shirts" had gathered in support of Yingluck, who has faced weeks of street protests.
Four people were killed and 57 wounded, according to Bangkok's Erawan emergency centre. The dead and injured suffered a range of wounds including gunshots and stabbings.
At least two of the dead were believed to be Red Shirt supporters.
The circumstances were unclear but the violence came after an anti-government mob attacked Red Shirts arriving to join the rally in Ramkhamhaeng district.
Anti-government protesters walk through a cloud of tear gas [Sakchai Lalit/AP/Press Association Images]
They were the first deaths since the mostly peaceful demonstrations began a month ago. Both sides blamed each other for attacking their supporters.
The violence prompted Red Shirt leaders to end their rally, which had drawn tens of thousands of mainly rural poor in support of Yingluck and her brother Thaksin, who lives in self-imposed exile but remains a hugely divisive figure in Thailand.
A double-decker bus was also set ablaze today in the same area.
Protesters intensify their campaign
While the protesters' numbers have fallen sharply since an estimated crowd of up to 180,000 people joined an opposition rally on November 24, they have increasingly sought out high profile targets in what experts believe could be an attempt to provoke a military coup.
The kingdom has seen 18 actual or attempted coups since 1932, most recently with Thaksin's overthrow in 2006, but the military has appeared reluctant to intervene in the current standoff.
The army chief has called for an end to the violence.
"I have contacted the national police chief and asked the police to stop firing tear gas," General Prayut Chan-O-Cha told AFP. "Both sides must stop."
Thai Buddhist monk raises his hands to policemen to stop firing tear gas at anti-government protesters [Wason Wanichakorn/AP/Press Association Images]
Authorities are deploying more than 2,700 troops to reinforce security in Bangkok, the first time a significant number of soldiers have been mobilised to cope with the unrest.
Protests were triggered by an amnesty bill, since abandoned by the ruling party, that opponents feared would have allowed the return of fugitive former premier Thaksin, whose overthrow by royalist generals in 2006 unleashed years of political turmoil.