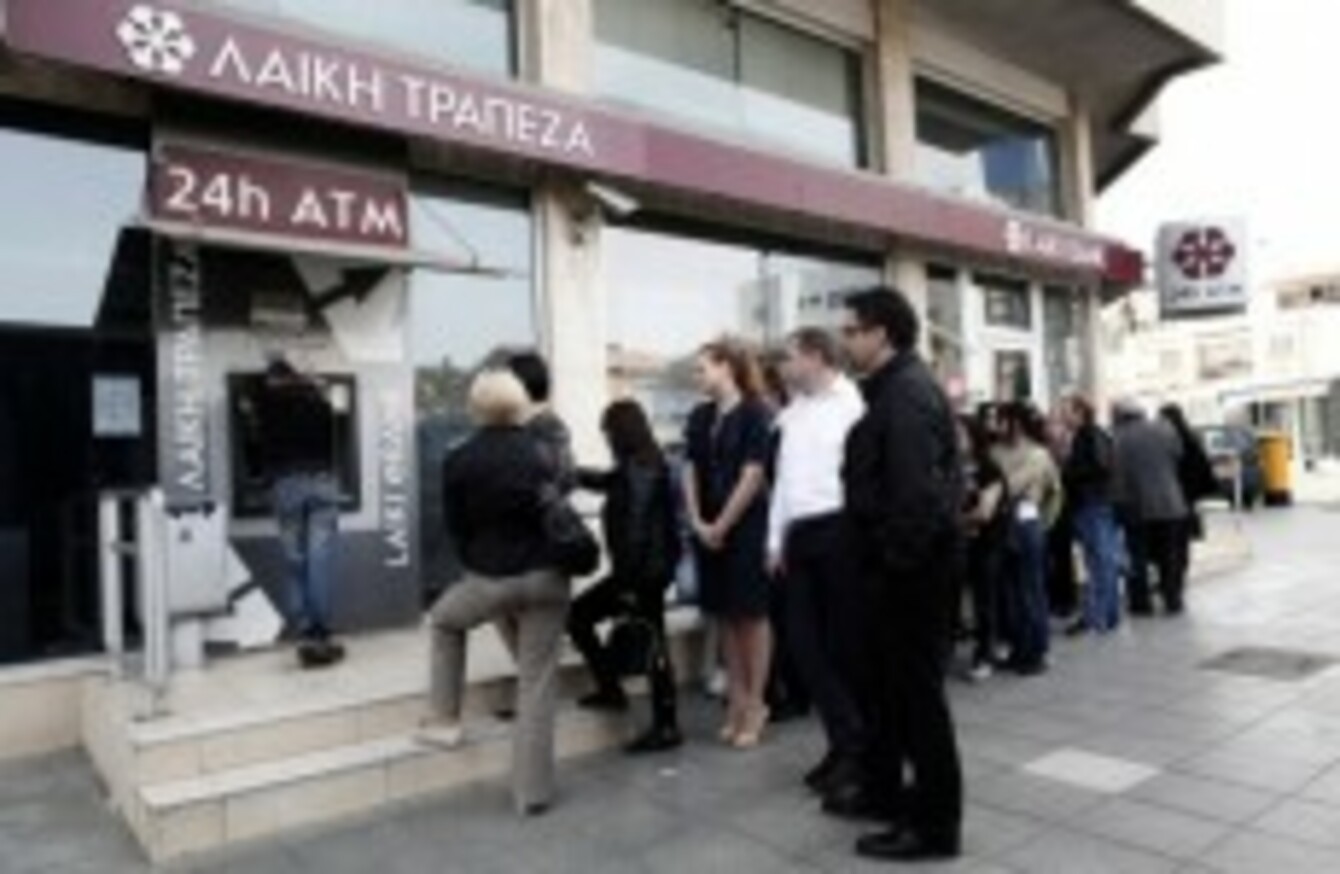 The agreement aims to avoid scenes like this outside a closed bank in Cyprus.
Image: AP Photo/Petros Giannakouris
The agreement aims to avoid scenes like this outside a closed bank in Cyprus.
Image: AP Photo/Petros Giannakouris
THE EU HAS reached an agreement on a new regulatory system designed to prevent a failing bank from wrecking the economy.
Parliament had opposed an agreement reached in December by EU leaders on how to close down a bank in trouble, saying it was too unwieldy, but the European People's Party said these differences had now been resolved.
The EPP, the biggest party in parliament, said the process would be speeded up so as to ensure that a problem bank can be closed down in the space of a weekend to avoid markets turmoil on a Monday.
"Together with the reforms to the financial sector for all 28 countries, the completed banking union will put an end to the era of massive bailouts," according to commissioner Michel Barnier.
It will further contribute to the return to financial stability thus creating the right conditions for the financial sector to once again lend to the real economy which is essential to consolidate the economic recovery and to create jobs.
"This is very good for restoring confidence in European banks," said the EPP's Corien Wortmann-Kool, one of the lead negotiators in the marathon talks.
Problem banks should be treated within a weekend. This is a big plus of this agreement; a year ago we clearly saw that the extensive talks on Cypriot banks raised the costs.
The agreement will also reduce what the EPP said was "undue political interference" in the procedure.
Some elements of the agreement
In December, EU leaders agreed to set up a so-called Single Resolution Mechanism (SRM) to close failing banks in a safe and orderly fashion. This will be governed by two texts, one regulatory and another related to some specific aspects of the Single Resolution Fund (SRF).
The EU Commission says there a number of key elements to the agreement:
A central board made up of the various EU arms and national authorities would be notified by the ECB if a bank is failing. They would then asses if there is any systemic threat.
The mechanism would not apply to banks which only operate nationally. Banks not under full ECB direct supervision would be dealt with by national resolution authorities.
A Single Resolution Fund would be constituted to which all the banks in the participating Member States would contribute. The fund has a target level of €55 billion.
A board meeting would be required to approve any decision which involves the use of funds above €5 billion.
The new rules are expected to come into force in January of next year and first need to be approved by the EU Parliament and EU member states in the council.
© – AFP 2014 with additional reporting by Rónán Duffy