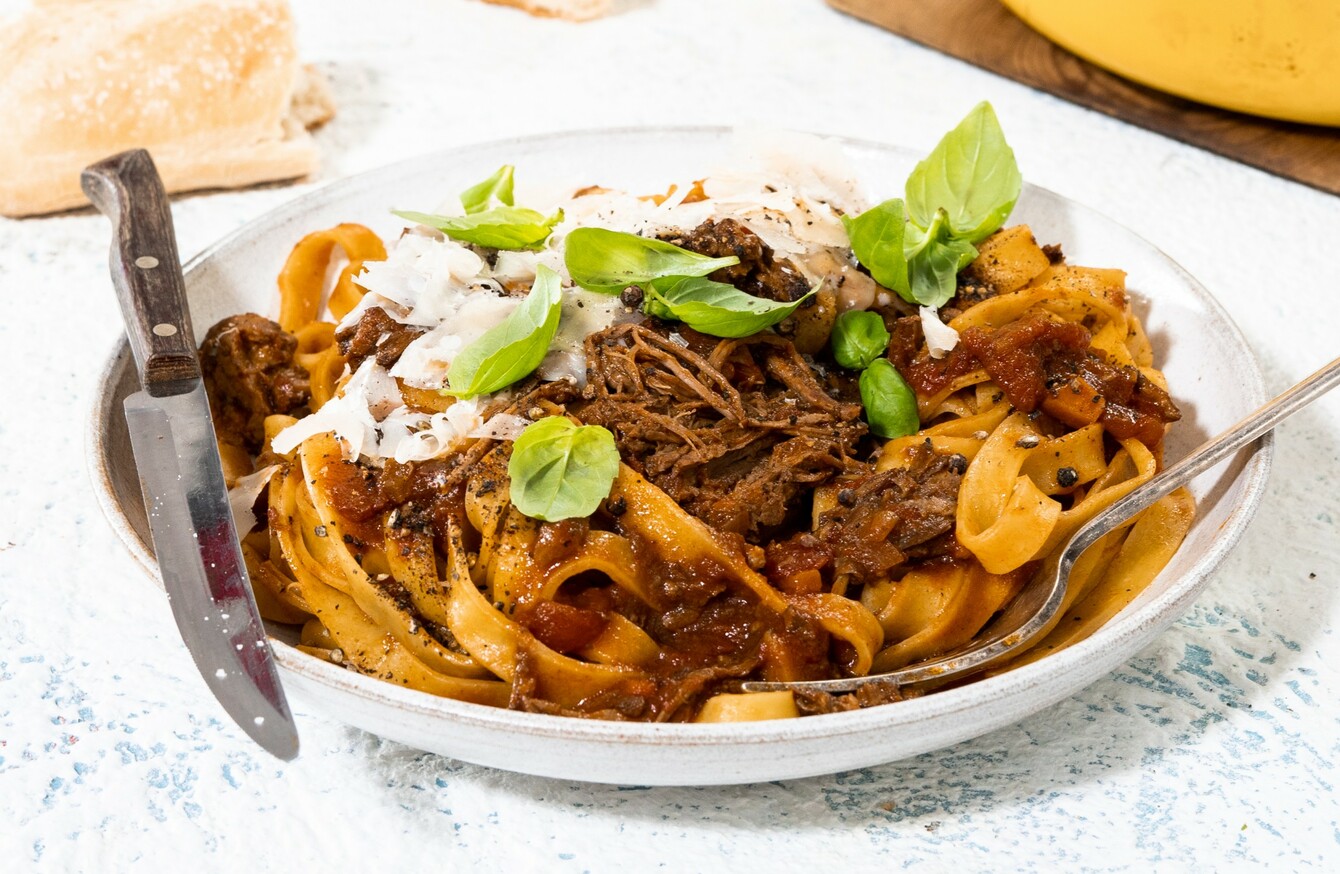 Source: Journal Media Studio/YouTube
Serves: 4
Cooking time: 3.5 hrs
Equipment needed: Heavy bottomed lidded pot
For the ragu
2 tbsp Extra Virgin Olive Oil
1.2 kg DELUXE 28 Day Aged Rib Roast on the Bone
1 onion, finely chopped
1 whole carrot, finely chopped
1 sprig thyme
150ml red wine
2 tins chopped tomatoes
4 tbsp tomato paste
500 ml beef stock
200ml milk
To serve
1 handful Parmesan, finely grated
1 whole French baguette
1 small handful parsley, finely chopped
500g tagliatelle
What to do
Heat a large heavy based casserole pan over a medium high heat. Add the oil, cut the beef in half, season well, then add the beef and brown on all sides. This will take about 10 minutes.
Add the sausage to this and cook for another 4-5 minutes until they've a little colour. Reduce the heat.
Add the onion, carrot and thyme. Sauté for 5 minutes until softened a little, without colour.
Stir in the red wine, tomatoes, tomato paste, stock and milk.
Put on a lid and leave to simmer for 3 hours, stirring occasionally. In the last 30 minutes of cooking, remove the lid. This allows the sauce to reduce and thicken.
When the time is up, remove the bone and shred the meat apart.
Bring a large pot of water to a boil and salt well. Add the pasta and cook for 3 minutes.
Stir the pasta through the ragu and then divide between bowls. Top with the cheese and parsley and served with demi baguette.