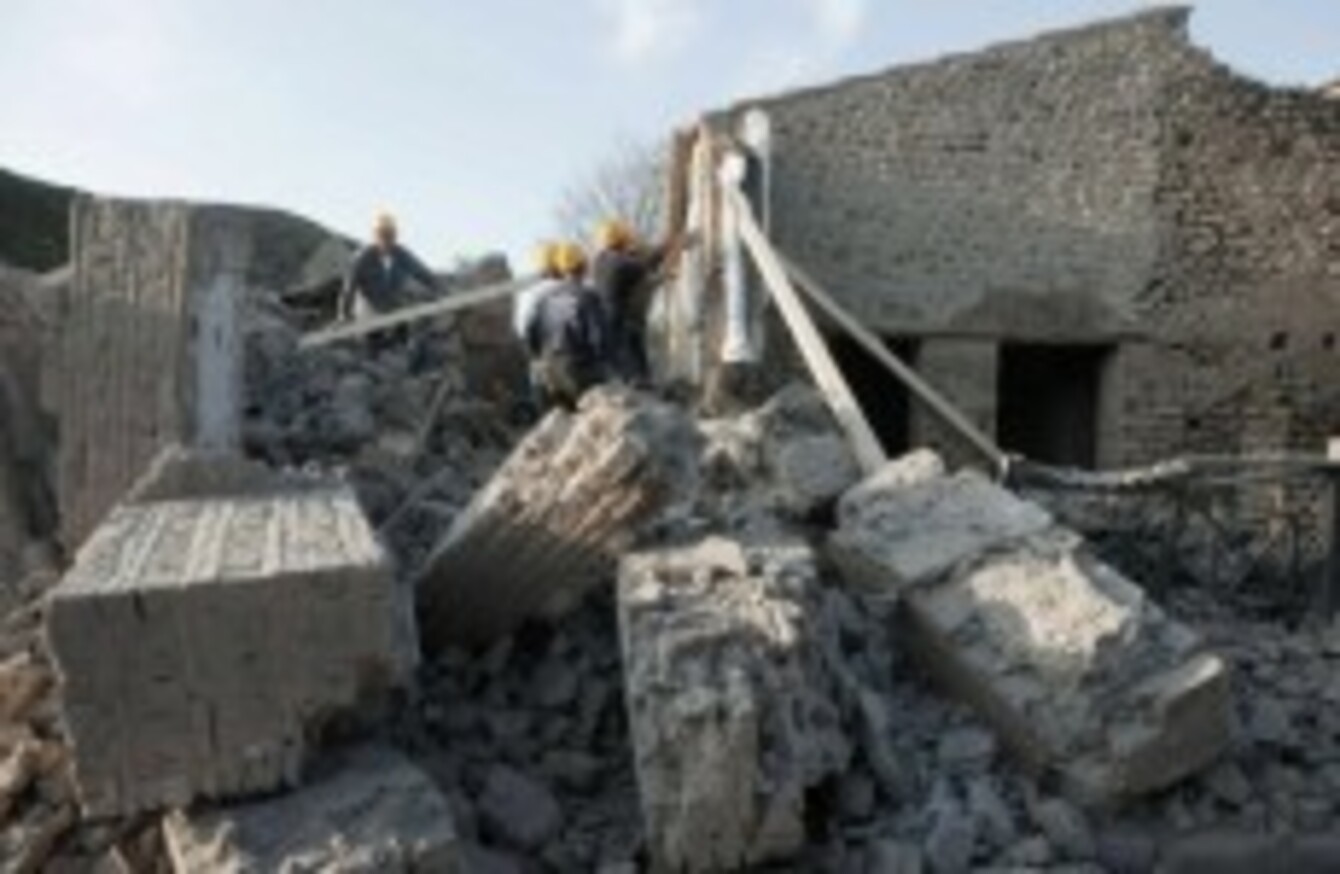 CALLS FOR AN Italian Unesco world heritage site to be privatised have intensified following the collapse of a 2,000 year-old building in the ruins of the ancient city of Pompeii.
The House of the Gladiators, which had stood for millennia at the site near modern-day Naples, collapsed before dawn on Saturday.
Italy's opposition parties have accused Silvio Berlusconi's government of neglect and mismanagement, and have called for the site to be privatised and removed from state control, The Guardian reports.
The building was once was used as a club house for Roman gladiators, which they would use as place for training and relaxing before going to battle in a nearby amphitheatre. It would appear that the combination of heavy rain, a recent roof restoration and a chronic lack of routine maintenance are to blame for the building's collapse.
Today, approximately 2.5 million tourists visit Pompeii every year. Visitors were not usually allowed to walk inside the House of the Gladiators, however they were permitted to view the facade. The walls of the building were decorated with frescoes of military themes – which the Culture minister Sandro Bondi said could be saved after he visited the site on Sunday.
However, Democratic Party (PD) deputy Luisa Bossa is quoted in the Irish Times as saying:
I've been sounding the alarm about Pompeii for months. This very serious collapse is proof that the government and Minister Bondi have underestimated the problem… At the site this summer, there were bulldozers, diggers, cement mixers and pneumatic drills. Not even the slightest regulations for the stability of the archaeological site were respected.
Experts and residents have complained for many years about the maintenance of the heritage sites around the area, and two years ago the Italian government declared a state of emergency for Pompeii. However, this lasted for just one year and the government, again, drew sharp criticism for their management of the funds collected.
Professor Christopher Smith, the director of the British School in Rome told the London Telegraph:
Archeological sites are always at risk when they are open to the elements but the problems at Pompeii have been going back for decades and our experience is that you need a good plan for maintenance and administration.
Unless there is a proper plan put into action I'm very sad to say that we will see this sort of thing happen again – buildings that are at risk must be secured or they will collapse.
The city of Pompeii was destroyed in AD79 when a huge eruption from nearby volcano Mount Vesuvius buried the entire area – and everyone in it – in heavy volcanic ash. The near-perfectly preserved city was uncovered in the 18th Century.
To this day an incredible 40 per cent of the city is closed or yet to be examined.