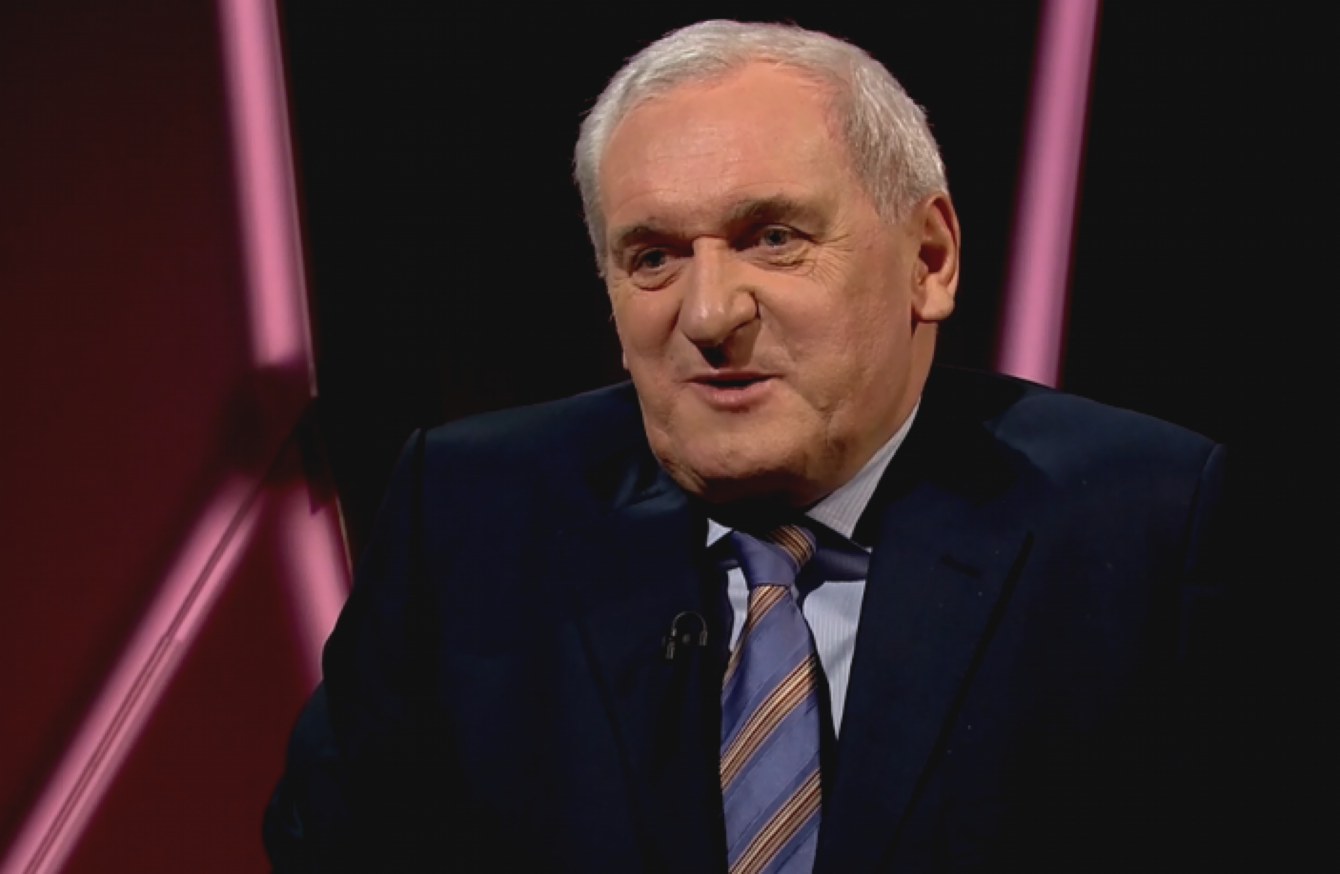 Bertie Ahern speaking on tonight's Claire Byrne Live.
Image: RTÉ
Bertie Ahern speaking on tonight's Claire Byrne Live.
Image: RTÉ
FORMER TAOISEACH BERTIE Ahern says he has been speaking to Foreign Affairs Minister Simon Coveney during the ongoing negotiations in Northern Ireland.
Ahern, who was Taoiseach during the Good Friday Agreement in 1998 and the St. Andrew's Agreement in 2007, told RTÉ's Claire Byrne Live that he has been speaking to the Fine Gael Tánaiste.
"I've been talking to Simon Coveney and I know where the negotiations were at. I think he's doing a good job on it and I think it's better to leave him handle it. And I think criticism from the sidelines isn't helpful," Ahern told the programme.
Ahern, a former Fianna Fáil leader who resigned the party in 2012 amid moves to expel him, said he did not agree with the approach of Michéal Martin last week in criticising the government's handling of Northern Ireland.
Ahern said it has been a long-standing convention that the opposition in the Dáil does not criticise the government's involvement in Northern Ireland.
"The bipartisan approach has been the right one," Ahern said.
Last week, the DUP effectively pulled the plug on talks aimed at re-establishing a functioning government in Northern Ireland but efforts are still be made to make progress.
Ahern also said that, while it was disappointing that a resolution was not reached, it is common that talks may falter at apparently the last moment before reaching a successful conclusion.
The issues are fairly clear and stark as well, so it's a question of when they can get back to the table again. My own judgement having been at this so many times is that you have to give it a week or two.
#Open journalism No news is bad news Support The Journal

Your contributions will help us continue to deliver the stories that are important to you

Support us now
"Maybe getting ready on the Monday before is like doing a lap of honour before the race, it's a dangerous thing to do. But apart from that I think there was an understanding that we're very close to finality. But like all these things, nothing is agreed until it's agreed," he added.
Speaking about Sinn Féin's handing of the issue of the negotiations, he says the party have been "conscious of the feelings of the unionists and loyalists" about the Irish language.
But Ahern said Mary Lou McDonald's decision to close her recent leadership speech with "tiocfaidh ár lá" was an error.
"That was a mistake in my view. I think her speech was good but tiocfaidh ár lá has a certain balance of where it came from in the first place, which was an IRA prisoner at court," Ahern said.