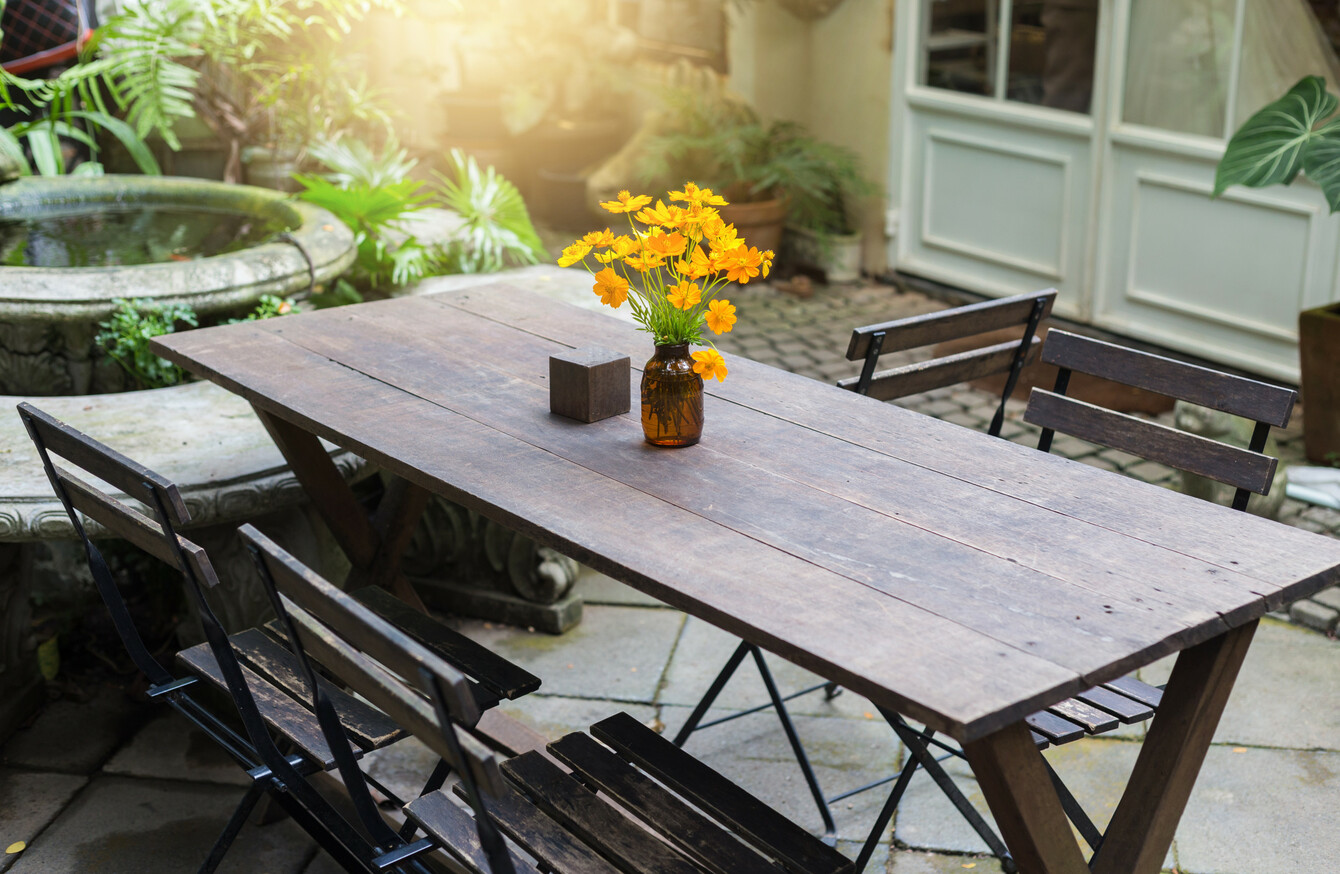 Image: Shutterstock/SatawatK
Image: Shutterstock/SatawatK
BEING ABLE TO entertain outdoors is one of life's luxuries – particularly in Ireland when the weather doesn't always play ball. But there's no such thing as bad weather, we say… just bad decor choices.
So here are six outdoor dining ideas that keep the rain in mind, so you can keep on being the host with the most – even if it means you might have to take the party inside.
1. Protect your set: A small balcony or patio calls for sturdy and low maintenance furniture. @ludiquecollection gets it right with this set made from sustainably sourced acacia that's adjustable in size to suit most smaller spaces. And, its foldability lets you cover it up in no time if you're faced with an unexpected downpour.
Find this exact set or variations of it, along with protective covers at IKEA.
2. Use what you've got: The beauty of outdoor spaces is that they often don't have to be immaculate to look stylish. We love how @aldridgejulie embraces and highlights the shabby elements of this space and transforms it into a place we'd love to spend time in. If you're blessed with some coverage, string lights will instantly add an element of cool. Overgrowth has never looked so good.
Find some lights at Marks and Spencer.
3. Big cover up: Plans for outdoor kids parties are easily scuppered by the threat of rain. Great for protecting against strong sun as well as light showers, set the little ones up underneath a large parasol. @stargazerstepee creates a picnic theme on the grass by adding soft cushions, blankets and cute decor. A bit of drizzle is no big deal.
Keep dry under this large parasol from Vidaxl.ie.
4. Soft focus: Some outdoor dining spaces need soft furnishings for extra comfort as the evening rolls around. But keeping them to a minimum in Ireland is another good idea.
Grab some inspiration from @newroomdecoranddesign and zone the space with a waterproof rug that fits snugly underneath the table and chairs. Look to lightweight seat cushions and blankets that can be transported inside at a pinch. The rest can wait until the morning.
Check out B&Q for some light and bright seat cushions.
5. Nature's table: Accessories that can stand up to the elements are a godsend in Ireland's temperamental climate. Avoid any soggy paper plates and napkins and nod to nature by incorporating wood plates and cutlery. We love how @hostboutiqueevents decorates with freshly picked flowers and adds a sprig of fragrant thyme to each napkin for that finishing touch.
Find wooden accessories like this at Muji.
6. Extra room: For something a bit more permanent and if space allows, invest in a stylish garden canopy that tacks on to the side of the house. @idwi.studio goes all out and runs this one along the length of the house. A large dining table and chairs creates a makeshift extension perfect for large dinner parties, all year around.
Check out this St Tropez Garden Canopy from Outdoorfurniture.ie.