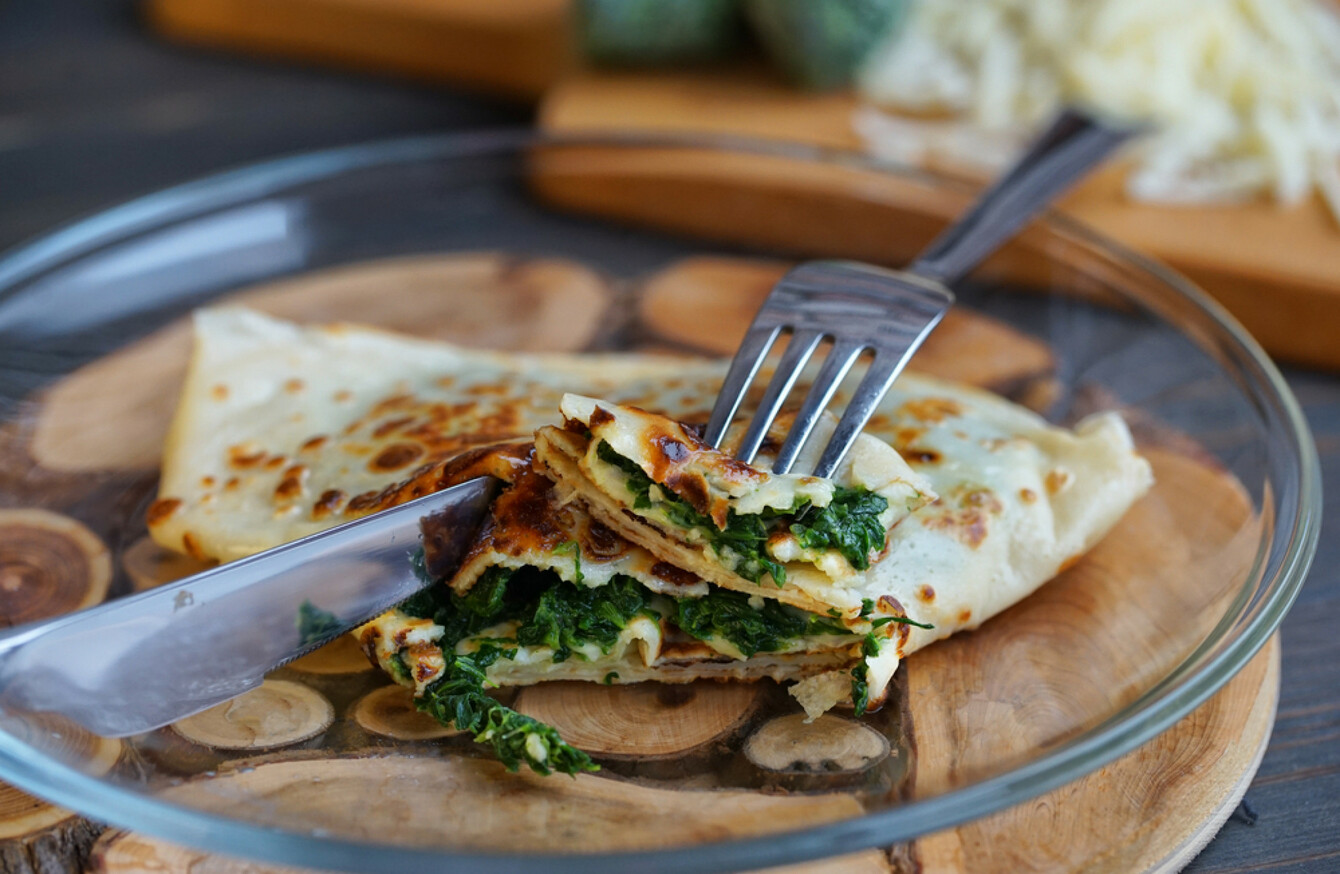 Image: Shutterstock/Petrovich Nataliya
Image: Shutterstock/Petrovich Nataliya
I'LL ALWAYS LOVE a simple lemon and sugar topping on Pancake Tuesday, but there are endless possibilities when it comes to savoury versions, too, from simple ham and cheese to a fancier spinach pancake stuffed with pesto and goat's cheese.
In Ireland, we traditionally eat pancakes on the day before Lent begins – which is this coming Tuesday, March 5. Other countries also mark the day: in France, you'll eat pancakes, doughnuts and other treats for Mardi Gras (Fat Tuesday), and in Iceland, Sprengidagur calls for lamb and split pea soup.
Call it what you will, I think pancakes can be enjoyed year round as a sweet or savoury treat. Read some of my favourite recipes below…
1. Chorizo, Cheese & Spring Onion Pancakes, from Yotam Ottolenghi
Make the chorizo filling in advance for a speedy supper or lunch. With a mixture of comte and feta cheese, these pancakes sounds like a flavour sensation. The chorizo has plenty of oil in it already, so you can dry-fry it on the pan and allow the flavours to infuse everything else.
2. Cottage Cheese & Corn Pancakes, from Jamie Oliver
I love the sweet and spicy toppings in this recipe from Jamie Oliver. Using cottage cheese as a main ingredient keeps these savoury pancakes light and fluffy, and low in fat too.
3. Okonomiyaki Japanese Cabbage Pancakes, from Donal Skehan
You can go all out with the Asian toppings Donal suggests here – dried shrimps, pickled ginger, bonito flakes – or simply leave them out for a low-maintenance version of the dish. Chinese cabbage or bok choi, thinly sliced, forms the base for these fritter-like pancakes. 
4. Vegan Indian-Spiced Pancakes, from Discover Delicious
This vegan recipe is packed with fragrant Indian spices like turmeric, ginger and chilli. The chickpea flour adds a nutty flavour, with a subtle sweetness from the carrots. Plant-based milk is subbed here for dairy, and there's no egg, so you'll need to watch a little closer to make sure the batter doesn't stick or fall apart.
5. Green Spinach Pancakes, from Sneaky Veg  
Don't be turned off by the green colour of these pancakes- this recipe is full of fresh, tasty flavours. They pair well with pesto and creamy goats cheese, with the spinach providing a powerhouse of nutrients. Another great option for kids – or kids at heart.
6. Chilli & Chive Chickpea Pancakes by Deliciously Ella 
Topped with smoked salmon and poached egg, these chickpea based pancakes would make an impressive brunch. They only take five minutes to make, too. If you don't have gram flour (chickpea flour), wholewheat is a good substitute.