Image: Shutterstock/Piyato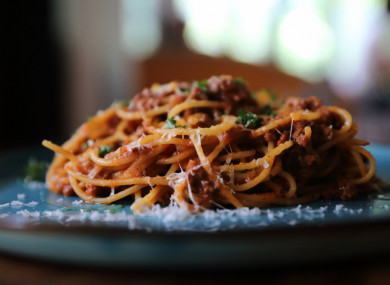 Image: Shutterstock/Piyato
SPAGHETTI BOLOGNESE IS probably one of the most popular home cooked dishes for Irish dinners, yet most of us are doing it wrong according to its origins. In fact, it shouldn't be made with spaghetti at all!
If you speak with any purist, they will tell you it should be made with tagliatelle and NEVER contain garlic. The classic recipe involves beef and pork mince, pancetta, and sorry to upset some people, it does include carrot because 'bolognese' is actually known as 'ragu' in Italy and the version we make – big bowl of spaghetti served with a dollop of sauce in the middle – is a shadow of the former original.
With this in mind, I explored six of the best recipes online from the classic to the alternative. Here are my picks…
1. The real deal: Tagliatelle al Ragu Bolognese, from Antonio Carluccio
"A proper ragu sauce is meat, onions, wine, a little tomato paste and vegetables." –
Antonio Carluccio. The legend that was, if this man says that this is the best recipe for bolognese/ragu, then that's good enough for me.
2. The leftovers: Bolognese Two Ways, from The Chopping Board
It always tastes better the next day! Fact. I love this recipe from Irish blogger Joanna Bourke for bolognese two ways, one for Saturday night dinner and the other Sunday morning breakfast. Yum!
3. The romantic way: Spaghetti Bolognese, from Donal Skehan
As food is seen as the best way to a person's heart and Italy is the land of amore, cooking this Italian classic with, or for, someone is surely a win-win situation! I love this recipe from Irish food writer Donal Skehan, where he cooks Spag Bol with his wife Sofie.
4. A little twist: Beef Ragout with Porcini Mushrooms, from RTÉ Food
Okay, so now we're comfy with making it in the traditional way, let's look at a bit of variety of the dish… this recipe uses penne and adds in porcini mushrooms which adds a delish richness to the taste.
5. The celebrity version: Turkey Ragu, from Goop
In celebrities we trust! Okay, maybe not, but if there is one celeb's recipes I do love to try out, it's Gwyneth Paltrow's from her website Goop. This recipe for turkey ragu is a bit lower in fat, so slightly healthier but the taste is still moreish.
6. Balls: Meatballs & Pasta, from Jamie Oliver
I love how meatballs become so tender in this dish and soak up lots of the flavours in the sauce. This recipe from Jamie Oliver is so simple and also a great one for kids.