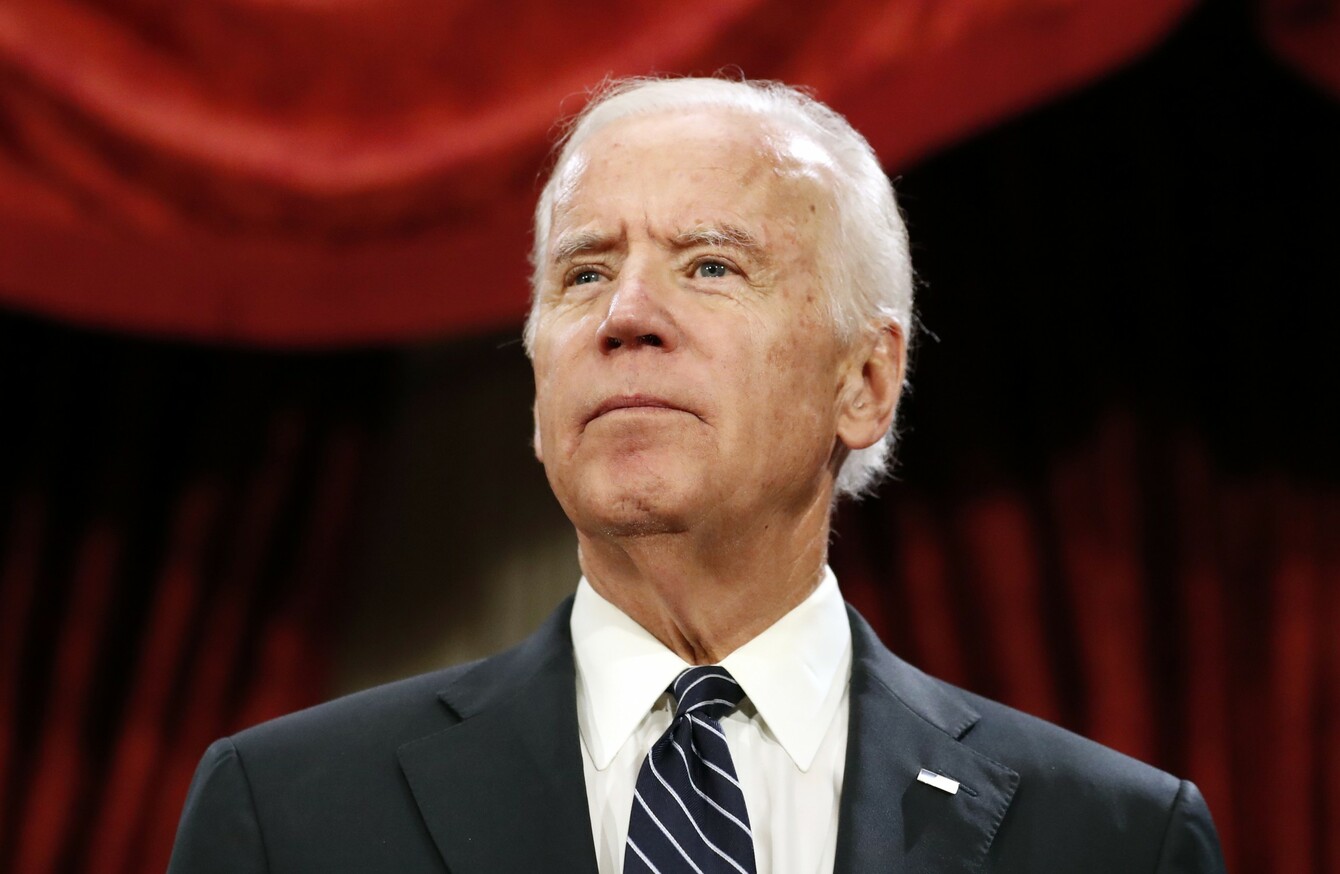 Biden made the comments in an interview aired yesterday.
Image: Alex Brandon
Biden made the comments in an interview aired yesterday.
Image: Alex Brandon
US VICE-PRESIDENT Joe Biden has a blunt suggestion for President-elect Donald Trump: It is time to "grow up".
Asked about a few of Trump's controversial remarks and tweets since winning the November election, Biden had some intemperate comments of his own.
"Grow up Donald, grow up, time to be an adult, you're president," he told television station PBS in an interview broadcast last night.
"Time to do something. Show us what you have".
Trump had earlier described America's leading congressional Democrat Chuck Schumer as the "head clown".
Biden's comments came as Trump was today due to be briefed by the heads of four top intelligence bodies on their assessment of Russia's alleged meddling in last year's presidential election.
Spy chiefs yesterday insisted they have strong evidence that Russia mounted an unprecedented bid to disrupt the American election, standing firm in the face of Trump's refusal to accept their conclusions.
Director of National Intelligence James Clapper told a Senate hearing yesterday he had "very high" confidence in their findings.
Clapper, National Security Agency chief Michael Rogers and Marcel Lettre, undersecretary of defense for intelligence, told the committee in a joint statement that "only Russia's senior-most officials" could have authorised the operation, in which hackers stole Democratic Party files and emails.
Those files were then disseminated via WikiLeaks, embarrassing the party and harming losing candidate Hillary Clinton's White House effort, spy chiefs said.
Trump's doubts
Trump, who has pledged a rapprochement with President Vladimir Putin's Russia after taking office on 20 January, has repeatedly dismissed that finding.
The Republican has mocked via Twitter past intelligence errors of the CIA, FBI and other agencies, challenging them to prove that the hacking and leaks could be traced up to the top of Putin's government.
Late last night, he again asked "how and why are they so sure about hacking," claiming that the DNC prevented the FBI from accessing their servers. BuzzFeed News reported that the FBI had in fact never asked to examine them.
Today's briefing for Trump will come amid worries he has already soured relations with key parts of the all-important national security establishment.
In addition to casting doubts on their conclusions over Russian interference, Trump raised more hackles on Wednesday by citing WikiLeaks founder Julian Assange to suggest that anyone, even a 14-year-old child, could have been behind the hacking.
Under strong criticism from politicians of both parties for placing more credibility in Assange than the CIA and FBI, Trump defended himself yesterday.
Toyota
Meanwhile, Toyota shares dropped more than 3% today after Trump threatened the carmaker with import taxes over a new vehicle plant in Mexico, also prompting an objection from the Japanese government.
Shares in the Japanese automaker fell as much as 3.11% after the opening bell before paring losses to move 2.04% lower at 6,905 yen at the break.
Other automakers also sagged, with Nissan declining 1.79% to 1,178 yen and Honda down 1.54% to 3,514 yen by the break.
Toyota became the latest company to face Trump's wrath when he tweeted "NO WAY" to the firm's plans for a new manufacturing plant in Mexico.
Referring to the statement, Japanese trade minister Hiroshige Seko said Japanese auto industry have "contributed to (creating) 1.5 million jobs in the United States".
Seko stressed the need for the new US administration to understand that the Japanese auto industry "has greatly contributed to the US economy" in comments to reporters.