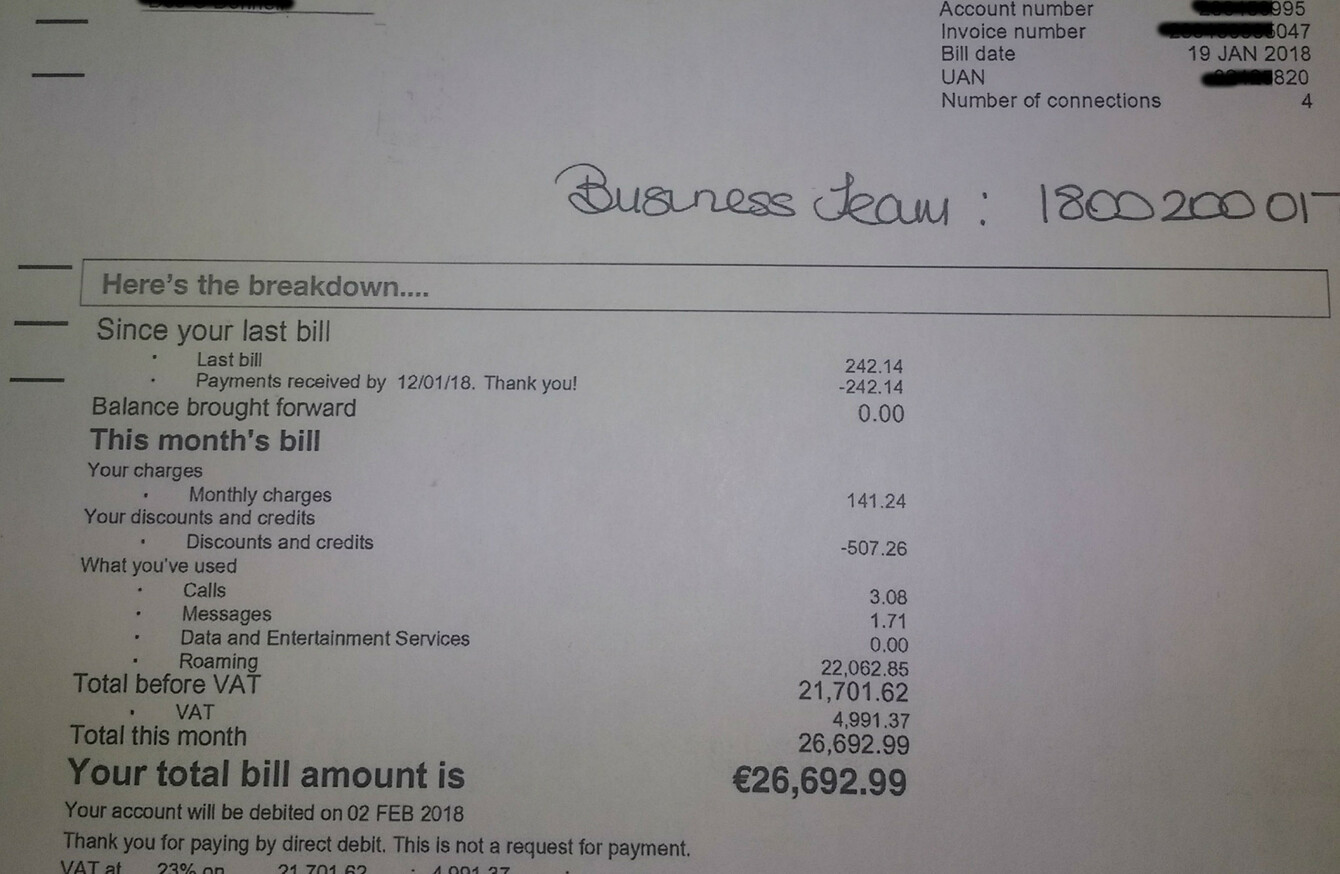 A MAN HAS described how he received a mobile phone bill for €26,692 after going on holiday with his family over Christmas.
Patrick told Liveline on RTÉ Radio 1 that he was shocked to receive the bill. He said he has a phone plan with Three mobile and that his wife and his daughter are also on the plan.
He said that he travels regularly and uses wifi a lot when abroad. "I travel quite a lot with work and I have a lot of relatives overseas as well so I'm very tuned in to charges and so forth."
He said he previously received a bill for €1,500 after returning home from San Francisco with his family.
The bill was for his 14-year-old daughter's phone. She says she had the data roaming off and never used it, instead using free WiFi in cafes. Patrick said:
I asked for proof and I didn't get proof but they did come back and offered me a 90% discount.
He said it went over and back with Three for a number of weeks but eventually paid the €150.
I said to them in the strongest possible terms that I don't ever want the cap removed again because I travel quite a lot.
Three mobile customers receive a text when they reach the cap of €50 per day when abroad.
Patrick added that he was away in November and there was no problem but he received this €26,692 bill after he was away over Christmas.
I asked for proof … I had stated the last time I didn't want the cap removed. If there's a cap in place how could I receive a bill for €26,000?
"Three are standing over the bill, the first time they offered a 90% discount – they've offered me 80% discount this time but surely there's a fault with the system.
"The previous time they said to me: 'We don't have access to lift the cap off on your behalf, this can only be done by sending remcap'."
Patrick says a message was not sent to lift the cap. He added that Three has told him that they received a message saying 'stop' but Patrick said, 'stop is not remcap'.
TheJournal.ie contacted Three about the case. In a statement it said:
"Three makes every effort to ensure that customers can manage their roaming charges when abroad. When a customer arrives in a foreign country, we send a roaming "advice of charge" SMS which advises of roaming rates.
We also apply a data roaming cap and notify the customer when the cap has been reached. This restricts internet usage so that no further data charges can be incurred, unless the customer removes the cap.
"With regard to high roaming bills, Three deals with these on a case by case basis and will continue to engage reasonably with this customer to reach a resolution."