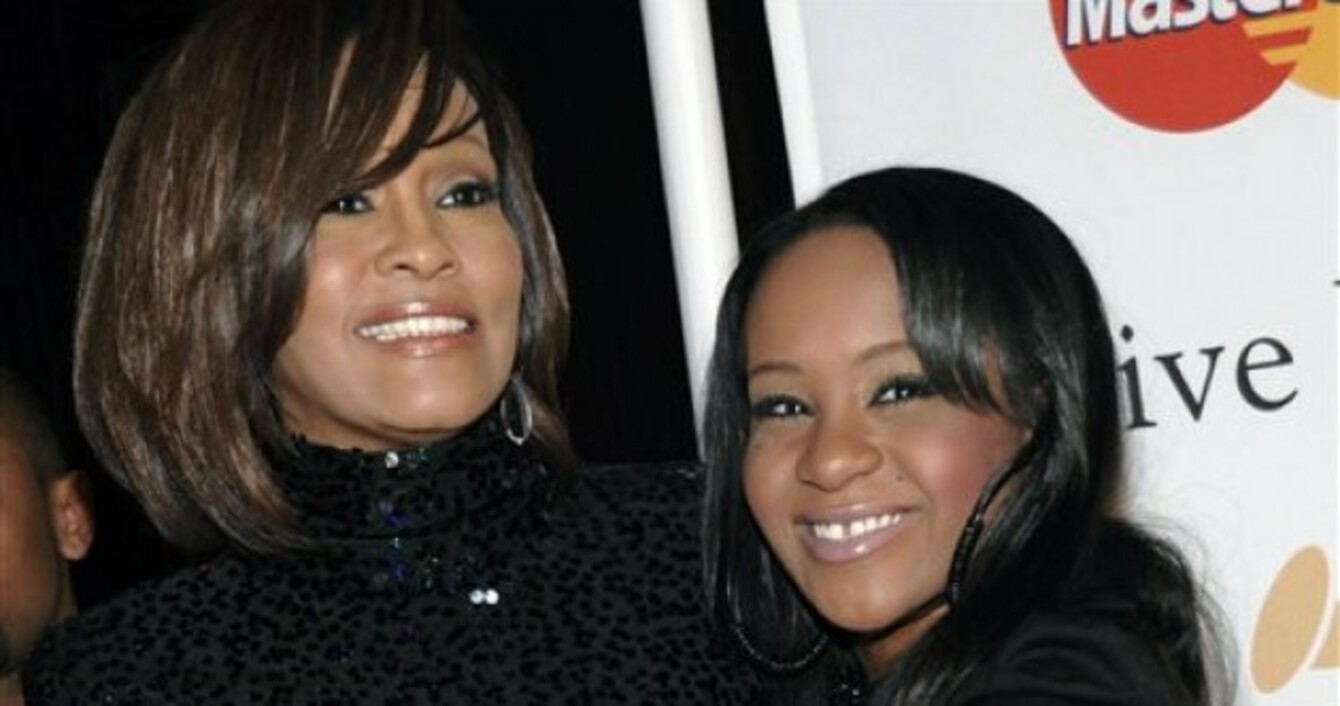 Image: AP
Image: AP
THE DAUGHTER OF the late singer Whitney Houston has died.
Bobbi Kristina died on Sunday at Peachtree Christian Hospice in Duluth, Georgia, about six months after she was found face-down and unresponsive in a bathtub in the suburban Atlanta town home she shared with Nick Gordon, the man she called her husband.
She was 22-years-old.
"Bobbi Kristina Brown passed away July, 26 2015, surrounded by her family. She is finally at peace in the arms of God. We want to again thank everyone for their tremendous amount of love and support during these last few months," Kristen Foster, a representative for the Houston family said Sunday.
The Fulton County Medical Examiner's Office confirmed Bobbi Kristina's death late last night.
Only daughter 
Police said she was found on 31 January. A police report described it as a "drowning."
Bobbi Kristina was the only child between Houston and Brown. Brown was the sole heir of her mother's estate.
She was hospitalised for months in Atlanta — eventually being placed in hospice care — after being found in a manner grimly similar to the way her megastar mother died three years earlier. Gordon said at the time it seemed Bobbi Kristina wasn't breathing and lacked a pulse before help arrived.
Celebrities have been paying tributes to Bobbi Kristina today. Oprah Winfrey, who did an extensive interview with her after her mother's death was said to be close to Brown.
Born and raised in the shadow of fame and litigation, shattered by the loss of her mother, Whitney Houston, Bobbi Kristina was much loved by her mother and father and even faeatured in one of her mother's songs, the 1999 song "My Love Is Your Love".
Source: miksimpatikwhitney/YouTube
She identified herself on Twitter as "Daughter of Queen WH," "Entertainer/Actress" with William Morris & Co., and "LAST of a dying breed."
She told Oprah Winfrey shortly after her mother's death in 2012 that she wanted to carry on her mother's legacy by singing, acting and dancing. But her career never took off.
In 2012, her life was turned upside down when her Whitney Houston's assistant found the singer's lifeless body face-down in a foot of water in her bathtub at the Beverly Hilton just before the Grammy Awards. 
Authorities found prescription drugs in the suite, and evidence of heart disease and cocaine in her body, but determined her death was an accidental drowning.
Bobbi Kristina, then 18, was at the hotel and became so hysterical she had to be hospitalised. "She wasn't only a mother, she was a best friend," she told Winfrey.
On 24 June Bobbi Kristina had been placed in hospice care.
Whitney Houston's cousin, singer Dione Warwick described Brown as a "sweetheart".
Additional reporting Christina Finn