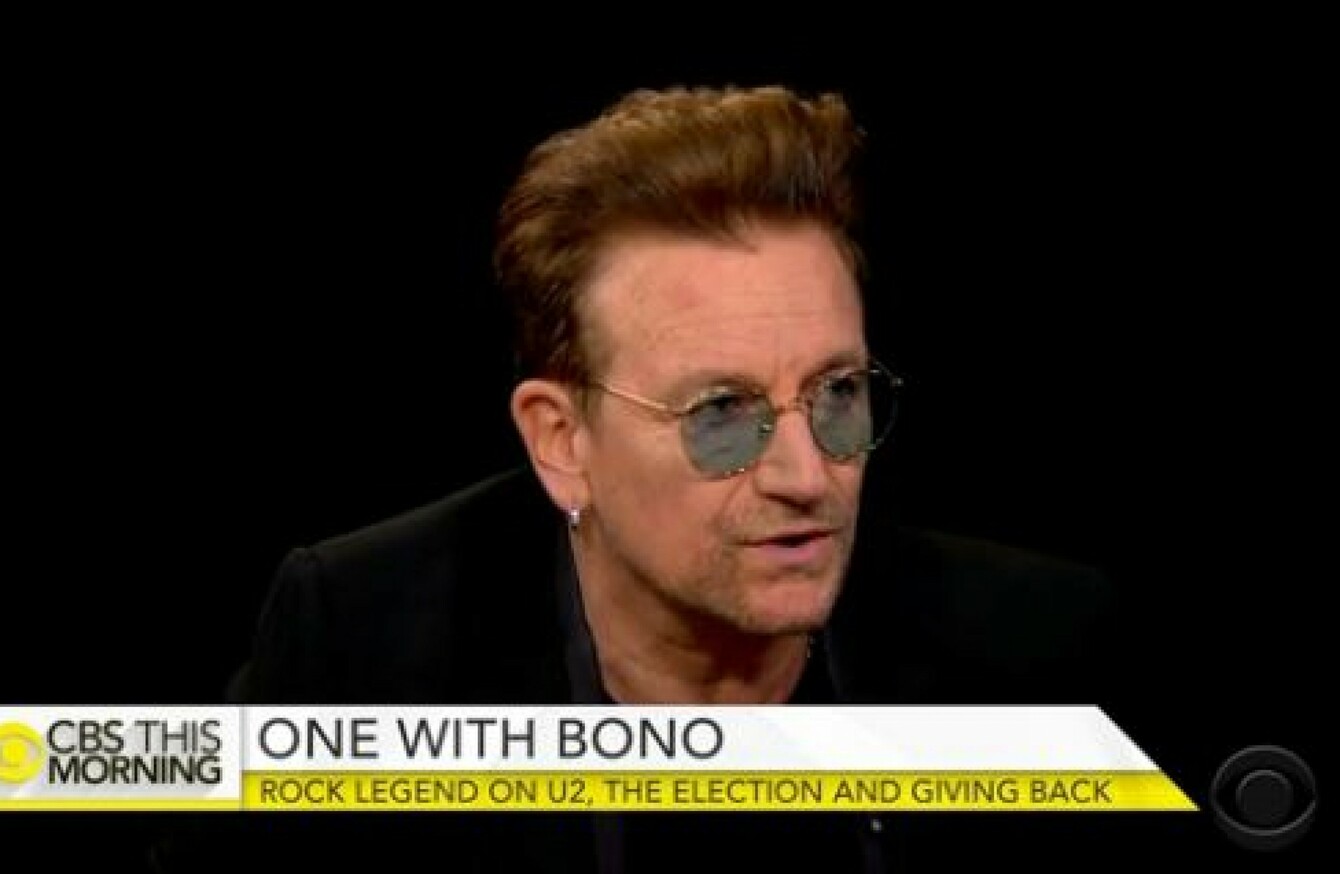 Image: Screengrab/CBS
Image: Screengrab/CBS
BONO HAS LABELLED Donald Trump "potentially the worst idea that ever happened to America".
Speaking on CBS This Morning, the U2 frontman sharply criticised the Republican US presidential nominee.
"America is like the best idea the world ever came up with, but Donald Trump is potentially the worst idea that ever happened to America," Bono said.
"It could destroy it because of what we're saying, because America's not just a country. Ireland is a nice country. Great Britain is a great country — all the rest of it. It's not an idea.
"America is an idea, and that idea is bound up in justice and equality for all — equality and justice for all, you know?
"I think he's hijacked the [Republican] party, and I think he's trying to hijack the idea of America. And I think it's bigger than all of us … this is really dangerous."
George Bush Snr
Meanwhile, a member of the Kennedy family has claimed former US President George Bush Snr is going to vote for Hillary Clinton in November's election.
Kathleen Hartington Kennedy Townsend, daughter of the late Robert F Kennedy and niece of the late president John F Kennedy, posted an image of her and Bush Snr (father of George W Bush) to Facebook with the caption: "The President told me he's voting for Hillary!!"
She told Politico she met the former president in Maine yesterday, where the famous Republican said he was backing Clinton.
In a statement to the same website, Bush's spokesman Jim McGrath said: "The vote President Bush will cast as a private citizen in some 50 days will be just that: a private vote cast in some 50 days. He is not commenting on the presidential race in the interim."