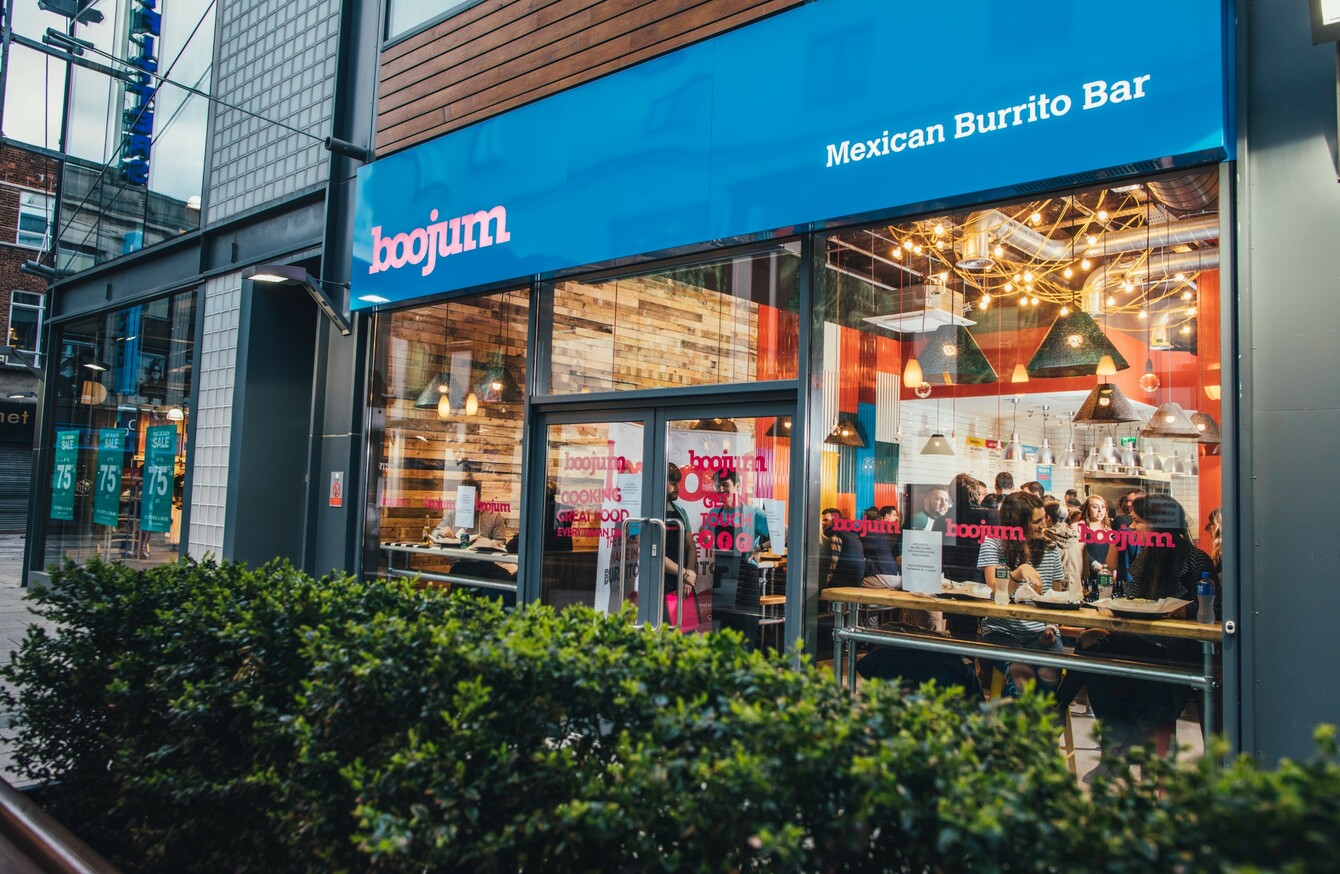 Image: Boojum
Image: Boojum
THERE AREN'T MANY acts that could pull 80,000 into Meath on a wet May day, but legendary rock group Guns 'N' Roses is one of them.
As the rain poured down and evening turned to night at the recent concert, thousands of fans started building an appetite – and not just for destruction.
Those scrambling for food in the fading light may well have been drawn to a bright blue bus with a funny-looking word, Boojum, printed in big letters across the top.
"The bus is a huge marketing tool. At the concert we had the longest queue by miles," claims Boojum managing director David Maxwell.
"That branded bus was seen by tens of thousands of people from all over Ireland, it lets us get our name out there so everyone knows it."
Maxwell is the co-owner of the popular Mexican burrito bars, which can now be found in almost a dozen locations across Ireland.
The business has doubled in size in the three years since he bought it out with the help of his brother Andrew, a former Ulster rugby player, and a Dublin private equity firm.
But things could have gone completely different for Maxwell, who dreamed of being a pilot when he was young.
After discovering that his eyesight wasn't good enough, he decided to move to Glasgow to study aeronautical engineering instead.
The Belfast native was three years into the four-year course when he decided to drop out after finding his heart wasn't in it.
"The whole way through my education I'd had some type of job in the bar and restaurant industry, and looking back that was where I was always happiest," he tells Fora.
Maxwell worked jobs in restaurants and bars throughout the Scottish city for about three years, before meeting a trio of young Irish men who were planning to open a string of Irish pubs in Arizona.
US move
Aware of his experience in the industry, they asked him to co-found the chain and operate the bars at the relatively tender age of 23.
"When I look back at my life there were some really key moments, and that was probably the biggest one for me. I fell in love with Arizona and went over in 2003," he says.
Within three years we opened four pubs and had 150 employees and built a really strong company.
Originally Maxwell had intended to go over to the US for three years, which then stretched to five. The stay eventually lasted a decade, during which time he married his wife, Danielle, also from Belfast.
While the pair were happy in the US, as the years rolled on they decided to start a family and to return to the Emerald Isle in order to bring up their children.
"There were more opportunities in Arizona and the standard of living was great, along with the weather, and all our friends were there, but the draw of family to bring us home was too much. We wanted to bring up the kids in Belfast," he says.
The two returned in 2012 and began looking for investment opportunities locally. About a year and a half later Maxwell and his brother Andrew were looking at starting their own chain of fast-casual restaurants when they cast their eyes over Boojum.
The Mexican burrito restaurant was founded by husband and wife team John and Karen Blisard in Belfast with their own savings in 2007.
The firm had opened its second outlet in Dublin in 2010, and by 2014 had five locations across the island of Ireland: two in Belfast, two in Dublin and one in Galway.
The best deal
Maxwell, a fan of Mexican food and culture from his days in Arizona, which has a large Hispanic population, decided that it made more sense for him and his brother to buy an established industry name.
They decided to take over the business, with the backing of Dublin private equity firm Renatus.
"As part of our research into our own concept, we met with Boojum, and when we had a better look at it we saw what an interesting concept it was and the momentum it had. It overtook the opportunity to develop our own project, it felt right for us," Maxwell says.
It was probably the best deal that I've ever done, it was moment number two in my life that could've gone either way.
After the group acquired Boojum from the Blisards in July 2015, Maxwell says that he was careful to keep the core of the company – namely, the food and the service – largely the same while overhauling the branding.
The restaurants, which had all been different colours, were all made to look the same striking sky blue, while the firm also looked at other ways to get its name out there, such as the aforementioned 'Boojum bus'.
Source: Boojum/YouTube
The brothers also launched a 'click and collect' service so that people could order food online and collect in store, and moved into home delivery by partnering with Deliveroo.
In the time since the Maxwells and Renatus have taken over, the firm has expanded across Ireland. It recently opened its first outlet in Cork and, with two new location in Belfast, is set to have 10 locations north and south of the border.
The firm made a profit of about €1 million in the year to the end of April 2016, more than double its profits during the previous 12 months, and employs over 140 people.
Ham sandwiches
When the Blisards opened their first burrito bar in 2007, they were told by their neighbours that students just wanted sausages and chips.
However, Maxwell says that the company's expansion shows that there is demand for more varied foods in both the north and south of Ireland.
"I think now people are actively looking for interesting foods. The days of the ham sandwiches are gone, fast casual is here to stay. The burrito has become a global phenomenon and in Ireland it has become a huge part of the eating-out scene," he says.
Boojum mainly caters to students and young professionals, although Maxwell says that this varies depending on an restaurant's location.
"Our core customer is a male student, but there's a broad appeal across different ages," he says.
In some (sites) there are lawyers, dentists, doctors, accountants, all sorts. We try not to pigeonhole ourselves.
Nevertheless, the popularity of burritos means Boojum also has a slew of competitors.
As well as other popular burrito or Mexican-themed chains, such as Pablo Picante and Tolteca, Boojum also goes up against an ever-growing list of other fast-casual outlets, as well as the usual fast-food joints.
Maxwell acknowledges that Boojum's burritos, which tend to cost about €7, aren't the cheapest feed on the market.
However, he claims that the firm has the best-quality food – coupled with an unparalleled selection. (The chain's fare previously took the top slot in a four-way comparison from our sister title, DailyEdge.ie).
"The beauty is that you can customise your order with us, not lots of restaurants allow you to do that. One of the guys calculated the number of combinations available, and you were getting up into the millions," Maxwell claims.
"We offer by far and away the best quality, we think that you'll go far to get more value from another operator compared to Boojum. We think that we offer the number-one burrito in Ireland."
Sacrifices 
Maxwell says that, in the short-term, the company is focused on opening more stores across Ireland.
"We will be most active in Dublin, but we plan to take the concept to other cities in Ireland. We want to go to some secondary cities and replicate what we did in Galway, which showed that the brand can travel across Ireland," he says.
We want Boojum to be a financial success, it's important for me and for my family that Boojum pays us back financially for some of the sacrifices that have been made.
"We're not thinking along the lines of an exit or a sale, there's just so much to do. We're committed to developing Boojum into a giant of the Irish restaurant industry, and I think if you have other ideas in the back of your head you can make the wrong decisions."
Asked if he and his brother are in it for the long haul, Maxwell pauses.
"We're 100% committed to the Boojum project and intend to go out and make the best decisions for the company. Where that journey takes us, I don't know, but we have full support from our family and the board of directors and we think that we're the right team to deliver this."
This article is part of our weekly series examining the nuts and bolts of businesses. If you would like to see your company featured please email news@fora.ie.
Written by Paul O'Donoghue and posted on Fora.ie