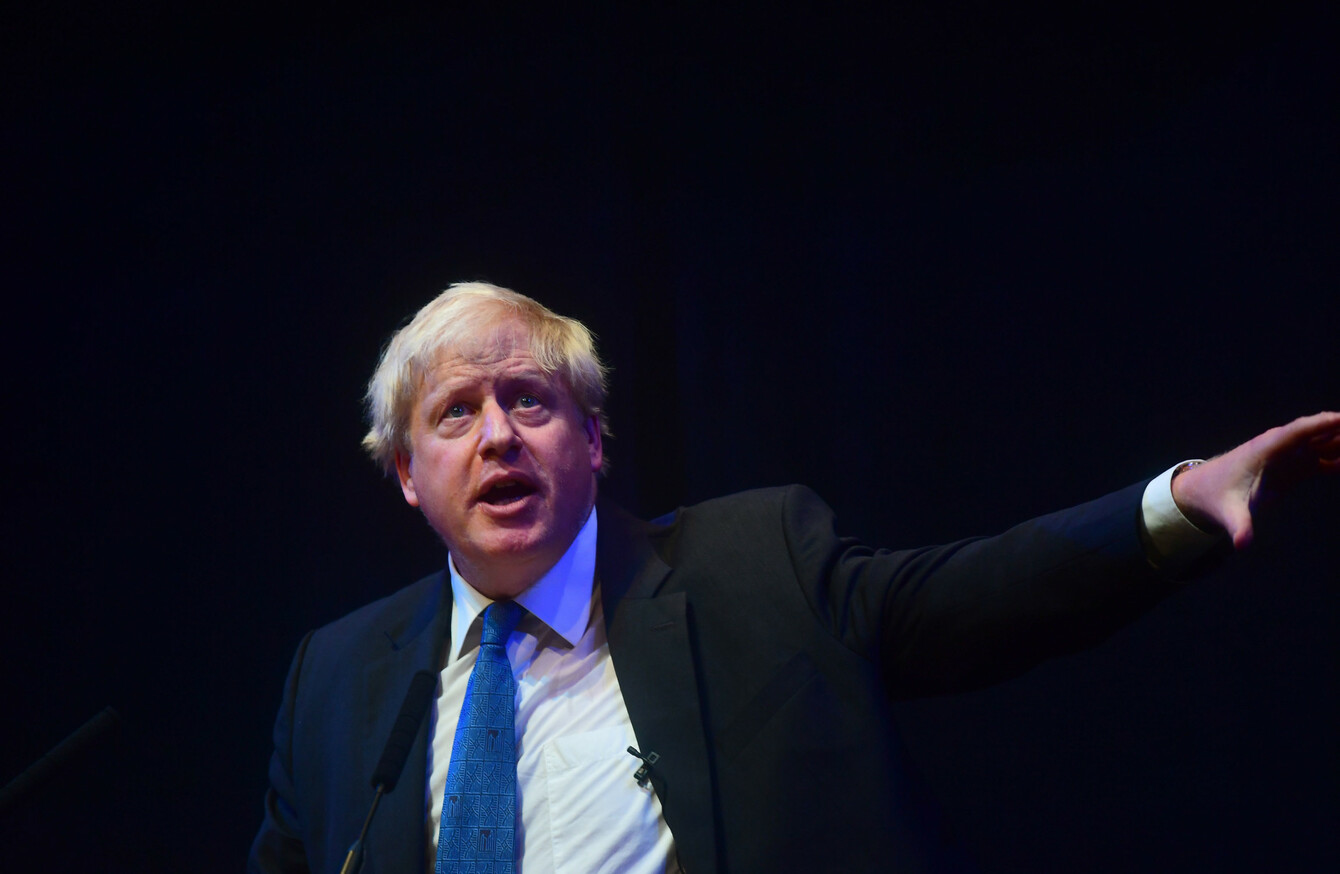 Image: Victoria Jones via PA Images
Image: Victoria Jones via PA Images
PROMINENT BREXITEER AND former UK Foreign Secretary Boris Johnson has said that the Irish backstop would make the UK "a permanent EU colony".
He said that the backstop "closes off" the UK's options, and effectively means that no deal and the 'SuperCanada' deal aren't possible – leaving Chequers as the only possible option.
Last week, Donald Tusk said that the 'Canada plus plus plus' deal was still on offer, all the UK had to do was accept it.
"This is an important moment," Johnson tweeted this afternoon.
"Clearly No 10 are negotiating a 'backstop' that makes the UK a permanent EU colony. We cannot escape EU laws & European Court of Justice until they allow us to – which they may never do. That's not what the biggest majority in our history voted for."
This backstop keeps the UK in the Customs Union, keeps Northern Ireland in the single market, and almost certainly enhances NI/GB checks. It will apply after 2020 unless the EU agrees it won't. And they will only agree if we keep our rules in lockstep with theirs.
This backstop closes off our options. It means we cannot have no deal / WTO or SuperCanada. Under either our rules could differ from the EU's – so they will keep us in the backstop instead. It means, in fact, that the only possible deal is Chequers.
The backstop is a safeguard to ensure that a hard border does not reemerge on the island of Ireland and to safeguard the Northern Ireland peace process, as enshrined in the Good Friday Agreement, which is internationally recognised.
The wording of the backstop, agreed in December 2017 and again this March, provides for "regulatory alignment" on the island of Ireland after Brexit. 
The EU has suggested that this would mean leaving Northern Ireland in the Single Market and Customs Union, which are separate but very closely linked. The UK has argued that this would be putting a border down the Irish Sea.
The UK has suggested the 'max fac' option: this would mean waiting until technology is created that would carry out customs and regulatory checks without requiring border infrastructure. The EU has argued that it isn't practical to wait until something may or may not be invented.
Johnson has always been against the provision of a backstop for Northern Ireland, saying previously that it's "a millenium bug" issue. There's been a fear that despite the UK's commitment to a backstop, that they would withdraw their support for it due to political pressure.
The EU has repeatedly assured the Irish government that there will be no Withdrawal Agreement without a backstop being agreed upon.
With just weeks left to make a deal, and with little progress made on the backstop, fears are growing that both sides will fail to reach a deal and the UK will go crashing out of the EU.
This is far from #TakeBackControl. In the referendum both sides said Leave meant leaving the customs union & single market. Yet this backstop inevitably means Chequers, staying in both, no say in either, and no right to escape. No 10 must Chuck Chequers now.
EU leaders are to meet in Brussels next week to discuss the outstanding Brexit issues, including the Irish backstop. If enough progress is made on this issue during those two days, another summit will take place in mid-November to finalise a deal.