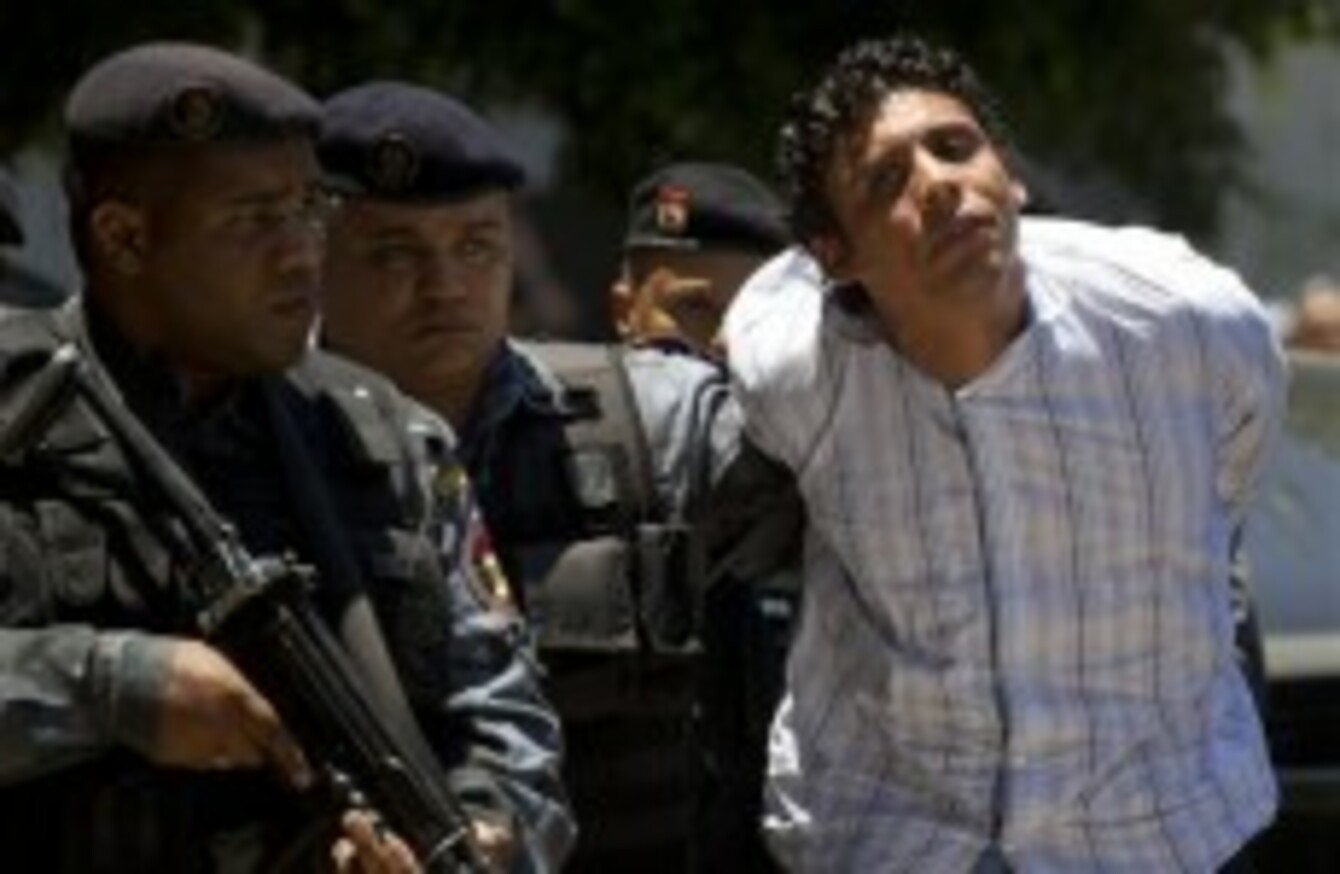 Antonio Bonfim Lopes, alias "Nem," right, is escorted handcuffed by police at the federal police headquarters in Rio de Janeiro, Brazil, Thursday Nov. 10, 2011.
Image: AP Photo/Felipe Dana
Antonio Bonfim Lopes, alias "Nem," right, is escorted handcuffed by police at the federal police headquarters in Rio de Janeiro, Brazil, Thursday Nov. 10, 2011.
Image: AP Photo/Felipe Dana
THE MOST-WANTED drug gang leader in Rio de Janeiro has been arrested, according to local police.
The capture is a blow to the gang that controls one of Latin America's biggest slums and the main drug distribution point in Rio.
Antonio Bonfim Lopes, known as "Nem," tried to flee the Rocinha slum in the trunk of a car, which was stopped at a police checkpoint just outside the shantytown, said Victor Poubel, a federal police inspector. He said the occupants of the car tried to bribe police twice, but eventually opened the trunk. Lopes did not resist arrest and calmly stared at TV cameras when taken into a police station.
Police say Lopes is wanted on charges of drug trafficking, murder, kidnapping and money laundering, and his arrest is a blow to the "Friends of Friends" drug gang that controls Rocinha.
It comes as police say they are preparing for an invasion of the slum as part of a campaign to make the city safer by the time it hosts the 2014 World Cup final matches and the 2016 Olympics.
Police are pressing ahead with plans to take back the shantytown, and hope for help from the residents, said Alberto Pinheiro Neto, head of operations for Rio state police, at a press conference Thursday.
Incursion of Rocinha
About 100,000 people are estimated to live in Rocinha. Pinheiro Neto would not give a specific timeline for the incursion into the slum, saying the operation is ongoing, but guaranteed police would try to minimise harm to residents.
Police would distribute pre-paid cell phones to residents to encourage collaboration with officers, he said.
"The gang is being dismantled, and this is a good moment for law-abiding citizens who want to see their children living in peace to pass information on where criminals, guns and drugs are hidden," he said.
Under the pacification program, elite police units head into violent slums and push out the heavily armed drug gangs that have held sway for decades.
Once security is established, officers trained in community policing move in and set up permanent "police pacification units." City officials also bring in basic services that many of the shantytowns had never received, such as sewage, legal electricity and cable hookups, and trash collection.
Police have created 18 such outposts in slums, mostly in areas seen as geographically key to World Cup and Olympic venues or along a highway leading to the international airport.
Rocinha sprawls across on a mountainside that hugs a road connecting what will be the main Olympic venues to wealthier parts of Rio, including the neighborhoods of Copacabana and Ipanema.
Jose Mariano Beltrame, the head of the Rio state security department, said the arrest of Lopes demonstrates the fragility of the gangs in Rio and said the coming takeover of Rocinha will be another big step in taking territory away from gangs.
'Territorial empire'
Beltrame, the architect of the slum-takeover program that began in 2008, has said that the aim is to deprive the drug gangs of the "territorial empire" where they can hunker down, sell drugs, and keep police at arm's length.
Beltrame said the operations around Rocinha began 10 days ago and would continue, presumably ending with full police control of the slum. He didn't elaborate on what police expect upon entering Rocinha.
"There is no set recipe for pacification. We prepare to enter without confrontations, but we don't know what is in the heads of the criminals," he said.
Joao Luis da Silva, a 65-year-old resident of Rocinha, sat on a wooden stool in a market at the base of the slum. Like most here, he was worried about the coming invasion.
"Only God knows what will happen. We try to stay out of all that business, and stay away from all this trouble," he said. "But sometimes trouble comes to you. With all these police around, someone is going to start shooting. We just have to wait for God's will."