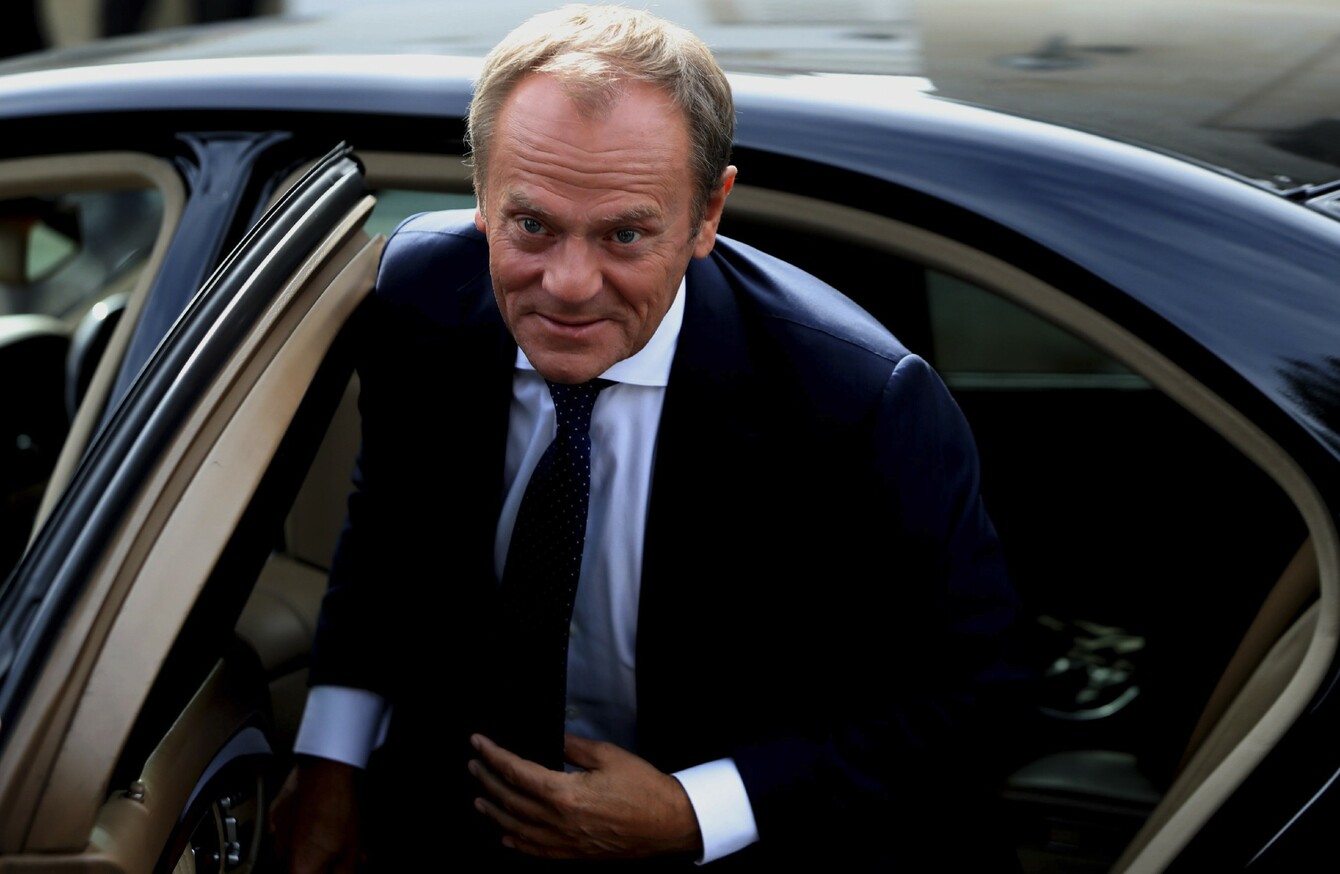 Image: AP/PA Images
Image: AP/PA Images
Updated Oct 16th 2019, 4:00 PM
EU COUNCIL PRESIDENT Donald Tusk has said that although the EU and UK had been close to a deal, there are now "certain doubts".
"Yesterday evening I was ready to bet that it's all set and agreed, today there are certain doubts on the British side. We'll see, I'm still hopeful," he said while speaking to Polish journalists in Brussels.
"I had hoped that we would have received a ready, negotiated, legal text this morning so that member states could get to know it," Tusk said, adding that "everything is going in a good direction."
Tusk added that we should know whether there's a deal or not "theoretically, in seven or eight hours" via a live broadcast on Poland's TVN24 news channel.
The basic foundations of an agreement are ready and theoretically tomorrow we could accept this deal with Great Britain.
Tusk claimed that there was "a great deal of turmoil" on the British side, adding:
But as you must have noticed, with Brexit and with our British partners everything is possible.
Varadkar's assessment
Earlier today, Taoiseach Leo Varadkar insisted there is "a pathway" to a Brexit deal that could see it being ratified by EU leaders tomorrow, but that "many issues" remain. 
Varadkar said that he spoke to British Prime Minister Boris Johnson again this morning and that progress is being made but that "there are issues yet to be resolved". 
EU and UK negotiators are currently involved in frantic negotiations in an effort to have the text of an agreement ready for an EU Council meeting tomorrow. 
EU chief negotiator Michel Barnier and British Brexit minister Stephen Barclay judged that a deal was close enough to justify officials working overnight to draw up a withdrawal treaty text on the eve of the EU summit. 
Barnier said a text must be on the table by early today if member state governments are to have a chance to consider it before the summit, as the 28 national leaders have no plans to debate the details of the agreement.
If the deadline is missed early today, officials said talks could instead resume next week and a special summit be called just in time for Johnson to fulfil his pledge to lead Britain out of the bloc on 31 October.
Meanwhile, the Dáil and Seanad passed the Health and Childcare Support Bill 2019, which provides for health benefits similar to the European Health Insurance Card to eligible residents of Northern Ireland in the event of a no-deal Brexit.
The main part of the Bill (Part 2) will enable eligible residents of Northern Ireland to be reimbursed by Ireland for the cost of medical care incurred while abroad in an EU or EEA member state, or Switzerland.
Part 3 of the Bill provides for an amendment to the Childcare Support Act 2018 to make explicit provision for British citizens to access the National Childcare Scheme on the same basis as Irish citizens.
Deal possible?
Speaking to an agri-food policy debate in the Aviva Stadium this morning, Varadkar said that a deal is possible this week. 
"I am convinced that all parties are convinced about getting an agreement this week, or at least if not this week then by the end of the month. And an agreement, an orderly Brexit, however you want to describe it, is very much in the interests of Ireland, the UK and EU as a whole," he said.
There is a pathway to a possible deal but there are many issues that still need to be resolved, particularly around the consent mechanism and also some issues around customs and VAT.
The House of Common will sit on a weekend this Saturday for the first time in almost four decades in the hope that MPs will have a deal to consider.
Varadkar said it is possible that they will:
I spoke to the Prime Minister by phone this morning and I've been in contact as well with the European Commission, and I do think we are making progress but there are issues yet to be resolved and hopefully that can be done today, allowing us to ratify the agreement of the European Council tomorrow, allowing the House of Commons to give its view on Saturday. But if it's not there is till more time, the 31 October is still a number of weeks away.
In London, Johnson faces a race against the clock to secure a Brexit deal and get Tory Eurosceptics and the DUP onside to back him.
Johnson carried out a charm offensive in Downing Street yesterday evening as he held a series of talks with backbenchers and the leaders of the DUP.
Meanwhile, his negotiating team worked through the night as reports increased that a deal was nearing, with a solution said to be forthcoming on the Irish border.
Johnson knows he must have members of the European Research Group (ERG), a band of hardline Tory Eurosceptics, on board or his deal has little chance of making it through a vote in the House of Commons.
It was his predecessor Theresa May's failure to secure the ERG's support that led to her Withdrawal Agreement being defeated three times.
But, despite a flurry of meetings at Number 10, there were reports that  Johnson's exit terms were causing splits in the ERG.
Chair Steve Baker MP, speaking outside Downing Street, said he was "optimistic" that Mr Johnson's team in Brussels would finalise a "tolerable deal that I will be able to vote for".
Mark Francois said the meeting was "interesting" and added "there'll be further chats to have", while former Tory leader Iain Duncan Smith also emerged from Downing Street.
Jacob Rees-Mogg, the leader of the Commons and a former ERG chair, told LBC: "I think the votes are there now for a deal."
The Guardian reported that the UK agreed in principle there will be a customs border in the Irish Sea.
While still in office, May said such an arrangement could never be accepted by a British prime minister.
The DUP, in a statement after their second audience with the PM in as many days, were also decidedly lukewarm on the mooted proposals.
#Open journalism No news is bad news Support The Journal

Your contributions will help us continue to deliver the stories that are important to you

Support us now
"We respect the fact negotiations are ongoing and therefore cannot give a detailed commentary but it would be fair to indicate gaps remain and further work is required," a spokesman said.
Leader Arlene Foster and her deputy Nigel Dodds slipped out of the back exit of Downing Street and avoided waiting journalists following the meeting.
Number 10 officials were privately playing down suggestions of a Brussels breakthrough and the PM's decision to hold Cabinet in the late afternoon indicated that negotiators still require time to finalise a deal before tomorrow's crunch European Council summit.
If the deadline to provide a draft to EU leaders is missed early today, officials said talks could instead resume next week and a special summit be called just in time for Johnson to fulfil his pledge to lead Britain out of the bloc on 31 October.
European leaders warn they will not let the UK use Northern Ireland as a back door to the single market and Barnier said yesterday that "it is high time to turn good intentions into legal text."
French President Emmanuel Macron apparently shared the guarded optimism, with an aide telling reporters there was "positive momentum" behind the talks.
But German Chancellor Angela Merkel outlined why EU officials are driving a hard bargain and hoping Britain will commit to a "level playing field" in post-Brexit trade and commerce.
"One thing is clear, Britain will develop into another competitor on the doorstep of Europe," Merkel told German industrialists last night.
- With reporting by © – AFP 2019 and the Press Association