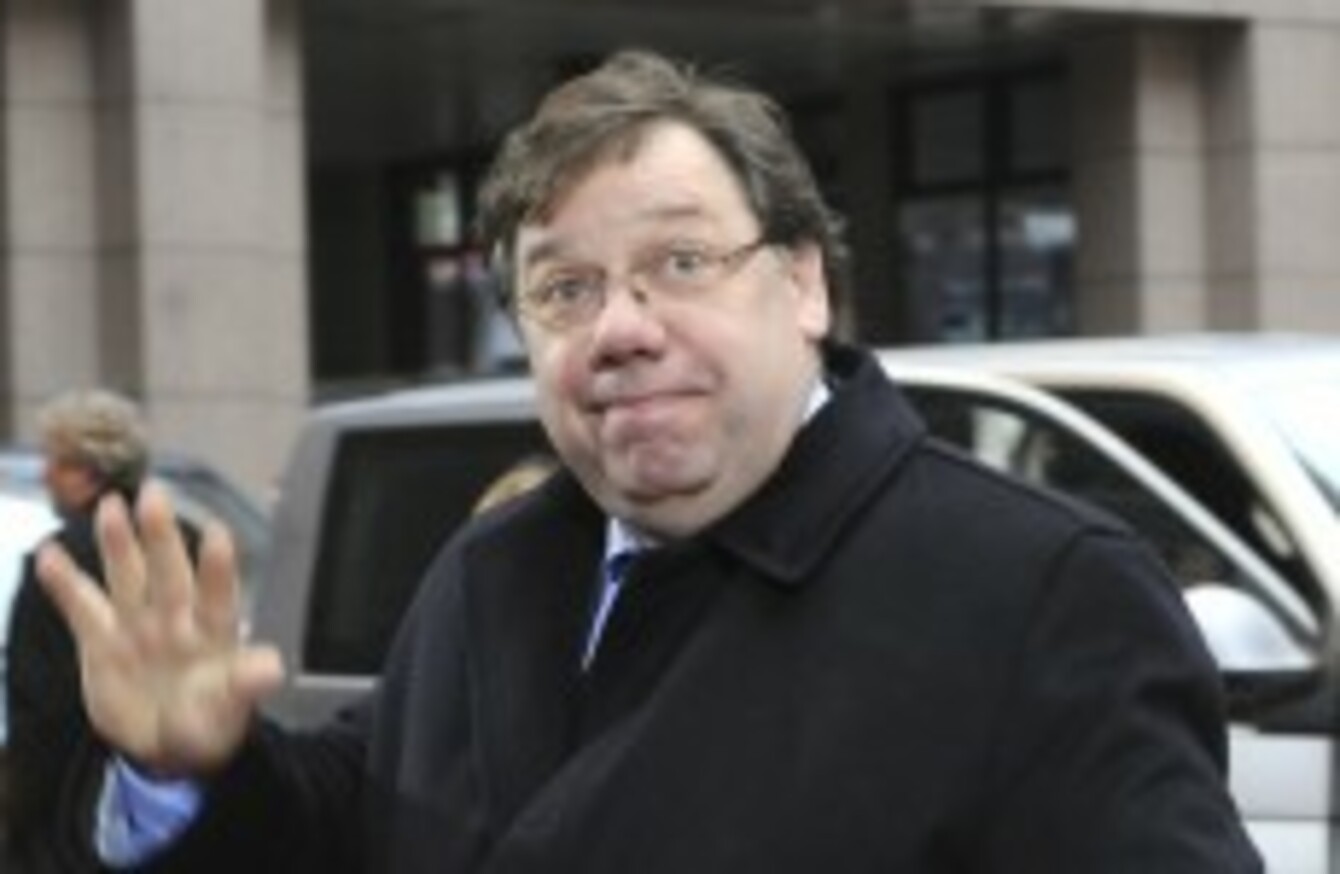 Brian Cowen
Image: Thierry Charlier/AP/PA
Brian Cowen
Image: Thierry Charlier/AP/PA
FORMER TAOISEACH BRIAN Cowen's first interview since he left office, in which he says the government didn't see the financial crisis coming, has been criticised as "arrogant and cocky".
The former Fianna Fáil leader has given an interview to TG4′s Comhrá programme which is due to be broadcast on Thursday week.
In it he says he "didn't believe" the warnings that came from a minority of people about the impending economic collapse.
"Well, the truth is that we didn't believe it," he tells host Máirtín Tom Sheainin. "We thought the economy would have a soft landing, that economic growth would continue and we could pay for it through the growth that was to come."
Cowen's comments are the first he has given in a print or broadcast interview since he left office in February 2011.
In the interview he defends the bank guarantee in September 2008 saying the government had to stop the billions of euro that was leaving the country from continuing to exit.
"We had to stop that and get that money back into the country if possible," he tells the programme in which he also portrays himself as a 'reluctant Taoiseach' in the wake of Bertie Ahern's resignation earlier that year.
No apology
That Cowen does not explicitly apologise in the interview has been criticised today.
Sinn Féin said that Cowen's comments "highlight the cocky and arrogant mentality that marked his and other Fianna Fáil led governments".
The party's finance spokesperson, Pearse Doherty, said: "It is this type of arrogance, typified by Brian Cowen's failure to listen to anyone who didn't agree with him, that ultimately meant we had no plan B as we collapsed into crisis."
#Open journalism No news is bad news Support The Journal

Your contributions will help us continue to deliver the stories that are important to you

Support us now
Speaking to Newstalk's Lunchtime programme, former Cabinet minister Éamon Ó Cuív insisted that the former government party was sorry for mistakes that may have been made.
"Look we're all sorry. I know Brian and I'm terribly sorry for what happened to the country and if there is anything that he did or I did or we as a government did where we made mistakes, where we made wrong calls or whatever, of course we're sorry," he said.
But the Fianna Fáil TD insisted that based on the information that the government had at the time it issued the bank guarantee – which has cost some €64 billion – there was not a better option on the table.
This coming 30 September marks the fifth anniversary of the bank guarantee, a decision which current Finance Minister Michael Noonan has said "will go down in history as the blackest day in Ireland since the Civil War broke out".
The Comhrá programme featuring Cowen is due to air on Thursday, 5 September on TG4 at 7.30pm