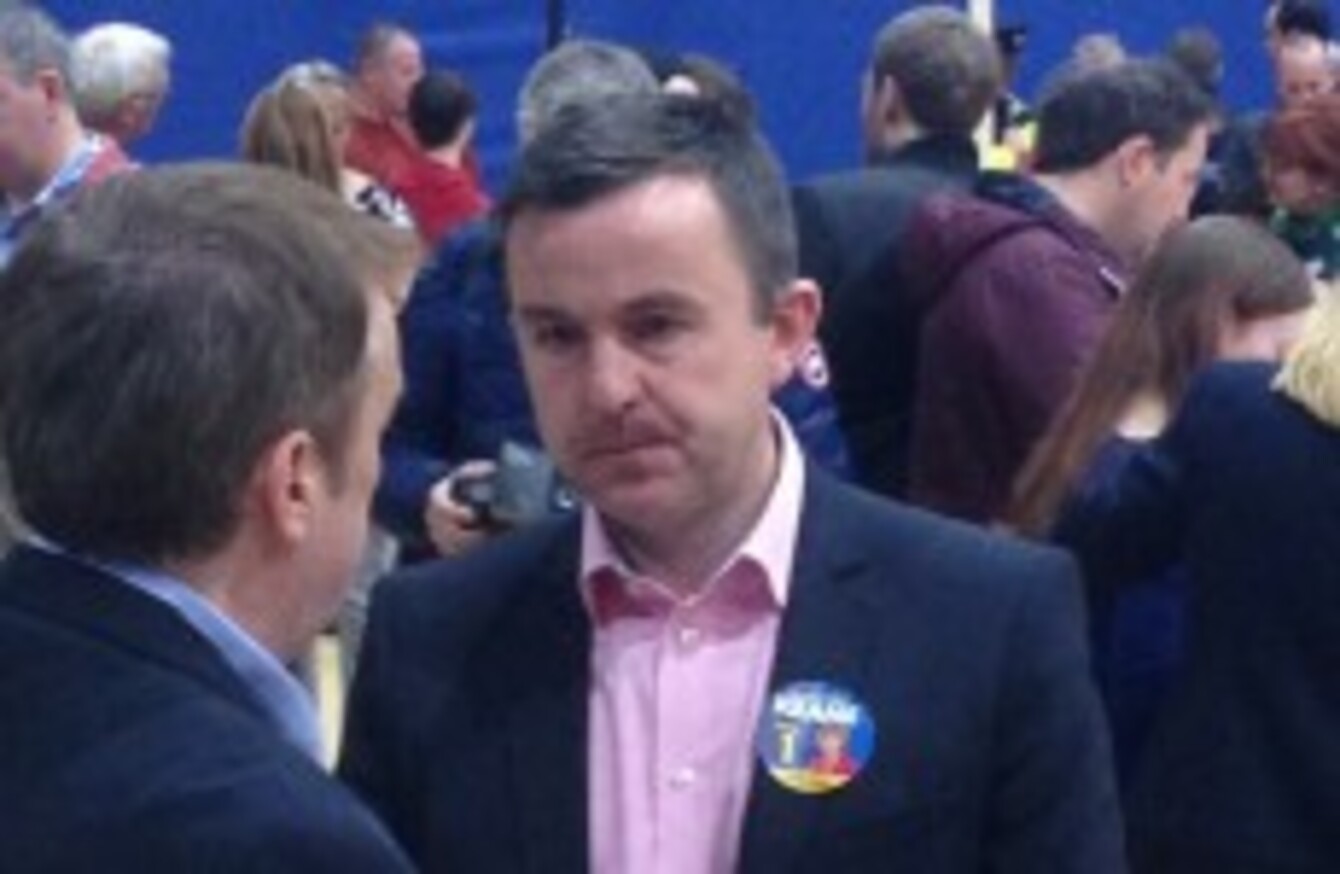 Brian Hayes at the count centre in Tallaght this morning
Image: Hugh O'Connell via TheJournal.ie
Brian Hayes at the count centre in Tallaght this morning
Image: Hugh O'Connell via TheJournal.ie
BRIAN HAYES BELIEVES it was inevitable the government would get a "kicking" in the Dublin South-West by-election when people were learning how much they would have to pay for water as they were being canvassed.
With either the Socialist Party's Paul Murphy or Sinn Féin's Cathal King poised to take Hayes's former Dáil seat, there is a strong anti-government sentiment evident at today's count in Tallaght, which is no surprise to the Fine Gael MEP.
"I'm not surprised by the result. I mean it's a reflection of the May's local election really and Dublin South-West is traditionally a very volatile constituency.
"If the country is moving 10 per cent in one direction it's moving 20 per cent here in Dublin South-West," Hayes told TheJournal.ie at the count centre in Tallaght this morning.
Hayes insisted that he believes the improving economy will mean the situation will be "dramatically different" at the next election when the people are asked to elect a government.
"In this case, it's replacing obviously my seat and a lot of it was based on water, that's the truth of the matter.
"In a circumstance where the bills were hitting the doorsteps at the same time as the canvassers were on the doorsteps it's inevitable that the government were gonna get a kicking and that's what happened.
Hayes said he sees "no reason why Labour and Fine Gael can't between now and the next election get their act together" and dismissed suggestions that holding the by-elections after next week's Budget could have benefitted the government.
"It could have changed somewhat after the Budget but I don't think it would have dramatically altered the results one way or another.
"The two big parties in the local elections were reflected in the results here and the government has a year-and-a-half to turn that around," he said. 
Hayes added that Fine Gael will be vying for two seats in the redrawn Dublin South-West in the next general election.
He also insisted that he will not be going for one of them as he pledged to remain in the European Parliament for his full five-year term following his election in May.