Image: Shutterstock/Forest Run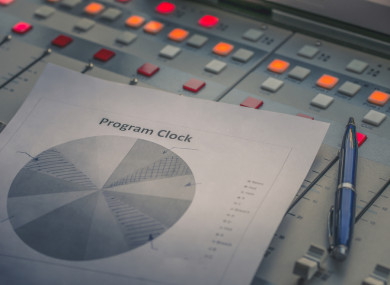 Image: Shutterstock/Forest Run
IRELAND'S MEDIA REGULATOR has said that broadcasters who implement a 50:50 time limit split during referendum discussions can hamper debates.
At the launch of its updates to television and radio programme guidelines, the CEO of the Broadcasting Authority of Ireland (BAI) said that the 'stopwatch' approach to balance was used as a "safety net", but was used too often in his view.
The 'stopwatch' or 50:50 time limit is where programme makers measure the airtime received during broadcasts by representatives of opposing sides of a debate.
"There's been, in my view, this misconception that there was this requirement," Michael O'Keefe told reporters yesterday.
"Some broadcasters have used it 'to be sure, to be sure' that they will implement a 50:50 for their own security, if you like.
I would have a view that if you apply that rigorously that it doesn't do justice to the programming, it's too narrow. So we emphasise that broadcasters should broaden the discussions that they would have.
In an updated version of its referendum guidelines published yesterday, the BAI said that "there is no requirement to allocate an absolute equality of airtime to referenda interests during coverage".
It continued:
"…while it is important to ensure that coverage provides airtime to referenda interests to set out their views on proposed changes to the Irish Constitution, broadcasters are encouraged to approach coverage with an emphasis on the issues that the public must decide upon rather than taking an approach limited, simply, to a mathematical allocation of airtime."
This may facilitate a focus on the issues which may be of greater benefit to the democratic choice to be made by individuals rather than an approach to coverage that is simply adversarial in nature.
Declan McLoughlin, compliance and policy manager at the BAI, added that although airtime is "a factor" in achieving the BAI goal of "fairness, objectivity and impartiality", he added that it's only "one of a number".
He said that the 'stopwatch' approach was probably appropriate for elections, but not necessarily referendums, adding that it's rarely the deciding factor in cases and complaints that the BAI reviews.
O'Keefe added:
We've had no complaint upheld based on a breach of the 50:50 time limit – it just hasn't happened.
What can be done instead?
In the BAI's updated guidelines, it said that fairness, objectivity and impartiality can be achieved during programming in a number of ways, including:
Having referenda interests from both sides of the debate
The programme presenter playing the role of 'devil's advocate'
A vox pop of voices from members of the public
Contributors who may not be campaigning for a particular outcome, but who may articulate the views of one side based on experience.
"It doesn't mean," O'Keefe added, "when somebody is brought into the studio the instinct is 'I must bring somebody with the other viewpoint into the studio as well'. That's not the case."
O'Keefe said that although they understand the "mathematical" approach in this instance, they were giving programme makers "latitude here – take that and use that".
You could bring somebody [with the opposite viewpoint] in the next day. You could have the presenter challenge, in a very strong fashion, the argument put forward. That gives you the fairness – that's what we're looking for.
McLoughlin said:
#Open journalism No news is bad news Support The Journal

Your contributions will help us continue to deliver the stories that are important to you

Support us now
"If you have a 50:50 unnecessarily, if it's something that isn't representative of the nature of the campaign, then that limits your ability to respond and serve the needs of the audience.
You don't want to be locked into something.
He said that this would be decided on a case-by-case basis, as the Eighth Amendment referendum was a particularly "complex and controversial" debate, which some other referenda "are not likely going to be".
"And in that context we want broadcasters to know that they don't have to be 'straitjacketed' by [time limits]."
Broadcasters' reaction
RTÉ said that it welcomed the clarification from the BAI that giving two sides of a debate equal airtime during referenda isn't always necessary:
The BAI has consistently made this point in its previous referendum guidelines and it has been reflected in RTÉ editorial coverage.
It didn't respond to a query from TheJournal.ie on whether its coverage during referenda would change because of these updates, or what other methods aside from the 'stopwatch' approach it uses to achieve balance during programmes.
Newstalk told TheJournal.ie that it didn't use a 'stopwatch' approach to measure balance, and would use presenter interjection and other methods to make sure a programme "wasn't going one way or the other" during a referendum debate.
In an opinion poll carried out by Amárach research early this week on behalf of TheJournal.ie, 73% of respondents said that they think that all referendum coverage on TV and radio should be timed and held to a 50:50 split between 'Yes' and 'No' advocates. Only 11% said that it should not be timed and held to a 50:50 split and 16% said they didn't know.