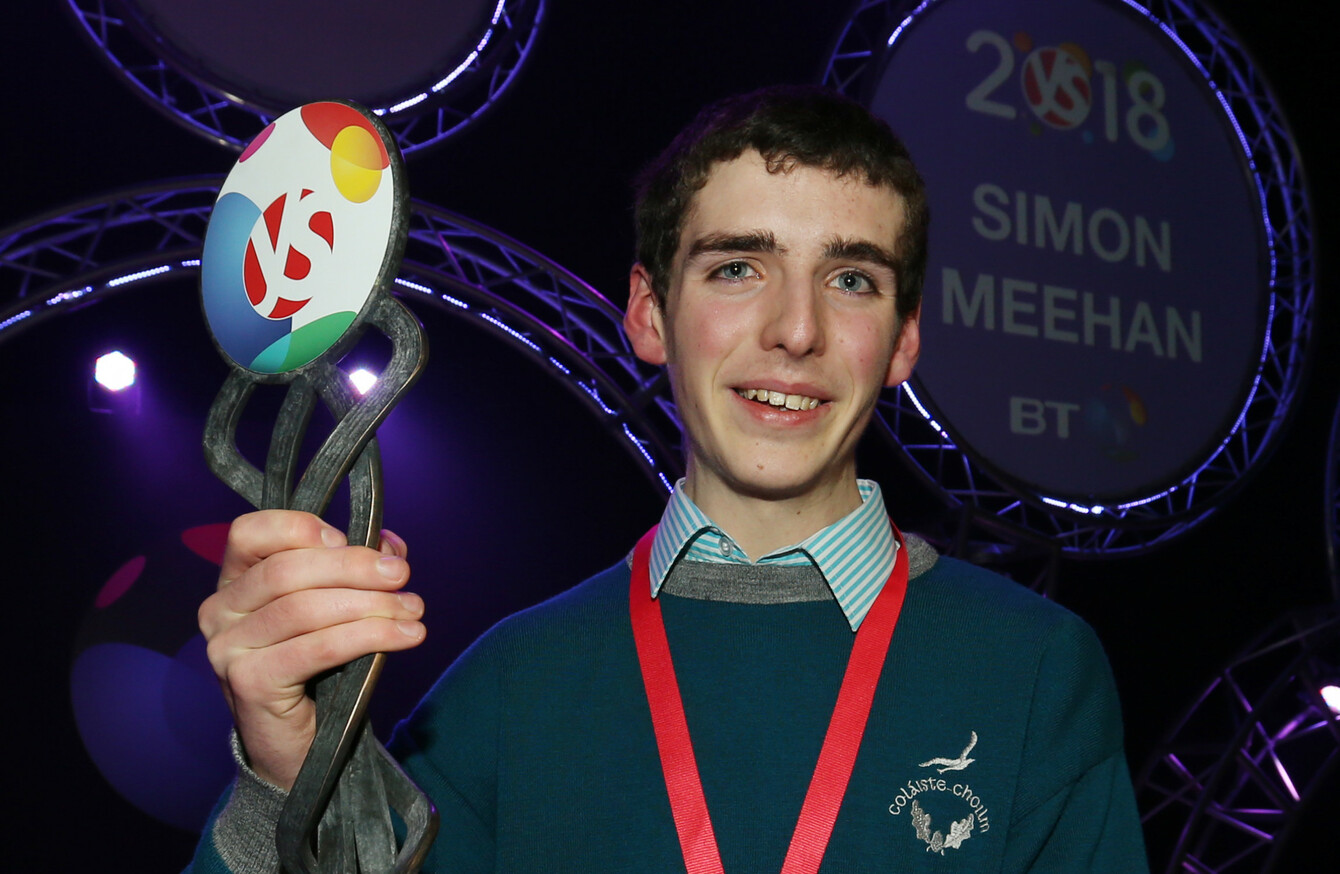 Simon Meehan, the overall winner of the BT Young Scientist and Technology Exhibition 2018
Image: Sam Boal/RollingNews.ie
Simon Meehan, the overall winner of the BT Young Scientist and Technology Exhibition 2018
Image: Sam Boal/RollingNews.ie
IN RECENT DAYS there has been some criticism of the winner of the top prize at the BT Young Scientist and Technology Exhibition (BTYSTE).
The event's organisers have defended Simon Meehan, a 15-year-old transition year student from Colaiste Choilm in Cork, who had been working on his project for two years.
He selected nine locally sourced plants such as asparagus, nettles and blackberries to test for the presence of chemicals which could potentially be used to control bacterial infection. The leaves of the blackberry plant were shown to contain a chemical which prevented the growth of different bacteria.
Simon's award includes a prize fund of €7,500 and a trip to Bletchley Park in England, the World War II coding centre.
Some people on social media had suggested Simon's win was unfair as he received help from a chemistry lecturer at University College Cork (UCC), and also because his mother is a microbiologist and his grandfather is a botanist.
Speaking to TheJournal.ie, Dr Tony Scott, co-founder of competition, vigorously defended Simon's work, saying the teenager has an "amazing" level of knowledge.
Scott didn't judge Simon's project, but over 10 other judges viewed his work.
Scott said many students get advice and support from universities or hospitals, noting that schools often wouldn't have access to the equipment they need otherwise.
Once any outside help they've received is documented in their report book, Scott said this is "absolutely fine". He said the judges who had reviewed Simon's project said it was "quite clear" he had done the work himself.
"If the judges are suspicious that people are getting additional help, they can throw a curveball very quickly," Scott said, adding that if students can't answer certain questions "that will make it very clear if a person doesn't know what they're talking about".
Scott said Simon had a "very high quality of understanding".
"You encourage the students to talk to their teacher … The key person is the teacher, Simon had a fantastic teacher, most of the students do.
If their mother happens to be a scientist, or their father, or their aunt or uncle, you can't preclude them from taking part. Where do you draw the line?
Scott said the judging system is "as tight as we can make it", stating: "The rigorousness of our judging system has been copied by young scientist competitions around the world, it has stood the test of time.
"I'm 50-odd years at the game now and I certainly have had people calling me up. If a school rings up and asks if I can help, I'm delighted … We want to encourage young people to get involved with science."
'Amazing level of knowledge'
2018 is the 54th year of the event, and Scott has been involved since day one. He co-founded the competition with the late Rev Dr Tom Burke, a fellow physics researcher at UCD and his former teacher.
Speaking of his relationship with Burke, Scott said: "Why did I get into [science]? I had a fantastic teacher. We became colleagues in the same department, we published papers together.
"I've been involved [with the competition] for 54 years, I was only three when I started, I was a very advanced three-year-old," Scott jokes.
#Open journalism No news is bad news Support The Journal

Your contributions will help us continue to deliver the stories that are important to you

Support us now
He said the standard of entries in the competition has increased in recent years.
"The level of knowledge of young people today is amazing.
When an older, grey-haired man like me sits beside a teenager and asks them about their project that can be daunting. They are magnificent, it's just incredible what they're doing.
Scott notes that when the competition started out, participants' knowledge was based on books in their school or local library, but now students can access whatever they need to know "at the click of a button".
Scott said seeing the competition grow over the years, and the fact that versions of it now take place as far afield as Tanzania and Nairobi, is a huge source of pride.
"It's great to think something that started in Ireland is now moving around the world. That's something we should be very proud of."
A full list of this year's winners can be read here.