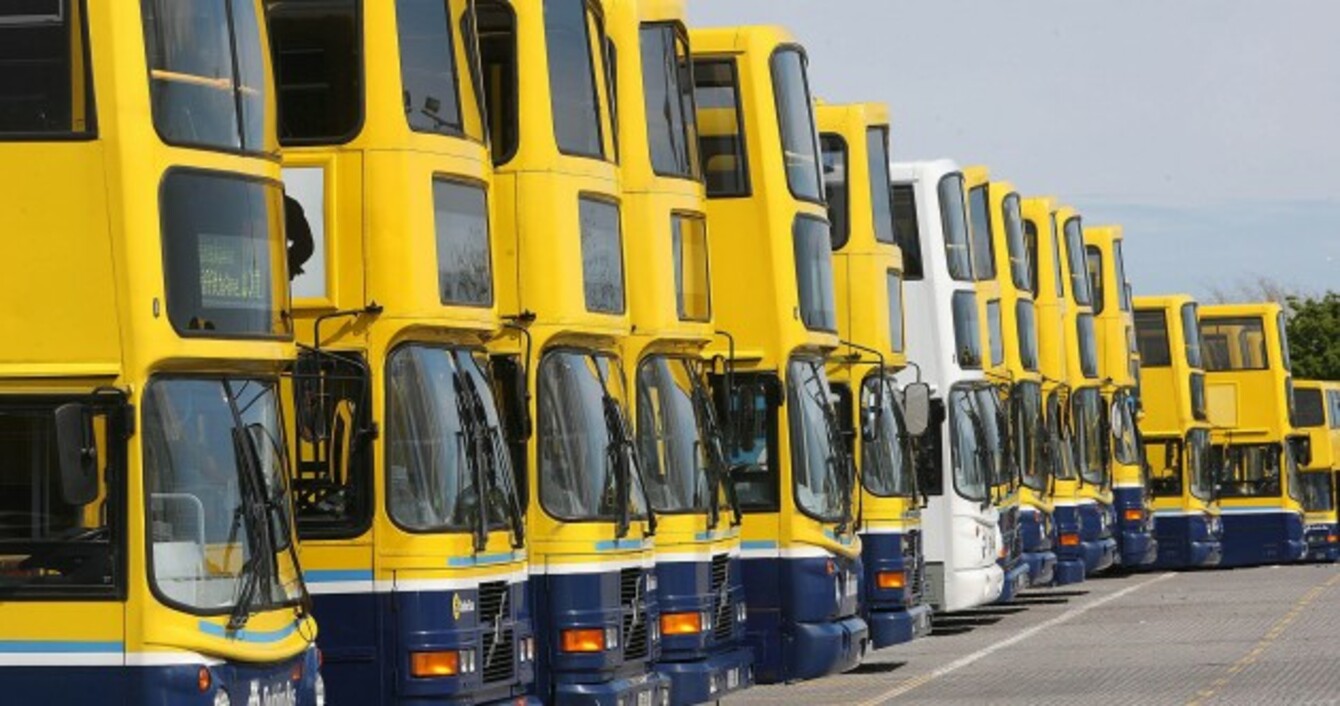 Image: PA Archive/Press Association Images
Image: PA Archive/Press Association Images
Updated 9.20pm
THE FIRST DAY of the 48-hour industrial action by Dublin Bus and Bus Eireann drivers begins tomorrow.
The strike action begins at midnight tonight.
Legal action
This evening, Bus Éireann and Dublin Bus said they intend to sue the trade unions involved for losses incurred during the strike tomorrow.
Dublin Bus and Bus Éireann issued legal letters to both SIPTU and NBRU this evening, informing them of the move to seek compensation for losses to include compensation for reputational damage.
In a statement, the chief executives of Dublin Bus and Bus Eireann said that the two-day strike "is not a legal dispute".
We will shortly issue proceedings in the High Court. To prevent this action, we have urged the unions to desist in carrying out this unlawful strike action.
It said that management "have been forced to take unprecedented action and will now pursue a legal challenge for financial loss, including the damage to our reputation and good standing".
This dispute is illegal and is totally without justification.
They also said that unions were "presented with ample opportunity to address all of the issues within an agreed process at the LRC" but "they chose not to engage in a meaningful way and decided to walk out, without giving management an opportunity to address their concerns".
The companies are taking legal action to "protect the future interests of the business, which sustains thousands of employees".
They not taking action directly against their employees, but are seeking to recover losses from the two unions, NBRU and SIPTU.
Speaking to TheJournal.ie, an NBRU spokesperson said:
We find it surprising the companies would resort to this. Obviously we are in a dispute with them and it's just unfortunate they chose this path. We will pass the letter on to our legal people for consideration.
He rejected the claims that it was an illegal strike.
NBRU also said that it "regrets" that its members have to resort to industrial action.
It added:
We balloted our members in relation to what we contend is a genuine trade dispute, the Companies would be better served if they concentrated their resources on working with other responsible stakeholders in resolving this dispute rather than attacking their own staff.
What's happening with the strike tomorrow?
Bus services are coming to a standstill due to a dispute over putting 10% of bus routes out for private tender.
So, if you use the bus to get to work or if you're planning a trip this weekend, you'll have to find an alternative.
More bad news for commuters is that some rail services will also be disrupted due to improvement works. This will impact the Dublin to Cork train on Saturday and Sunday.
Irish Rail have said that there will be no additional DART or commuter services. 
Intervention by the minister 
Despite pleas from the Transport Minister Paschal Donohoe for the strike not to go ahead, it appears that unless there is an intervention at the 11th hour, bus drivers will down tools.
It is believed the planned industrial action could cost Bus Eireann up to €5 million.
A statement from the company said it is very disappointed about the disruption to services which it says can only damage the business and severely discommode customers.
It said it is particularly mindful of students beginning exams.
Speaking on RTÉ's Morning Ireland, the minister reiterated the point that drivers won't be forced to transfer to private operators.
He said this intervention was "unprecedented" but he believes the breadth of his commitments were necessary.
The minister said all matters are now dealt with and the strike should not go ahead, calling it "unjustifiable".
He said the Labour Relations Commission, which is independent, will only step in if it thinks there is an "appetite" for the strike to be called off.
'Huge damage to economy'
Donohoe said the strike will cause "huge damage" to the economy that is recovering, as well as to both companies.
He said €10 million losses could be made to both companies, who he said are just "getting back on their feet".
An estimated €20 million loss is also expected for Dublin city businesses over a busy weekend, he said.
The National Transport Authority will be putting forward options for alternative travel to customers later today, however, the minister said as bus travel is such a core element of Ireland's transport system, there is no doubt there will be widespread disruption.
- Additional reporting Aoife Barry