Image: Shutterstock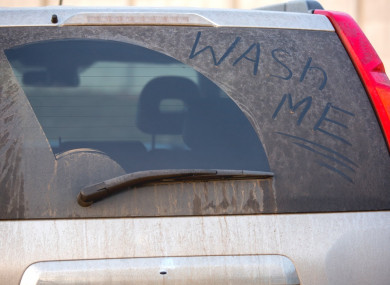 Image: Shutterstock
WITH THESE BRIGHT evenings and sunny days, the thought of spending more time outside has suddenly become appealing again.
If you've been neglecting your car maintenance over the winter in favour of time warming up in front of the fire, now's the time to make amends.
Even if your motor isn't in need of any massive repair work, there's much to be gained from a good ol' spring clean. Plus, with a couple of hours of time and some inexpensive household products, you can get your car spick and span without having to go near a valet.
Do we have your attention yet? Here's how to get started – and the kitchen cupboard staples you'll need…
Exterior cleaning
1. Banish bugs
What you'll need: Vinegar
The acetic acid in vinegar helps remove any bugs on the car grille. Dilute it with water in a spray bottle for large areas, or use it neat with a soft cloth for spot cleaning.
2. Remove dried leaves and tree gunk
What you'll need: Mayonnaise
If you've ever parked under a tree you'll know how hard it is to remove tree sap from your car's exterior. Gently rub some well-diluted hand sanitiser or mayonnaise onto the problem areas and rinse off well.
3. Scrub up your wheels
What you'll need: Baking soda
Baking soda is a hero product when it comes to car hacks and tips. It is cheap to buy too. Make a paste by mixing three parts baking soda to one part water, and use a damp cloth to rub it into the car's wheels. Rinse off with warm water… et voilá, clean wheels.
4. Get gleaming headlights
What you'll need: Toothpaste
Over time, headlights can become dull and hazy thanks to ultraviolet light, dust, weather, particles and other factors. To revive your lights, squeeze some toothpaste onto a dry cloth and buff all over the headlights. Take a wet cloth or toothbrush and wipe it off.
Interior cleaning
1. Neutralise stale smells
What you'll need: Coffee beans
Clean out your car's ashtray and fill it with coffee beans to neutralise any offending odours. If you don't have an ashtray, use your door bins instead. Line the bins with kitchen paper to hold the beans in place.
#Open journalism No news is bad news Support The Journal

Your contributions will help us continue to deliver the stories that are important to you

Support us now
2. Give leather seats a new lease of life
What you'll need: Vinegar and olive oil

To revive leather seats and surfaces, mix one part white vinegar and two parts olive, linseed or baby oil in a spray bottle. Spray the mixture onto a damp cloth and wipe down the areas, then remove the solution by going back over the surface with a clean damp cloth. Your leather will look lovely in no time.
3. Revive your vinyl
What you'll need: Lemon juice and olive oil
Mix one part lemon juice to two parts olive oil and mix in a spray bottle or bowl. Using a clean, lint-free cloth, wipe a little bit of the mixture over any vinyl or plastic surfaces in the car. Use another clean cloth to wipe off the excess mixture.
4. Clean up fabric stains and cigarette burns
What you'll need: An onion
A fresh raw onion, cut in half, can do wonders for lifting ink and other stains from fabric. Rub or grate the onion on, leave the juice to work its magic for at least 20 minutes, and remove with water and soap. Whilst it won't repair the damage and holes from cigarette burns, it will remove the dark stains.
Want to make sure you don't miss out on anything going on in the world of motors? Like us on Facebook and and follow us on Twitter for the latest updates.