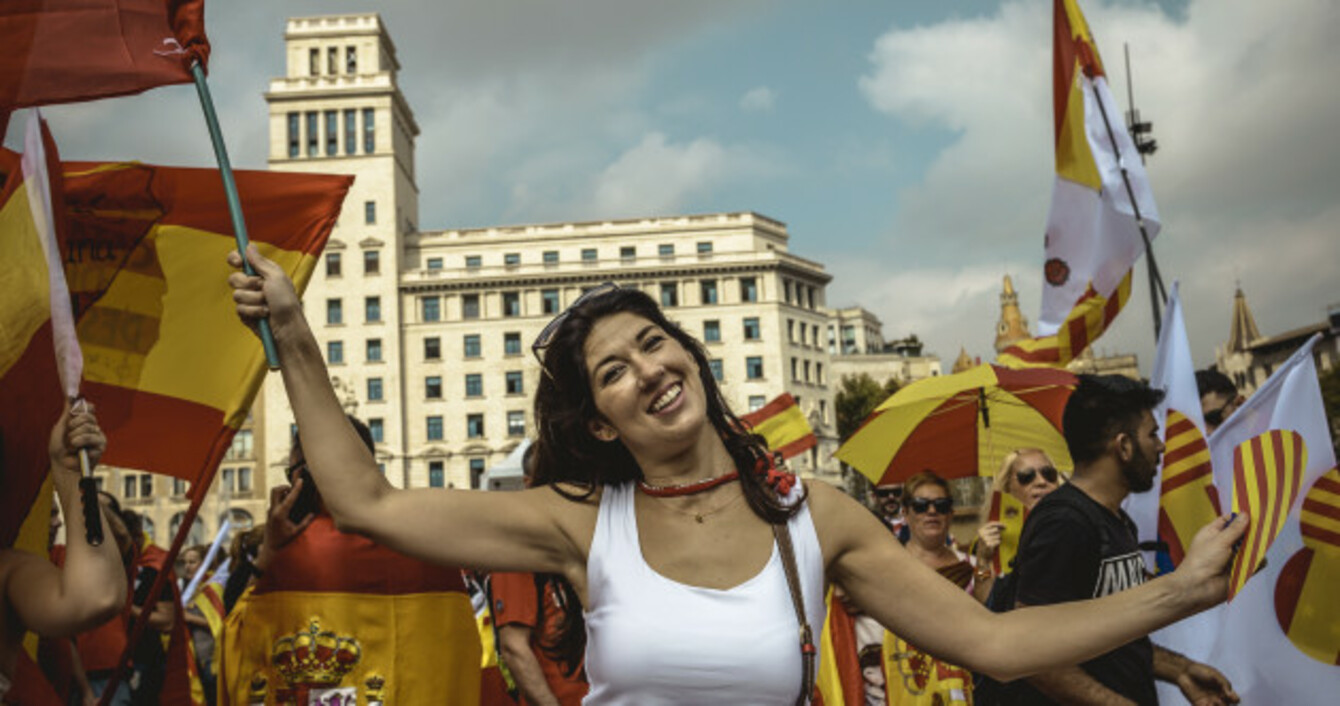 Anti-separatist Catalans shout slogans as they gather at Barcelona's Placa de Catalunya.
Image: Matthias Oesterle
Anti-separatist Catalans shout slogans as they gather at Barcelona's Placa de Catalunya.
Image: Matthias Oesterle
LAST SATURDAY, A poll was published on TheJournal.ie.
If you're a regular reader of the site, you'll know that we have a poll every day asking for the opinions of our readers.
But this poll wasn't a regular poll.
By the end of my shift on Saturday around 4pm, the poll had amassed over 50,000 views. Not suspiciously high, but higher than I'd expected. It was, after all, asking the readers of an Irish news site if they supported Catalan independence.
That evening I noticed I was receiving emails from Spanish addresses. With the help of Google Translate and months spent struggling through Duolingo, I was able to work out two things.
First, that the emails related to the poll on Catalan independence and secondly that those emailing believed very strongly in their position.
At this point, the Yes option was leading the poll.
Sunday
The following morning a number of votes pushed the vote to No, before swinging back to yes. All the while, the flow of views and votes continued unabated – amassing around 300,000 views by Sunday evening.
Into Monday, as Ireland was battered by Storm Ophelia, the views continued to mount up, 600,000, 800,000 until it would cross the million view threshold.
And still it showed no signs of slowing down, eventually topping out at 2.3 million views and around 4,000 emails for me.
What happened?
So, how did it happen that a poll about feelings on Catalan independence garnered so many views and comments?
In emails to multiple sources, TheJournal.ie has been able to confirm that the story was posted in at least one private Facebook group run by Catalans against independence on Saturday evening and another Spanish unity page.
This was followed by it being spread around Catalan Whatsapp groups, urging people to vote yes, regardless of if they spoke English.
The above message (which misidentifies the website) reads:
"The English newspaper "TheGuardian" is doing an open poll about the Catalan independence, I include the link below. There is no need to know English, you only have to click the YES button. The more we vote the better."
The message links back to Catalan news site Catala Digital, from where the piece was shared nearly 200 times on Facebook.
The poll was also shared on Catalan forum Racó Catalá, where nearly 2,000 people read it.
When the vote tipped back towards Yes, the poll made its way to ForoCoches. Literally translated as "car forum", ForoCoches is Spain's largest forum site, like a larger version of Boards.ie. However its moderation is far more lax and it has become known for flooding public votes to judge the outcome.
Source: radok2/YouTube
This included getting rapper John Cobra to the finals of the Spanish Eurovision selection in 2010 – an act Público called "the biggest act of trolling in Spanish internet history".
The forum followed up this year by conspiring to ensure El Tekila won Got Talent Espana.
Source: Got Talent España/YouTube
Starting on Sunday morning, at least five threads about the poll were posted encouraging people to vote no.
One posting brags of adding 10,000 votes to the poll in one afternoon. However, data from TheJournal.ie shows that these attempts to rig the poll by automatic means were largely unsuccessful.
Many of those posting use an avatar of the numbers 155 in a Spanish flag – article 155 is the constitutional power that will allow Madrid suspend Catalan autonomy later today. The central government had given Catalan separatist leader Carles Puigdemont a Thursday morning deadline to abandon his bid to declare a breakaway state, or face unprecedented direct rule over the semi-autonomous region.
Puigdemont, who sparked the country's worst political crisis in decades on October 1 by holding a banned referendum on splitting from Spain, warned regional lawmakers could declare unilateral independence if Madrid makes any such move.
One poster says when starting their thread that they know the poll has no power, but it is to "fuck the indepes".
Another thread shares a screengrab of a pro-independence group urging its members to vote and tells posters "our colleagues want to get their hands on the survey because they are losing".
Another says that the thread starter got the link through a Whatsapp group.

Running battle
Indeed, this is just an example of how this debate is being played out online.
As Irish readers will be keenly aware, arguments online, particularly through social media, can become amplified and louder than they are in real life. With Catalan, fault lines around a bloody civil war and a brutal dictatorship with which Spain still struggles are being walked on.
This has meant that people on both sides are invested, passionate and loud.
The country's largest newspaper El Pais has dedicated the top section of its website to the challenge, with each article garnering hundreds of comments.
There, the arguments go back and forth about identity, unity and law and order.
"Viva España, viva el rey, viva el orden y la ley" is a common refrain:
"Long live Spain, long live the king, long live law and order."
Madrid paper El Mundo sees the same kind of debate, though it is largely pro-unity.
The aforementioned Racó Catalá forum organises rallies around the country and is spearheading a boycott of "anti-democratic" companies, those who are "disloyal in the form of Spanishism".
These include breadmaker Bimbo, Caixabank, Zurich and even San Miguel beers.
#Open journalism No news is bad news Support The Journal

Your contributions will help us continue to deliver the stories that are important to you

Support us now
Online interest in the subject has shot up in Spain in the last 30 days, particularly in Madrid.
Since 1 October the terms "Puidgemont", "Catalunya" and "independencia" have all been trending topics for at least seven days on Twitter in Twitter.
Why here?
With the what and how broken down, we're left with the question of why. Why did this become a battleground in the rancorous debate on independence?
To answer that, we looked to the people who emailed us. The gamut of opinion between Catalans and unionists was vast and accusations of spying, violence and sedition were commonplace.
For some Catalans, they are a completely different people.
"We have a history separated from Spain," says a woman named Romina, "A language (although repressed by the government), a culture and we even have different civil code laws.
We only wanted to vote on a referendum and the Spanish government only wants to repress and humiliate us.
Nues says:
It's so sad to be Catalan right now, you can't imagine how. To see all the stuff going on where I've been born and raised and to have a Spanish government (especially the Prime Minister) that doesn't care about those that he says are his country.
For unionists it is about solidarity and the sense that Spain is weaker without the region.
Carmen Lopez writes:
"Catalonia was Aragon. And never was independent. They are richer than other autonomies such as Andalusia or Extremadura and they are egotists, they do not want share resources. They do not believe in solidarity. That is all."
For some, voting in the poll was an attempt to counterbalance what they felt was a Catalan attempt to curry favour with foreigners.
"Unfortunately, the Catalan Government has invested a lot of money on image, and most of what they say is based on a lie," says Andres Manuel, a Spaniard who emailed.
Others emailed their stories about the 1 October referendum.
I live in a small village and, like some people in my village, I didn't go to vote on 1 October. One member of (the Catalan regional assembly), has a list of the people who didn't vote and has it published on a local WhatsApp group, calling us unworthy of the respect of our people.
"Many people are afraid, terrified. They don't say their opinion. I thought these times were a thing of the past."
The future
It is clear that the issue is divisive and that both sides are entrenched.
With Spain set to make a ruling today on enacting Article 155, Rajoy's cabinet is due to meet Saturday to set out the specific powers it plans to take away from Catalonia, which currently enjoys wide autonomy including control over its own policing, education and healthcare.
Autonomy is a hugely sensitive issue in Catalonia, which saw its powers taken away under Spain's military dictatorship, which ruled from 1938 until 1973.
With warning of unrest if Rajoy acts to take away power, the internet may just be a small part of an ongoing battle.