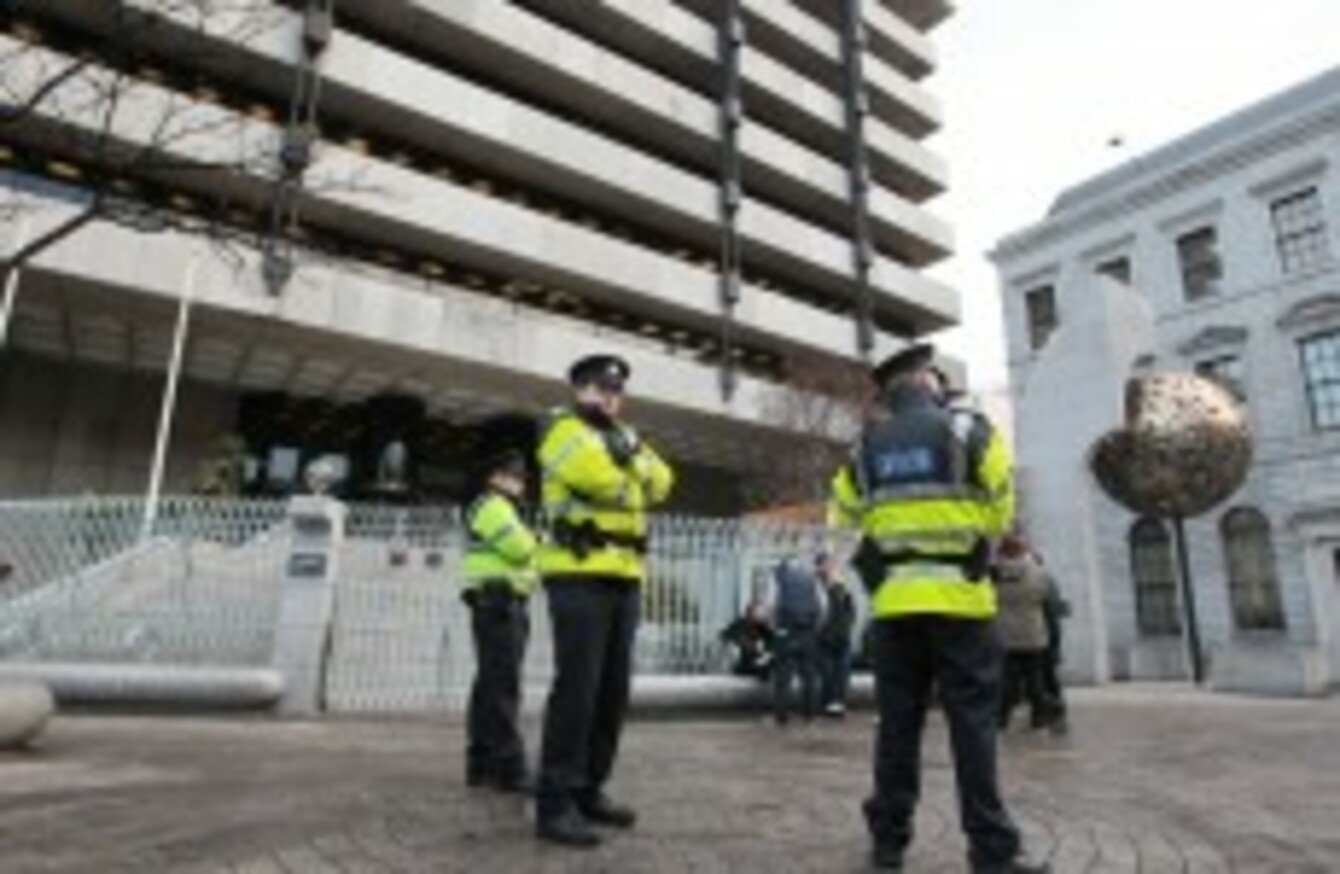 Gardaí and protesters outside the Central Bank today.
Image: Photocall Ireland
Gardaí and protesters outside the Central Bank today.
Image: Photocall Ireland
DOZENS OF GARDAÍ dismantled the Occupy Dame Street protest camp outside the Central Bank's headquarters in the early hours of Thursday morning following a request from the bank.
Although the camp was based outside of the bank gates, it lay on bank property. A garda source had earlier indicated to TheJournal.ie that they would not act in moving the peaceful protest without a request from the bank.
Last month, the bank's governor said the organisation had no inclination to remove the camp which was set up on 8 October.
The bank has confirmed to TheJournal.ie today that it requested the gardaí "peacefully remove the occupiers and the encampment from the Central Bank plaza".
However, a spokesperson says the bank made the request after the gardaí had raised public order and health and safety concerns with the bank, particularly in relation to the forthcoming St Patrick's Day festival in the city.
Gardaí said they could not comment on the bank's statement due to operational reasons.
Last week, gardaí contacted the camp and requested it be removed in time for the St Patrick's Day festival which starts on 16 March. The camp responded by saying it "affirms its right to exercise peaceful resistance against the current mismanagement of this country and rejects any attempt to remove it from the Central Bank Plaza".
It also said that it had offered to erect metal fencing around the camp for the duration of the St Patrick's Day parade and that it was engaging with the Dublin City Fire Marshall to ensure the camp was in compliance with any requests he might have.
At the time of writing, the Occupy Dame Street group could not be reached for comment. The protesters are appealing via Facebook for people to maintain a presence outside the bank and are planning to regroup and reorganise. They are also planning to hold a general assembly meeting outside the bank at 6pm tonight to discuss the situation.
At around noon today number of protesters returned to the plaza and attempted to erect tents again, but were prevented by gardaí, as shown in these images posted online by @unkiedave.
The area around the bank was sealed off during the garda operation this morning, which started at around 3.30am, and the streets were reopened at around 7am. One person was arrested for public order offences during the camp's dismantling but has since been released.
A spokesperson for Dublin City Council says that the council made no request to the gardaí for the camp's removal and that the council was itself contacted for assistance in cleaning the area following the camp's dismantling.
The Central Bank is continuing to take advice from the gardaí on the situation.