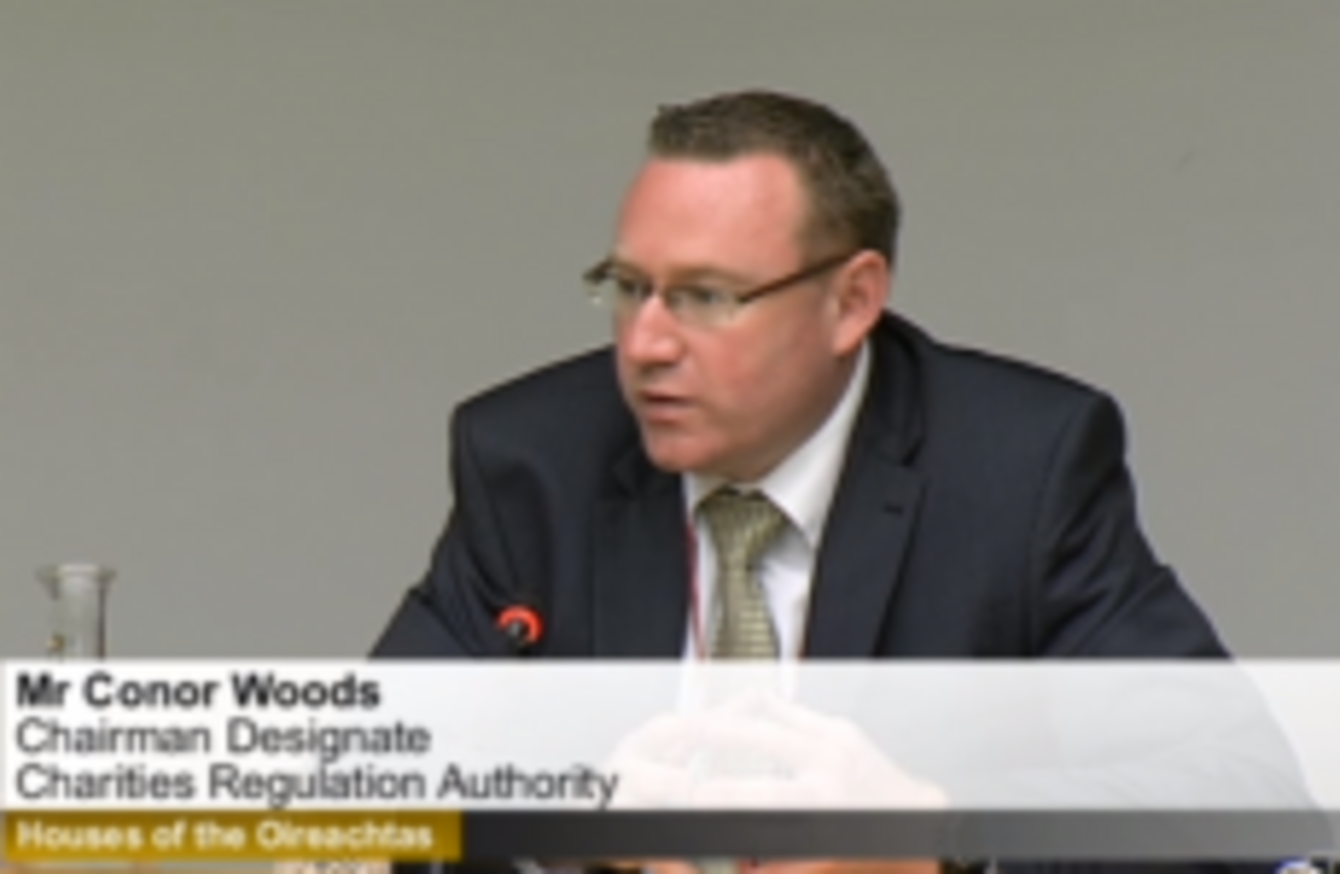 Image: Oireachtas TV
Image: Oireachtas TV
THE CHAIRMAN DESIGNATE of the Charities Regulation Authority has said that the new body will establish which charities are "bogus" and stop their activities.
This afternoon Conor Woods told the Oireachtas justice committee that the Regulator will "establish who's bogus and who's not".
"The authority will take whatever means necessary that that activity is stopped."
 [The Charity Register] will give absolute clarity to the public and that is a key issue for us.
Committe chair David Stanton said this would be "crucially important" to help repair damage done to the sector's image following the controversies that surrounded the Central Remedial Clinic and Rehab.
A lot of damage has been done to the reputation of charities and the whole sector.
In April, a survey conducted by The Wheel, a body that represents 950 charities, found that donations were down at 61% of the charities surveyed, following negative publicity.
Woods, who is also the chair of the Chartered Accountants Ireland Charity Committee, said that the Regulator will "ensure accountability of charities to donors, beneficiaries and the public".
Resources
Woods stressed that the body must be given "proper resources" if it is to be a success.
He said that the organisation will have about 11 staff to begin with, but said this could increase to 20 or 30 employees in order for it to fully carry out its remit.
Resources will be a pressure point.
In February, it was announced that the Regulator would cost €960,000 in its first year, before it becomes self-financing.
There are currently about 8,500 registered charities in Ireland. Woods said that some 5,000 of these are classed as companies.
He noted that all charities, regardless of their legal status, would fall under the Regulator's remit and "have to abide by stipulations in the Charities Act [2009]."
#Open journalism No news is bad news Support The Journal

Your contributions will help us continue to deliver the stories that are important to you

Support us now
Woods said that until the Charity Register is completed, the Revenue is the "the best yardstick that we have" to measure the number of charities operating in Ireland.
International standards
He said that the Regulator will look to similar initiatives in other countries and "learn from what they've done right and what they've done wrong".
At the moment we're starting off with a blank canvas.
Labour party TD Anne Ferris called for Woods to appear before the committee again next year to update it on the Regulator's progress and "to make sure that you're still excited about your job".
"I would be delighted to come back and engage with any questions you may have and hopefully give you positive feedback on our progress," Woods replied.