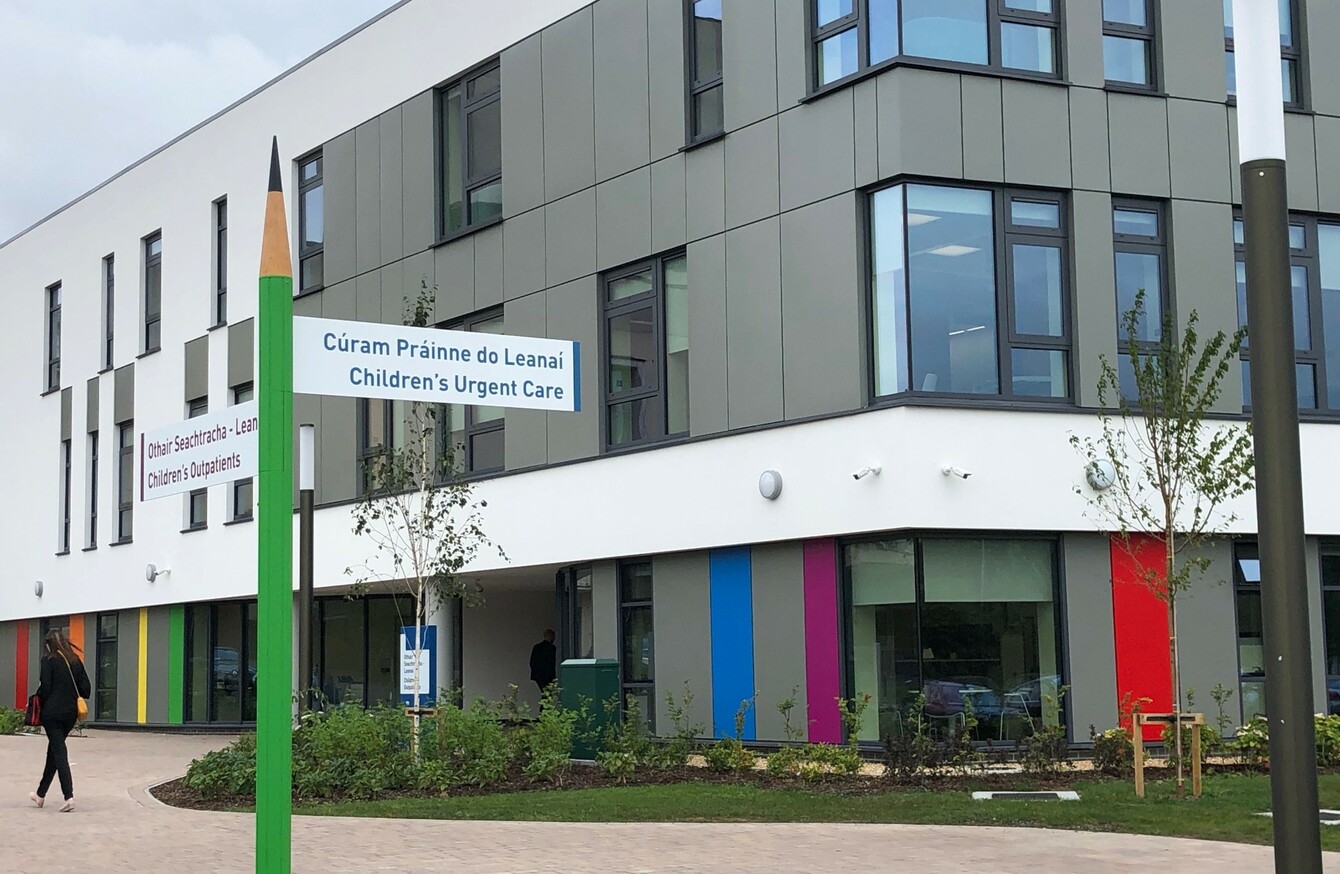 The project got underway in 2017.
Image: Conor McCrave
The project got underway in 2017.
Image: Conor McCrave
A NEW CHILDREN'S Urgent Care Unit has opened at Connolly Hospital in Blanchardstown this morning despite safety concerns raised by doctors in recent weeks. 
The unit is part of the broader upgrade in pediatric services by Children's Health Ireland (CHI), a 12-member board appointed by Health Minister Simon Harris to oversee pediatric care in the children's hospitals. 
It was two years in the making before the keys were handed over in May to hospital management ahead of today's launch. 
A recruitment process got underway at the beginning of the year to fill senior consultant posts and to increase the pool of pediatric staff between it and the three other children's hospitals in Crumlin, Tallaght and Temple Street. 
A failure to fill all the vacancies prompted doctors to raise concerns with the board, who then proceeded to open the facility with restricted hours and on a "contingency" basis until all posts could be filled. 
Speaking ahead of the launch CHI chief executive Eilish Hardiman and Dr Ciara Martin, clinical lead at the Blanchardstown unit, said the unit was opening on schedule but admitted it will not operate at 100% capacity until the posts are filled. 
"We have enough to keep us going and we really need to go out and recruit additional resources for the [three] hospitals and for here," Martin said. 
Some of the posts were a little easier to fill – as we know, there were positions where recruitment and retention has been an issue in getting all the consultant posts in. 
"We were able to successfully recruit six pediatric consultants which we needed, but then with a mixture of backfill [posts] from someone like myself, who has been working on this project, and some people on maternity leave, we weren't able to get those posts replaced."
She added: "Crucially, we had some radiology posts which we weren't able to fill at the moment -  two radiology posts, that's about it. We have a plan for everything else."
The unit was originally expected to open from 8am to midnight seven days a week but will now open from 10am to 5pm from Monday to Friday only. 
The new centre is designed to treat children with minor injuries or illnesses, with a view to easing pressures on local emergency departments. 
These include injuries such as fractures, sprains, burns, and children with symptoms such as vomiting, diarrhea and mild asthma. Anyone with more serious issues and cases that need to be escalated further will be referred to one of the other three children's hospitals. 
Contingencies
Hardiman said clinicians concerns for patients' safety as a result of staffing levels were addressed and added that "action plans and contingencies" were put in place. 
The Irish Medical Organisation previously said it "fully supports the development of enhanced services for children; however, we have very serious concerns regarding the scheduled opening of [the unit]."
In response, Hardiman said: "What we were able to do in the last two weeks in particular, was identify known risks, put in action plans and contingencies, and what we've committed to is to constantly monitor what is coming through."
Asked about suggestions the centre's opening today should have been halted until all positions were filled, she said "I think there is an element whereby as long as we could address the concerns and have actions in there, everybody was comfortable to proceed with it." 
Waiting lists
Meanwhile, as both inpatient and outpatient waiting lists within the HSE remain at significantly high levels nationally, a new model being phased into the CHI project aims to alleviate some of those pressures through a digital-first approach. 
Doctors will have access to all information on patients regardless of which hospital they are in on any given day, eliminating the need to have a physical file when treating patients. 
The same information can be accessed by GPs who use the HealthLink system, thought to be around 85% pf GPs nationally, consequently eliminating the need for letters to be mailed following consultations and speeding up the treatment process. 
Using this centralised system, all referrals come into "one office and get distributed to where the next possible appointment is".
"It's a digital system whereby we'll be communicating back with GPs… our emergency departments are digital, our ICUs are digital and going out to procurement later this year are the electronic healthcare records, which means putting the whole of the new hospital system on a digital system.
We have to work with what we have at the moment, which is a long waiting list which we have to work back down, and once we get to a smaller number you're dealing with waiting lists of months.
Around 450 of the 5,000 children waiting on general pediatric outpatient appointments from CHI will be seen in August, with the centre, once operating to full capacity, expecting to provide 17,000 appointments per year. 
In addition to the urgent care unit and outpatient clinics, there will also be a Child Sexual Abuse Assessment and Therapy Unit and a HSE dental unit.