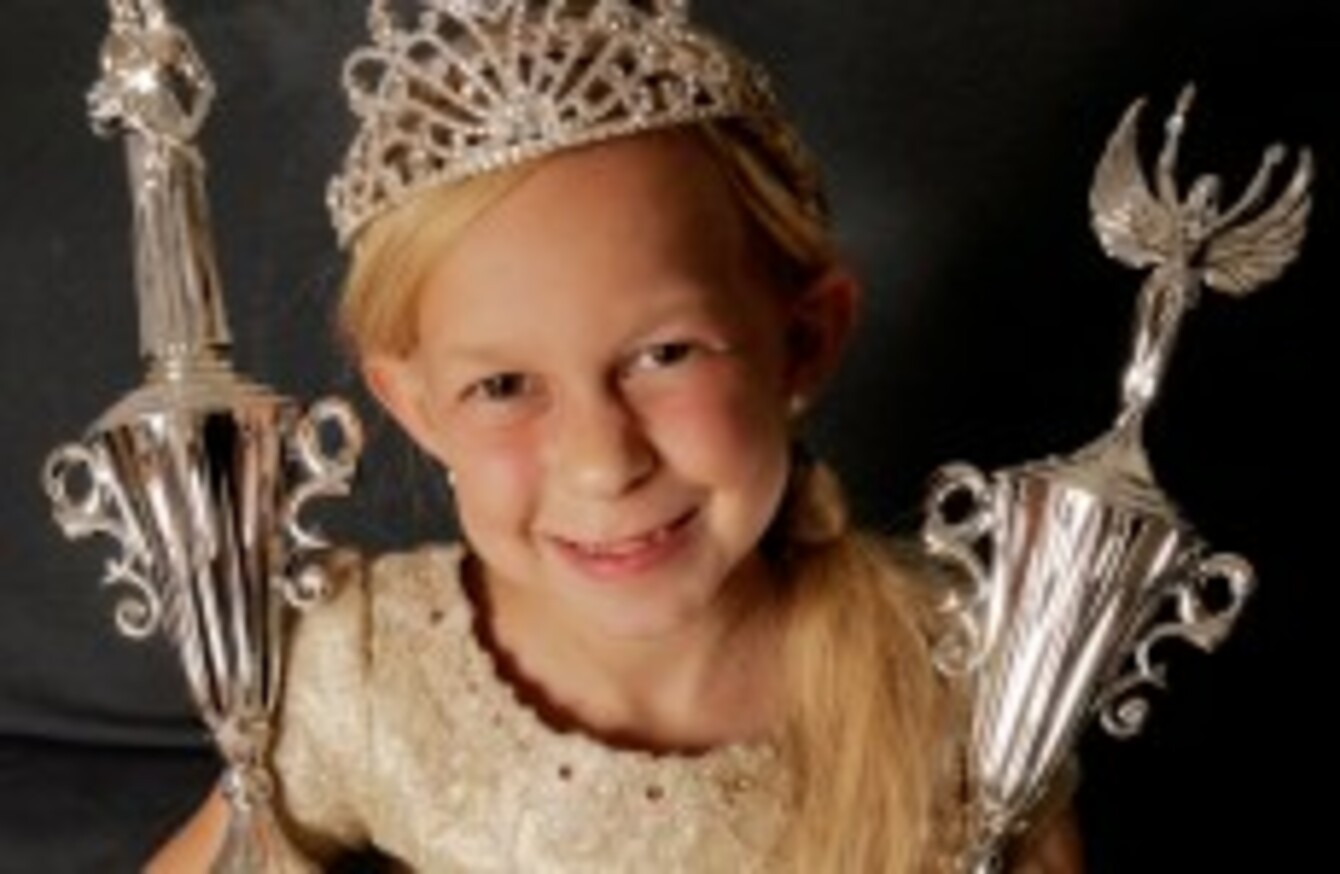 Beauty pageant contestant Madison Neill from California
Image: AP Photo/Stefano Paltera
Beauty pageant contestant Madison Neill from California
Image: AP Photo/Stefano Paltera
AN AMERICAN STYLE beauty pageant for young children to be held in Ireland next month has sparked concern among children's rights groups.
The ISPCC says it would not be in support of the pageant and raised concerns about the way in which it may focus on the early sexualisation and appearance of young children.
The Barnardos children's charity echoed these sentiments and told TheJournal.ie that such pageants were "encouraging children to mimic adult behaviour and fashion and that may lead to the early sexualisation of children."
Jorja Gudge, from Sunderland in the UK and a former beauty queen, is hoping to run the Miss Princess Ireland 2011 contest in Dublin on 30 April.
According to the event's Facebook page entrants will be charged a fee of €110 with anyone between the ages of 0-18 eligible to enter. They are required to send in three recent photos, their name, date of birth, and address.
The page also states that the pageant itself will feature three rounds – formal wear, outfit of choice and sports wear. Prizes will be "American style" with big pageant crowns, trophies, stashes, and some cash prizes.
In response, the ISPCC told TheJournal.ie that they would not be in favour of such an event. Policy and advocacy officer Lisa Collins said:
The way it is being described online indicates that it focuses on making children look like adults and act like adults and we would be concerned about this.

In a competition it should be about taking part not about looking right in front of a judging panel.
Gudge declined to comment when emailed by the TheJournal.ie and said that she thought the publicity was unnecessary: "I do not feel it is necessary to enter a debate or push my views and opinions on anybody else, or to defend my own."
Jorja Gudge (Picture: Facebook)
She defended her event in The Irish Sun today saying: "I've noticed that they are a massive confidence boost for children and they meet lots of new friends."
The event was to take place at the Portmarnock Hotel in Dublin, according to the Facebook page, but this has since been removed from the page.
When pressed for comment, Gudge told TheJournal.ie in an email that the event would still be going ahead:
We have changed our venue due to the Portmarnock did not wish to be involoved (sic) in bad press.

We will be going ahead still as many people would be let down if we did not.
A source at the Portmarnock Hotel told TheJournal.ie earlier that the idea of such a contest "was a bit strange".
Gudge held a similar event in Sunderland last November which again divided opinion, according to the Sunderland Echo.
As well as creating child beauty pageants Gudge is also the creator of a Facebook page with the title: "i hate Ben Mitchel (sic) from eastenders the specky little t**t" and encourages her friends to join saying : "nobody likes this little twerp… he is weak!"